Global Top
Worldwide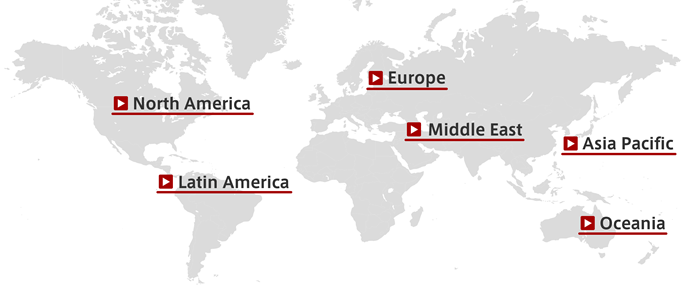 Global Contact
Systems and products for the building market, such as office buildings, factories, hotels and public facilities.
Distributed control systems and process control systems, field instruments, and control valves for such industries as refining, petrochemical, chemical, pulp and paper, and public utilities.
Control products for factories, such as for manufacturing semiconductors, electrical components, industrial machinery, and automobiles.
Global Network
Asia Pacific
Countries and regions where the azbil Group has affiliates, branches and/or offices
Oceania
Countries and regions where the azbil Group has affiliates, branches and/or offices
Middle East
Countries and regions where the azbil Group has affiliates, branches and/or offices
Europe
Countries and regions where the azbil Group has affiliates, branches and/or offices
North America
Countries and regions where the azbil Group has affiliates, branches and/or offices
Latin America
Countries and regions where the azbil Group has affiliates, branches and/or offices
Global Contact

Global Network