Leaders' message
In pursuit of "human-centered automation," our aim is to be a corporate group that helps to solve customers' problems.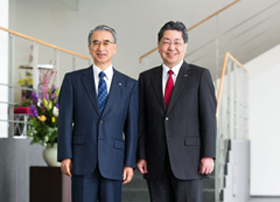 Seiji Onoki, Chairman(left)
Hirozumi Sone, President and CEO(right)
Since our establishment in 1906, we have focused on measurement and control technology, delivering unique solutions to our customers. In April 2012, we changed our company name from Yamatake Corporation to Azbil Corporation. Now with the azbil brand, which thanks to our customers has achieved wide recognition, we aim to provide the azbil Group's unique value to customers around the world in a variety of settings, including offices, production sites, and homes, by promoting our building automation, advanced automation, and life automation businesses.
In 2017, as our company sets out on a new three-year medium-term management plan, we are determined to make every effort to achieve our targets by becoming a long-term partner for the customer and the community through the provision of solutions based on azbil technologies and products; by taking global operations to the next level, with expansion into new regions and a qualitative change of focus; and by becoming an organization that never stops learning, so that it continuously grows stronger. In order to achieve steady growth we are expanding worldwide and seizing opportunities to provide energy management, safety, and peace of mind, while also transforming our businesses and operations for effective response to dramatically changing business environments.
In the future too, pressing forward together as a unified Group in pursuit of human-centered automation—automation that creates human happiness and a sense of fulfillment—we will strive to create new value on work sites together with our customers, helping them to meet the wide variety of challenges that they face.