Message from Management
In pursuit of "human-centered automation," our aim is to be a corporate group that solves a wide range of problems to contribute to the development of a sustainable society.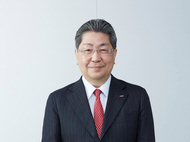 Hirozumi Sone,
Representative Director, Chairperson,
President and Chief Executive Officer
Since our establishment in 1906, we have pursued measurement and control technologies, delivering unique solutions to our customers. In April 2012, we changed our company name from Yamatake Corporation to Azbil Corporation, making the azbil brand familiar to many people. Today, the azbil Group provides unique levels of customer-oriented value in offices, production sites, and daily life all over the world through its three business segments: Building Automation, Advanced Automation, and Life Automation.
In the current fiscal year (2020), we are revising our management structure and starting a new medium-term plan. We face various challenges in the business environment that demand our response, such as ongoing globalization and the fulfillment of our responsibilities for the sustainable development of society, as well as technological innovation, the falling birthrate and aging population, the implementation of "work style reform," and climate change. We view these challenges as opportunities to expand the azbil Group's business and further promote our strategic initiatives for global development and accelerated growth of our business fields.
We are determined to continue making every effort to ensure the achievement of our goals by being a long-term partner for the customer and the community by offering solutions based on our technologies and products; by taking global operations to the next level through expansion into new regions and a qualitative change of focus; and by being a corporate organization that never stops learning, so that it can continuously grow stronger. Taking inspiration from the slogan "Going Beyond Automation," we are providing new products and services that contribute to the safety, productivity, and value enhancement of production sites where advanced technology such as AI is used, and we are expanding our business by solving environmental and energy-related problems in buildings and the local community, as well as strengthening our business and corporate foundations. As we do so, we are also working on the SDGs that are consistent with our Group philosophy, aiming to be a corporate group that contributes to the sustainable development of society.