Remote Maintenance
Concept
Our remote maintenance service makes it possible to automatically collect and analyze a wide range of data for prompt and accurate diagnosis through a building automation system (BAS).
Remote maintenance service realizes a secure and comfortable environment.
Remote collection of real-time data utilizing a network. Communication security is also ensured.
Analysis of energy use based on the collected data.
We have provided this service to many organizations in Japan.
System configuration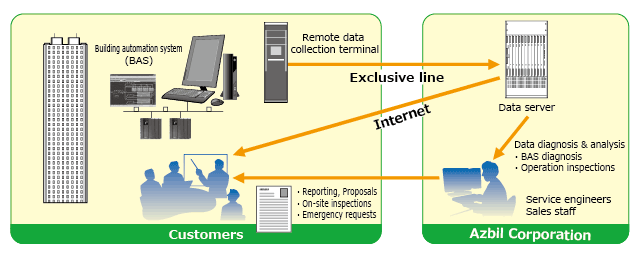 Features
Stable operation of the building automation system (BAS)
Remotely-operated BAS diagnosis enables the early detection of troubles and prompt system restoration.
Providing a comfortable environment
Appropriate adjustment of control parameters according to environmental and operational changes in the building, such as changes in usage of rooms, variable load at each tenant property and deterioration of equipment, promotes energy saving as well as maintenance and improvement of comfortable environment in the building.
Realizing high energy savings
We support energy management, energy saving, and the reduction of CO2 emissions with prompt and accurate diagnosis using remotely-collected data and assessment of the balance between energy use and comfort.
Transparency
We provide building monitoring services to facilitate an ideal balance between energy use and comfort in customer buildings.