Azbil Establishes 2050 Long-Term Vision for Reducing Greenhouse Gas Emissions
TOKYO, Mar. 25, 2020: Azbil Corporation (Tokyo Stock Exchange Code: 6845) announced that it has established its "2050 Long-Term Vision for Reducing Greenhouse Gas Emissions" in which the azbil Group aims to achieve substantially zero greenhouse gas (GHG) emissions (Scopes 1 + 2)*1 by 2050 from its business activities. In addition, Azbil announced its support for the "Actions by the Business Community on Long-Term Global Warming Countermeasures up to 2050" put forth by the Keidanren (Japan Business Federation).
In striving for its "2050 Long-Term Vision for Reducing Greenhouse Gas Emissions," Azbil set GHG emissions reduction targets for 2030, which were certified as Science Based Targets*2, and put forth concrete initiatives, with consideration toward reducing GHG emissions across the Company's entire supply chain. In order to ensure that it reaches those targets, Azbil plans to engage in initiatives such as advancing and enhancing energy-saving measures within the azbil Group and introducing solar power and other renewable energy sources at Group offices, all the while working to formulate new measures.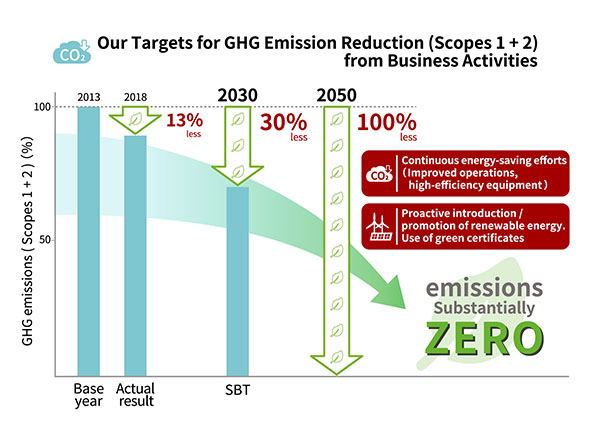 The azbil Group endeavors to support the development of society and industry, and contribute to reduced environmental impact of our customers' sites through not only its business activities but also products, services, and solutions based on measurement and control.
In April 2020, Azbil will set up its Corporate Sustainability Headquarters, a new organizational unit with a mission statement to further advance SDGs and CSR activities for the azbil Group. This will be accomplished by contributing "in series" to a sustainable society and be based on the Group's new guiding principles and code of conduct established to fulfill social responsibilities. Based on the azbil Group philosophy of "human-centered automation" and using the momentum of the new organization, Azbil will make renewed efforts to solve the numerous issues facing society such as climate change, which is one of the major goals of the SDGs.
*1 Scope 1: Direct GHG emissions from a business (from fuel burning, industrial processes, etc.)
Scope 2: Indirect GHG emissions from using electricity, heat, or steam provided by another business
*2 The Science Based Targets, defined by the Science Based Targets initiative, aim to keep global temperature increase below 2 degrees Celsius compared to pre-industrial levels. Azbil's reduction targets were certified in June 2019.
* Posted information is accurate as of the date of announcement.
Contact
For media inquiries
Robert Jones / Masayoshi Kogai
Public Relations Section, Azbil Corporation
Phone: +81-3-6810-1006 Email: publicity@azbil.com