Azbil Launches Early Warning System Software Globally

—Predictive Function Enhances Production Site Monitoring—
TOKYO, Jan. 13, 2021: Azbil Corporation has announced the global launch of the English and Chinese versions of its Early Warning System for Time Series Data (hereafter, "Early Warning System") in markets including Southeast Asia, China and Korea.
The Early Warning System, launched in Japan in 2013, is a software package that constantly monitors changes in time series data trends for important process variables like temperature, pressure, flow rate, and liquid level in order to alert operators to potential deviation from control values at an early stage. Compared with alarm monitoring by a distributed control system (DCS), the Early Warning System's predictive alarms have the advantage of early recognition, before control values are reached or safety devices operate.
In an emergency when something goes wrong with equipment and many DCS alarms activate, missed alarms or other human error may occur, leading to accidents. The Early Warning System, however, is independent of the DCS and complements ordinary alarms with predictive ones. For example, showing trends on a large display separately from the DCS monitor can promote an early and appropriate response by operators. In this way, the system works in combination with existing monitoring and control systems like the DCS to provide greater effectiveness.
In Japan, the system is used mainly by oil and chemical companies, which are highly conscious of plant safety and security and are willing to utilize IoT technology, but recently it has also been used at water supply facilities to monitor distribution reservoirs, water quality, and drainage facilities, in order to ensure a stable supply of tap water. Also, the system's use has expanded to include maintaining the quality of medical and pharmaceutical products as required by regulations. For example, it detects abnormal temperature fluctuations early to suppress deviations from control values. In response to the growing need for data-based solutions at overseas manufacturing sites, Azbil is launching English and Chinese versions of the software.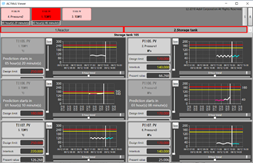 Early Warning System screenshot
Features
Utilizing prediction, the Early Warning System detects changes in trends before they reach the control value (before a problem occurs) and issues an alarm, leaving more time for operators to respond. In addition to issuing predictive alarms, the system calculates the estimated time until the control value is reached, and provides information for judging how to take an appropriate response.
Enhances operator awareness since it is sometimes possible to predict recurrence of deterioration or sudden fluctuation after an alarm returns.
Can take over the task of constantly monitoring critical measurements, leading to better monitoring of the entire manufacturing site and reducing human workload.
By using a general-purpose communication protocol (OPC-DA*1), connection is possible to any system or vendor's DCS, PLC, or PIMS*2.
Unnecessary to install new sensors, and engineering work can be done by the user.
For details, visit the following website.
Early Warning System for Time Series Data
Guided by its philosophy of "human-centered automation," the azbil Group aims to make contributions that lead "in series" to the achievement of a sustainable society, as well as securing its own sustainable growth. It provides products that solve problems faced by society and meet customer needs.
*1 A standard for exchanging process data, alarms, historical data, etc., based on COM/DCOM (Component Object Model / Distributed Component Object Model), which is Microsoft Windows technology.
*2 Plant Information Management Systems collect and store process data and manufacturing data from various monitoring and control systems in plants and factories to visualize and analyze the operation and manufacturing status of manufacturing equipment.

Windows is a registered trademark or trademark of Microsoft Corporation in the United States and/or other countries.
* Posted information is accurate as of the date of announcement.
Contact
For media inquiries
Robert Jones / Masayoshi Kogai
Public Relations Section, Azbil Corporation
Phone: +81-3-6810-1006 Email: publicity@azbil.com