Azbil To Launch a High-Accuracy Mass Flow Controller with High-Speed Response for Quick Understanding of Control Status
TOKYO, August 17, 2021: Azbil Corporation (Tokyo Stock Exchange code 6845) announced that it will launch the digital mass flow controller model F4Q on August 18. The new controller features high-speed response and high accuracy, providing at-a-glance understanding of control status.
The F4Q's large LED indicator allows users to immediately know the control status while the detailed LCD enables quick yet comprehensive understanding of the control status.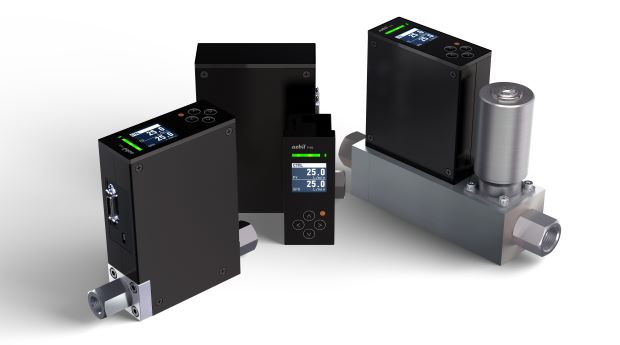 Digital mass flow controller model F4Q
Digital mass flow controllers use a built-in sensor and valve to control gas flow rates. They are used at production sites for machinery, automobiles, electrical/electronic equipment, semiconductors, etc., in manufacturing equipment that requires high-accuracy flow control of gas. In these markets, in order to cope with a decrease in the number of skilled workers and to meet the higher quality requirements due to the miniaturization of electronic components, automatic gas flow rate control with mass flow controllers is becoming more popular than manual control with needle valves. However, the widespread use of such controllers is hindered by the fact that general mass flow controllers do not have a display or operation keys, making it necessary to create a system for checking the control status and setting the target flow rate, or else to install a separate display and operation unit.
Azbil, which has been quick to provide controllers equipped with a display and operation keys, now offers the F4Q, with its improved usability. Various data can be instantly checked onsite with the detailed display that shows a large amount of information, and the control status can be quickly understood by the color and state of the large LED indicator.
■ Features
・Instead of the 7-segment 4-digit numerical display on Azbil's conventional controllers, the F4Q is equipped with a detailed LCD. Additionally, the large LED indicator, which lights up in multiple colors and blink patterns, provides quick understanding of the status.
・The controller has a high accuracy of 1% of the set point over a wide range of flow rates* (with conventional models, the accuracy decreases in lower flow ranges).
・High-speed 0.3-second response.
* Excluding some models
Guided by the azbil Group's philosophy of "human-centered automation," Azbil aims to make contributions that lead "in series" to the achievement of a sustainable society, as well as securing its own sustainable growth. It develops and proposes products and systems that solve problems at production sites and meet customer needs.
* Posted information is accurate as of the date of announcement.
Contact
For media inquiries
Robert Jones / Mikako Takahashi
Public Relations Section, Azbil Corporation
Phone: +81-3-6810-1006 Email: publicity@azbil.com