Azbil Receives Frost & Sullivan 2021 Southeast Asia Building Automation Systems Customer Value Leadership Award for Second Consecutive Year
TOKYO, October 27, 2021: Azbil Corporation (Tokyo Stock Exchange code 6845) announced that it has received the prestigious Southeast Asia Building Automation Systems Customer Value Leadership Award for the second consecutive year from research and consulting firm Frost & Sullivan as part of their 2021 Asia-Pacific Best Practices Awards.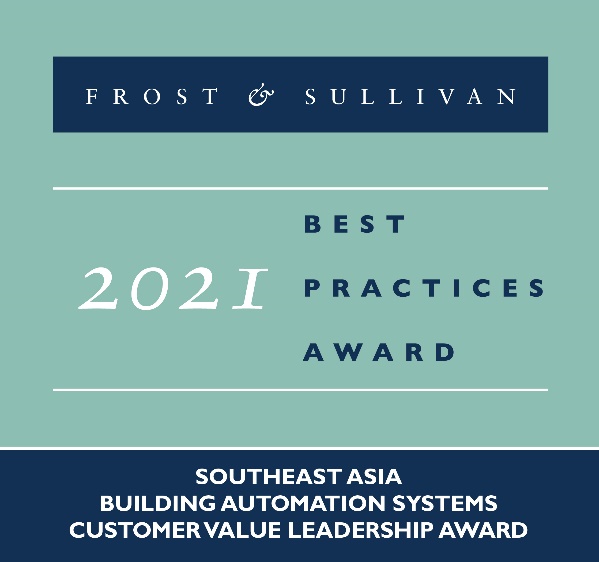 The Frost & Sullivan Best Practices Awards recognize best-in-class companies that have demonstrated excellence in their respective industries. Frost & Sullivan analysts identify award recipients based on in-depth interviews, analysis, and extensive secondary research. To determine best practices, they typically study companies' revenues, market shares, capabilities, and overall contribution to the industry.
"Azbil Corporation consistently enhances and creates value for building owners and occupants with a building automation system powered by smart digital technologies. Its international best practices are tailored to suit the local context and trends in Southeast Asian countries to improve customer satisfaction and retention.
Despite COVID-19 upending the building automation segment in 2020 and 2021, Azbil leveraged this disruption to create pandemic response-as-a-service propositions with technologies and customized solutions for hospitals and many commercial facilities. Frost & Sullivan applauds the award recipient for its building automation system that creates value for customers with noteworthy building safety and operations improvements." said Frost & Sullivan's Director and Global Head of Buildings Research, Melvin Leong.
A detailed analysis report from Frost & Sullivan on Azbil can be found at the following URL.
https://www.azbil.com/news/pdf/211027-1.pdf
Based on the Group philosophy of "human-centered automation," Azbil is contributing "in series" to the achievement of a sustainable society and continues to build long-term partnerships with customers.
* Posted information is accurate as of the date of announcement.
Contact
For media inquiries
Robert Jones / Mikako Takahashi
Public Relations Section, Azbil Corporation
Phone: +81-3-6810-1006 Email: publicity@azbil.com