Azbil launches ESCO services for The Athenee Hotel in Bangkok

-Collaboration between Azbil Thailand and Fuyo General Lease Thailand-
Azbil Corporation (head office: 2-7-3 Marunouchi, Chiyoda-ku; President: Kiyohiro Yamamoto) announces that Azbil (Thailand) Co., Ltd., a member of the international azbil Group, and Fuyo General Lease (Thailand) Co., Ltd. (Representative Director & CEO Norio Kobayashi), a member of the international group of companies headed by Fuyo General Lease Co., Ltd. (head office: 5-1-1 Kojiachi, Chiyoda-ku; President & CEO Hiroaki Oda), is now providing Energy service company (ESCO)*1 services for The Athenee Hotel in Bangkok, a Luxury Collection Hotel owned by the Asset World Corporation Public Company Limited (AWC), Thailand's leading integrated lifestyle real estate group and a member of the Thai Charoen Corporation (TCC) Group.
This project marks the first collaboration between Azbil (Thailand) and Fuyo Lease (Thailand) and was implemented as a shared savings contract.
The Athenee Hotel is a five-star hotel operated with Marriott International, and is located in a prime location in the central business district of Bangkok, Thailand. It was built on the site of the former Kandhavas royal palace which belonged to her royal highness Princess Valaya Alongkorn, and has deep ties to the Thai royal family. The Athenee Hotel is also known as a hotel compliant with ISO 20121,*2 an international standard for Event Sustainability Management Systems (ESMS).
Azbil (Thailand) will introduce Building Energy Management System (BEMS)*3 to improve the operation of equipment such as the air-conditioning and ventilation system, to increase efficiency, and to introduce various energy-conservation controls. Fuyo Lease (Thailand) will own and manage the facilities using the BEMS. This project is expected to reduce the total energy consumption (electrical bill) of The Athenee Hotel by approximately 8% and energy consumption of the air-conditioning system by about 12%, contributing to the reduction of CO2 emissions.
The contract was concluded and construction began in January 2022, and service with a four-year energy savings guarantee began on October 1, 2022. The project aims to create a maximum reduction in the energy consumption of the building under AWC's sustainability strategy. Currently, after about half a year, Azbil (Thailand) has received a high evaluation from the TCC Group for the smooth installation process and the energy conservation system after service started.
As a result of this evaluation, Azbil (Thailand) and Fuyo Lease (Thailand) are in support of ESCO projects at several other hotels in Thailand owned by the TCC Group.
Based on its philosophy of "human-centered automation," the Azbil Group aims to make contributions leading "in series" to the achievement of a sustainable society through its ESCO business.
Under our medium-term management plan, Fuyo Shared Value 2026, which began in fiscal 2022, the Fuyo Lease Group aims to achieve sustainable growth as a corporate group by simultaneously solving social issues and creating economic value through the practice of Creating Shared Value (CSV).
Company Overviews
Name:     Azbil Corporation
Address:    2-7-3, Marunouchi, Chiyoda-ku, Tokyo
Representative: Kiyohiro Yamamoto, Director, President and CEO
Founded:    December 1, 1906
Business:    Development, production, sale, and service of measurement and control equipment
Name:     Fuyo General Lease Co., Ltd.
Address:    5-1-1, Kojimachi, Chiyoda-ku, Tokyo
Representative: Hiroaki Oda, President and Representative Director
Established:   May 1, 1969
Business:    Leasing and finance services for corporations, and provision of various solutions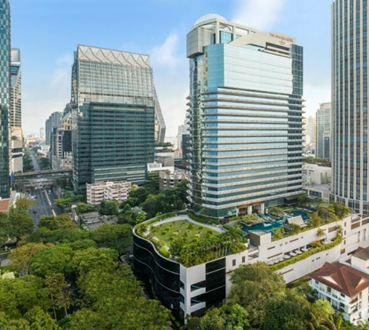 Hotel: The Athenee Hotel, a Luxury Collection Hotel, Bangkok
Location: 61 Wireless Road, Lumpini, Pathumwan, Bangkok, Thailand
URL: https://www.marriott.com/en-us/hotels/bkkla-the-athenee-hotel-a-luxury-collection-hotel-bangkok/overview/
*1. An ESCO guarantees a certain level of energy savings through the provision of comprehensive services for the reduction of energy consumption in a factory or building. There are two types of contract. Guaranteed-savings contract: the facility owner bears the project costs and the energy service company guarantees the energy savings. Shared-savings contract: the energy service company bears the project costs and the customer pays a fee for the energy savings and other services.
*2. An international standard for event management systems. The standard aims to make events more sustainable through management not only of their environmental impact, but also of their economic and social impact.
*3. A BEMS optimizes the indoor environment and energy consumption.
* Posted information is accurate as of the date of announcement.