Azbil Wins SICE Technology and New Product Development Awards for 2023
TOKYO, Oct. 10, 2023: Azbil Corporation (Tokyo Stock Exchange code 6845) announced that it has won Technology and New Product Development Awards from the Society of Instrument and Control Engineers (SICE) for fiscal year 2023.
In the areas of measurement, control, and systems, SICE is a key society that engages in research; collaboration with related fields, industry, government, and universities; and information dissemination. The Technology Award is given for technical achievements that have created or implemented new methods, devices, products, etc., and have had a remarkable effect. The New Product Development Award recognizes new and original products that have contributed to the development of a field of industry.
Technology Award
Coaxial Displacement Sensor Using a Lateral Shear Interferometer with a Phase Grating
Azbil has developed an innovative non-contact distance measurement technique using a laser. While the conventional laser triangulation method is commonly used in industrial applications, it suffers from occlusion issues, resulting in missing data when the surface of the mesurement objects obstructs the line-of-sight between the photodetector and the laser spot projected onto measured surface. With our novel technique using a lateral shear interferometer in a coaxial optical system, we have successfully overcome the occlusion problem. And the implimantation of a phase grating simplifies the intererferometer's structure, making it suitable for mass production. Moreover, by reprenting interference fringes as analytic signals and utilizing the instantaneous phase, we have achieved high-resolution distance measurement. Although this technique focuses on distance measurement, it hass the potential for a wide range of applications. Azbil plans to explore its integration in various areas, including factory automation, process automation, and more.
New Product Development Award
Smart HART® Modem, model AZ-1SHM
At plants, the highway addressable remote transducer (HART) communication protocol, which enables step-by-step digital transformation using existing 4–20 mA analog instrumentation in distributed control systems, is used for communication between a device management system or other host system and field devices. The Smart HART Modem, model AZ-1SHM is a communication interface that connects a PC running the host system with a HART-compatible field device (HART device) via USB or Bluetooth®. When used in combination with the included dedicated software, it can provide service tool functions to facilitate field work such as installation and maintenance of HART devices. Additionally, operators can now easily obtain data for analyzing HART communication problems by using this product instead of analytical equipment like oscilloscopes or bus analyzers whose operation requires expertise.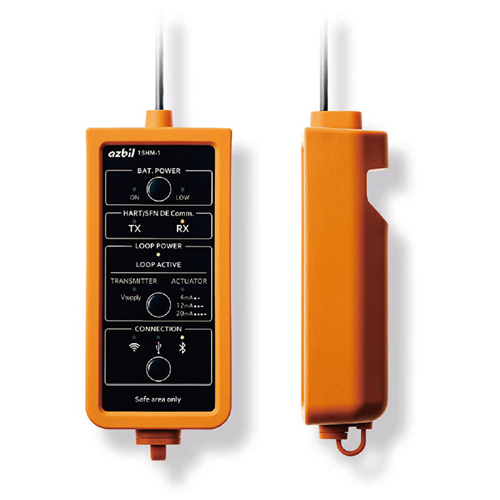 Smart HART Modem,
model AZ-1SHM
Product website (only available in Japanese)
Smart HART®Modem, model AZ-1SHM
Infrared Array Sensor System
By measuring the surface temperature of floors, ceilings, and walls with an infrared array sensor system, the amount of heating necessary for an area to reach the target room temperature can be calculated immediately. This makes it possible to implement feedforward control that quickly responds to changes in the indoor heat load, and also achieves energy savings.
It is also possible to detect people from the distribution of floor temperatures that are measured. This can be used to automatically control the lighting depending on the presence or absence of people in the area, and to control outdoor air intake based on the number of people present. The system provides seven types of sensors with different resolutions, lens viewing angles, and mounting methods, making installation possible in a variety of buildings, from offices to exhibition halls with high ceilings.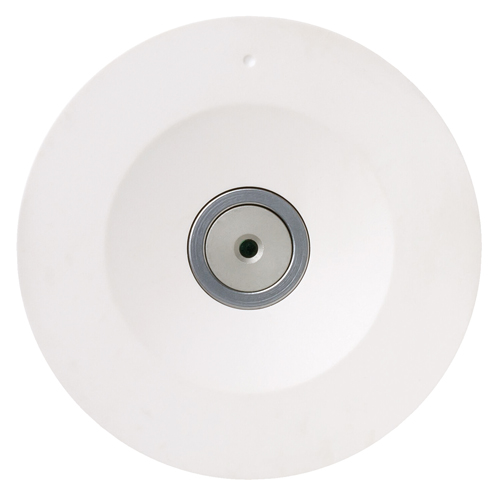 Infrared Array Sensor
Product website (only available in Japanese)
Infrared Array Sensor System
Burner controller, model AUR255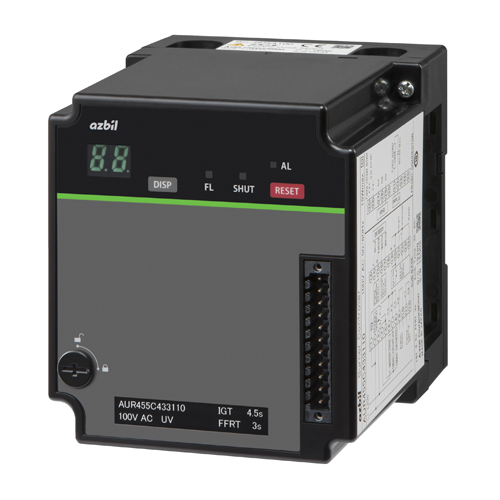 Burner controller, model AUR455
Burner Controller, model AUR255/455
A burner controller is a combustion safety controller for safely operating industrial combustion furnaces, and its main function is to control and monitor combustion. While maintaining the same combustion safety control functions as earlier models, model AUR255/455 has improved functionality based on design standards. The design standards for burner controllers have changed significantly in accordance with revised international safety standards. In order to meet the new requirements, model AUR255/455 is designed to control combustion by software and digital data with dual CPUs, instead of by conventional analog circuits. With the new design, the internal system is equipped with a new information processing burner health index data, which is supposed to be used for preventive maintenance of combustion furnaces. By utilizing this IT data, the visualization of combustion furnaces for efficient operation can be accelerated.

Product website (only available in Japanese)
Burner controller, model AUR255
Burner controller, model AUR455
Guided by the azbil Group's philosophy of "human-centered automation," Azbil Corporation aims to contribute "in series" to the achievement of a sustainable society, to secure its own sustainable growth, and to help solve problems faced by society by developing products and new technology that realize safety, comfort, and fulfillment of customers.
※ HART® is a registered trademark of FieldComm Group.
※ Bluetooth® is a registered trademark of Bluetooth SIG, Inc.

* Posted information is accurate as of the date of announcement.