Contract types and Service procedures
ESCO Contract types and Service procedures

Azbil Corporation ESCO Service
Contract types
ESCO service contract concluded between a customer and Azbil Corporation is roughly divided into two types according to the way of fund raising.
The first type is the Guaranteed-Savings Contract where customers raise fund for initial investment by themselves, and the second type is the Shared-Savings Contract where Azbil Corporation shoulders the initial cost. In both types of contracts, Azbil Corporation guarantee the amount of energy cost reduction, from which facility investment can be recovered. See diagrams below indicating the flow of fund by contract types.
Contract type
Guaranteed-Savings Contract
Shared-Savings Contract
Item
Way of fund raising

Cost / merit analysis
ESCO Service Procedures
Azbil Corporation will meet any of your needs with its outstanding expertise as a professional for building facilities by offering comprehensive services including consultation to installation of facilities to advices for system operation.
Preliminary diagnosis
A preliminary diagnosis is carried out based on the analysis of the existing condition of energy usage, energy management, etc.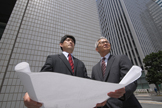 Proposal
Based on the diagnosis, optimum energy conservation measures for the customer are proposed. Detailed plans include, for example, the best combination of facilities to be used, the cost for facility replacement, and expected advantages for the customer.

Confirmation of proposed plan
The customer examines and chooses options in our proposal including baseline setting, facility installation plan, measurement and verification methods, estimation of expected energy conservation effect, fund raising method, guarantee of energy conservation effect, technical supports such as operational management, contract type, and the contents of the contract according to the needs of the customer.

Conclusion of contract

Facility installation, Engineering
The plan is brought into effect. Based on the plan, design and installation of the system are carried out. Along with that, instructions on operation and management of the system are offered.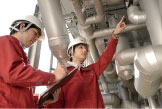 Performance checks, technical supports
The checks and supports are continued to the end of ESCO service period. To measure and assess the effect of energy conservation and check if any changes of the plan are necessary, the data are periodically collected and analyzed, and the result is verified. To maximize the energy conservation effect, we cooperate with the customer for optimal system operation.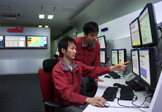 Checks by customer

Further improvement
We are ready to take a swift action, when anything to be improved in operation, settings, and facilities are discovered. To offer the best energy conservation strategy at anytime by keeping up with the ever-changing building condition, we will always watch your building with due care.