Keiyu Hospital
Customer's remark
We actually practiced efforts for energy conservation by moderate temperature settings, nonuse of air conditioners or lightings when unnecessary, etc. But this time, we have got our energy conservation program into full gear by introducing new facilities.
The program is seeking for improvement in environment and energy conservation with cooperation of the service provider.
Sales points
Even inconspicuous wastages of energy were pointed out and measures were taken for that. In addition, as the building has broad glass windows, measures reducing sun penetration was taken. As a result, both energy conservation and improvement in environment could be realized at the same time.
Key points in installation work
As the installation work was carried out without closing the hospital, utmost attention had to be paid to the safety of both in-patients and out-patients, and thus a meticulous schedule was worked out, according to which the hospital and the contractor carefully conducted the installation work in closer cooperation.
Part of the work had to be carried out inside the hospital, but understanding of the patients could be obtained by explaining that the purpose of the work was improvement in environment and energy conservation, and the work could be smoothly carried on.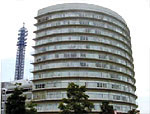 Before installation work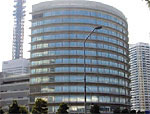 After installation of insulating films
Energy conservation effect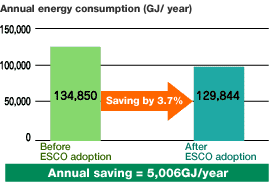 Comparison between before and after the facility installation
Before facility installation (the reference values)
Electricity [kWh]
Cold water [MJ]
Hot water [MJ]
Total by item
7,337,967
25,953,000
33,426,000
Primary energy consumption
(GJ/year)
75,471
25,953
33,426
Total
134,850
Energy consumption basic unit
(MJ/m²·year)
3,850
After facility installation (the measured or estimated values)
Electricity [kWh]
Cold water [MJ]
Hot water [MJ]
Total by item
7,182,109
22,313,000
33,663,000
Primary energy consumption
(GJ/year)
73,868
22,313
33,663
Total
129,844
Energy consumption basic unit
(MJ/m²·year)
3,710
Facility specifications
| | | | |
| --- | --- | --- | --- |
| Contract demand | 1,350kW | Air-conditioning facilities | district heating and cooling (DHC) and air conditioner, FCU |
| Stories | 13 stories above ground and 3 below | Refrigerating capacity | DHC (cold water) |
| Total floor area | 35,000m² | Heating capacity | DHC (steam) |
| Receiving voltage | 20kV | Type of air-conditioning | air conditioner, FCU |
Energy conservation measures
| | |
| --- | --- |
| Automatic control of air-conditioner settings | Settings of air conditioners are automatically adjusted according to load factors. |
| Optimal control of heat source pressures | Pressures of heat sources are adjusted according to load factors. |
| Installation of insulating window films | By cutting the penetrating sun, thermal efficiency of air conditioning is improved. |
| Fan control according to CO concentration in car parking | According to detected CO concentration, power supply for ventilating fans of the basement car parking is controlled, to reduce waste of electricity. |
Fund raising and subsidies
Fund : self-financing
Subsidies : Project for Promoting the Introduction of High-Efficiency Housing/Building Energy Systems (Project for promoting BEMS introduction)
Contract type and contract period
Guaranteed-savings contract / 2 years