ANA Hotel Narita
Customer's remark
We think that energy conservation measures do not end with introduction of new facilities. We believe that the effects of energy saving can not be fully achieved without optimization of operation and management. In this case, to fulfill the standard of the COP3 for emission reduction, the contractor, the administrator, and the ESCO service provider must hold a follow-up meeting every month to have a lively discussion.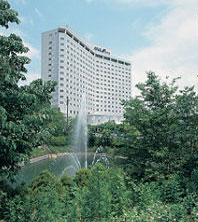 Sales points
Through optimum, flexible operation according to load factors, waste of energy can be avoided, thereby realizing effective cost reduction.
Through introduction of BEMS, comprehensive energy management is enabled.
BEMS enables collection and analysis of operational data and thus makes it possible to give feedbacks on operation and management.
Key points in installation work
As the installation work was carried out without closing the hotel, utmost attention was paid to minimize the noises and vibrations.
The concerned sections and the head of the hotel as well as the contractor carefully arranged the time schedule for interruption of the power supply, installation work, etc. to avoid inconvenience for hotel guests.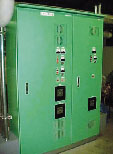 Inverter

BEMS system
Energy conservation effect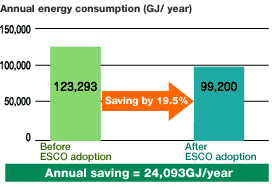 Comparison between before and after the facility installation
Before facility installation (the reference values)
Electricity [kWh]
Gas [Nm³]
Total by item
6,716.707
1,183.620
Primary energy consumption(GJ/year)
68,846.2
54,446.5
Total
123,293
Energy consumption basic unit (MJ/m²·year)
4,137
After facility installation (the measured or estimated values)
Electricity [kWh]
Gas [Nm³]
Total by item
5,254.219
985,748
Primary energy consumption(GJ/year)
53,855.7
45,344.4
Total
99,200
Energy consumption basic unit (MJ/m²·year)
3,329
Facility specifications
Contract demand
1,150kW
Air-conditioning facilities
vapor absorption refrigerator, gas smoke tube boiler, water-cooled chilling unit
Stories
17 stories and basement
Total floor area
29,800m²
Refrigerating capacity
350RT x 2, 100RT x 1
Receiving voltage
6.6kV
Heating capacity
3,881Mcal/h x 2
Type of air-conditioning
Fresh-air filtration system, air-conditioner, fan coil unit, hydrothermal heat pump package, water-cooled package, air-cooled heat pump air-conditioner
Energy conservation measures
Variable airflow control using fresh-air filtration system and total enthalpy heat exchanger:
Inverter controlled suction and exhaust fans are used for fresh-air filtration system and total enthalpy heat exchanger to change settings according to estimated conditions in the use of rooms by time zones in a day.
Variable airflow control of air-conditioner, control of CO

2

concentration:
An air-conditioning system featuring variable airflow control with thermal sensor is adopted, but to keep necessary amount of fresh air intake, CO

2

concentration in ventilated air is detected and when CO

2

concentration exceeds a predetermined level, the ventilating fan is revved up.
Variable flow control of heat pump
Quantity of the heat source flowing in a heat pump that is normally kept constant is made adjustable according to load factors.
Introduction of BEMS
Based on collected data, operation and management can be optimized.
Better use of cogeneration system
Management of the existing gas cogeneration system is brought under BEMS system to realize further efficiency.
Fund raising and subsidies
Fund : self-financing
Subsidies : Project for Promoting the Introduction of High-Efficiency Housing/Building Energy Systems (Project for promoting BEMS introduction)
Contract type and contract period
Guaranteed-savings contract / 3 years