Reducing Society's Impact on the Environment
The azbil Group helps to reduce the environmental impact of society through the products and solutions it provides. For the year ended March 31, 2014, we calculated the effect of our businesses in reducing CO2 emissions at our customers' sites. The total CO2 reduction for the year under review comes to 2,810 thousand tons, equivalent to about one 500th of the approximately 1.3 billion tons emitted during the year in Japan.
Note: For the calculations, we categorized CO2 data into three areas-reduction resulting from automation, from energy management, and from maintenance services-and calculated the amount of CO2 reduction compared with the results if our products and solutions had not been used at our customers' sites.


By "Total Energy Management Service"
We apply our measurement and control technologies to reduce environmental impact through our Building Automation, Advanced Automation, and Life Automation businesses.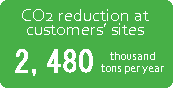 Energy Conservation with BEMS
Calculation of CO2 reduction effects from actual figures for the previous 10-year period using the published specific energy consumption unit for each building type,based on total floor area.

By ESCO* and other energy management solutions
Calculation of actual volume of CO2 reduction for the previous 10-year period for each building .(actual measured values before and after implementation of ESCO services)

* ESCO: Energy Service Company