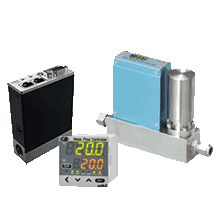 Mass flow controllers

Gas mass flow controllers use detection units that combine advanced actuator control technologies and Azbil's own Micro Flow thermal mass-flow sensor.
Fast response is achieved over a wide range of flow-rate control thanks to the characteristics of µF sensors.
These controllers are suitable for use with low-pressure gas supplied for glass processing in manufacturing plants, fire control during brazing, and other processes that conventional mass flow controllers could not regulate easily.
Our diverse product lineup extends the scope of possible applications.
Mass flow measurement
These meters can measure the flow rate of air or gas and convert it to standard conditions regardless of the operating temperature and pressure.
(The flow rate converted to standard conditions is the volumetric flow rate at 1 atmosphere of pressure and 0°C [or 20 °C].)
Wide measurement range
Conventional gas flowmeters generally experience more difficulty in measuring low flow rates than flow rates near their maximum limits. A wider range of measurement and control is made possible by Azbil's proprietary µF sensors. Rangeability is as high as 100:1 with CMS series mass flowmeters and 160:1 with CML series high-flow mass flowmeters (1,280:1 in terms of measurement range)!
These mass flow meters are ideal for controlling air or gas consumption and saving energy by checking for leakage.
Fast response
A tiny MEMS sensor with a very small thermal mass is in direct contact with the gas in order to achieve a fast response.
Reduced pressure loss
Pressure loss in these meters is kept to a minimum by mounting the µF sensor in the channel wall to minimize protrusions and the resulting resistance against flow. Therefore, they are perfect for measuring and controlling gas flow at low pressures.
High accuracy
Our µF sensors experience almost no change in their characteristics over time, ensuring high accuracy over a long period.
Various functions
Our wealth of microcomputer technologies gained through the development of control devices provides a range of functions that are unprecedented in conventional mass flow meters.
These functions include display of instantaneous or totalized flow rate, gas-type switching, high limit and low limit alarm output, analog output, totalizer pulse output, and communication function. (Available functions depend on the particular product.)
Extensive product lineup
To meet customers' application needs, a wide variety of products is available to measure various flow rate ranges, from 0–5 mL/min up to 500 L/min.
Feel free to contact us for consultation or inquiries regarding these products.
Online Inquiries
Inquiry Form