Shonan International Marathon
Azbil participates as a Silver Sponsor in 2017
Azbil Corporation supported the 12th Shonan International Marathon, which was held on December 3, 2017, as a Silver Sponsor.
It was the 12th time in a row that Azbil sponsored the event since it first took place in March 2007 as Kanagawa Prefecture's first marathon.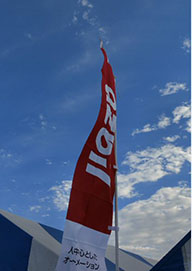 Two hundred fifty azbil Group employees–180 runners and 70 volunteers–joined the 2017 race. Both veterans and first-timers enjoyed running the ocean-view course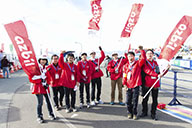 Azbil helps the race to be eco-friendly
At the time of the 2nd Shonan International Marathon in 2008, sponsors and organizations with an interest in preserving the environment gathered and launched an "Eco-Friendship" project to nurture "green" awareness in all the people involved in the race. Azbil plays a leading role in this project and hosts various workshops on, for example, resource recovery by collecting trash at the race site, and it participates in other activities to improve awareness of the environment.
An Azbil booth serving as an eco-friendly cafè offers free drinks to participants who make an eco-friendly declaration. Since the 10th race, the company has been offering Fairtrade coffee from Mexico, pork miso soup with locally-grown vegetables, and local mandarin oranges instead of orange juice.
In addition, for the 10th anniversary of the "Eco-Friendship" project, six employees participated in an Eco-Runner project in which they ran the course while encouraging other runners to recycle the cups from the water stations.
Azbil is also responsible for analyzing the environmental impact of the Shonan International Marathon, and it helps in various ways to make the race environmentally friendly. For example, Azbil provides carbon offsetting by donating its carbon credits to offset the race's CO2 emissions.