Biodiversity Conservation
As a partner in the promotion of the "Declaration of Biodiversity" by the Japanese Business Federation (Keidanren), and based on our corporate philosophy of "human-centered automation," Azbil is working worldwide to integrate environmental concerns into its management, with the goal of realizing a sustainable society, using the SDGs as a new set of guideposts.
Specifically, to bring about a society that is in harmony with nature, we are continuing to support biodiversity preservation through our business, to promote improvements in our supply chain involving our business partners, and to work in collaboration with various partners to further protect the natural environment.

Solving environmental problems through our business (examples of biodiversity conservation)
Contributing to marine ecosystem conservation

Ballast water illustration
We provide solutions for ballast water treatment systems, which are required by the Ballast Water※Management Convention for large vessels, utilizing knowledge and know-how cultivated in the ship business, and products conforming to ship certification.
※Seawater is loaded into the bottom of large vessels to stabilize the hull when there is no cargo. Ballast water is considered to be a cause of invasive species dispersal because it contains marine life like zooplankton, phytoplankton, seaweed fragments, etc., which are released along with the water.
Developing biodiversity initiatives for business partners (improving our supply chain)
The azbil Group requests "Biodiversity Conservation Initiatives" from its business partners. We explain the concept of biodiversity conservation, the relationship between business activities and biodiversity, and give examples of possible initiatives.
Consideration of preservation of biodiversity(Green procurement)
Environmental conservation activities (in cooperation with local partners)
We collaborate and cooperate with NPOs, universities, local governments, and other organizations in the familiar communities that are home to azbil Group bases such as Fujisawa in Kanagawa Prefecture and Minamiaizu in Fukushima Prefecture, and we work on natural environment conservation activities at corporate offices such as those of Azbil Kyoto Co., Ltd. In FY2020, COVID-19 made it difficult to carry out nature conservation activities in forests with employees taking part as they had in the past, but instead we had online activities four times with a total of 50 employees participating.
Protecting the Maiden Lily in Minamiaizu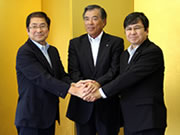 Since July 2011, the azbil Group has regularly participated in activities under an environmental protection agreement with the town of Minamiaizu.
Located in southwestern Fukushima Prefecture, Minamiaizu is famous for clusters of himesayuri (Lilium rubellum), or maiden lily. This plant has been designated a near-threatened species on the Red List of the Ministry of the Environment of Japan, and the town is taking steps to preserve it. In October 2018, azbil Group employees and their families worked with members of the local community to clear underbrush and sow seeds.
It normally takes six years or more for a himesayuri to bloom, but we have now seen blossoms in places where we planted seedlings.
In February 2016, this activity received an award as a good example of the conservation of Japan's natural environment from The Nature Conservation Society of Japan.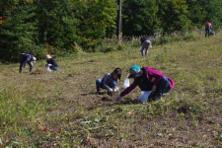 Planting maiden lily bulbs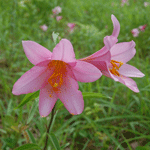 Maiden lily
Greenery Preservation in Fujisawa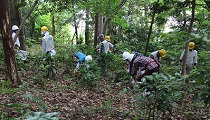 Green-space conservation
In January 2011, the azbil Group's largest facility, Fujisawa Technology Center (FTC), entered into a green space preservation agreement with the City of Fujisawa in Kanagawa Prefecture where it is located. As part of that agreement, FTC employees regularly participate in activities in the city's "green spaces."
One challenge facing Fujisawa has been the large number of green spaces in the city that have been left unmaintained. Under the guidance of Fujisawa Green Staff, a local nonprofit organization, we are helping to make more sustainable use of these areas. In the year ended March 2019, employees and their families thinned a wooded area and used the trees that were cut down to make a walking path.
Changes can now be seen in these previously dim green spaces as the work done by volunteers allows more sunlight to shine in and new vegetation grow.
Initiative at Azbil Kyoto Co., Ltd.
Azbil Kyoto Co., Ltd., which began operations in 1996, built a plant on property developed by the local government in a vally forest admist hills and rice terraces. With the passage of time since the start of operation, trees began to grow on the cutaway face of the hill in front of the property, as in the surrounding forest.
Together with Earthwatch Institute (an accredited Japanese NPO) and Kyoto University, we have been surveying trees in the area since 2013.We also plant trees and participate in thinning programs based on data from the surveys.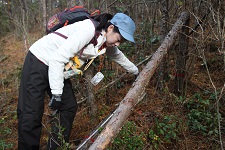 Surveying trees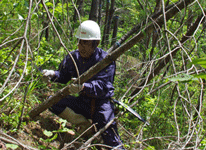 Tree-thinning work
Overall of Environmental Initiatives

Contributing to the environment through our core businesses

Reducing the environmental impact of our own business activities