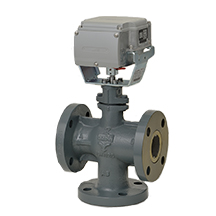 ACTIVAL™
Motorized Three-Way Valve with Flanged-End Connection
A series of motorized three-way rotary valves, DN50 (2") to DN80 (3") , with flanged-end connection.
Compact and lightweight
Valve and actuator integrated in a single unit
Conforms to IP54 (dust-proof, splash-proof) Can be installed in AHU.


Note: Waterproof connectors are required to assure IP54.

A variety of control input signals available
Durable actuator with low power consumption
2–10 V DC output with feedback signal
Only for the 4-20 mA DC input type (Model VY5430) and the 2–10 V DC input type (Model VY5440) .
Linear fl ow characteristics
Valve is applicable for high differential pressure, large Cv value, high rangeability, and low leakage.
-AHU: Air Handling Unit
IMPORTANT:
If you want to use this product combined with a third party's controller, please contact Azbil corporation.
Feel free to contact us for consultation or inquiries regarding these products.
Online Inquiries
Inquiry Form