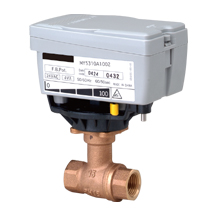 ACTIVAL™
Motorized Two-way Ball Valve with Threaded-end Connection
It proportionally controls chilled/hot water for HVAC applications.
Model MY53X0A actuator is designed specifically for Models VY53X2 two-way and VY53X3 threeway proportional control ball valves, which control the chilled/hot water in heating, ventilation and air conditioning (HVAC) applications.
ACTIVAL Model MY53X0A_000 has a reversible synchronous motor, which operates at a low voltage of 24 V AC.
Six kinds of control signals are available to operate the ACTIVAL ball valves:
Floating (3-position) with nominal 135 Ω feedback potentiometer
Nominal 135 Ω resistance input
4–20 mA DC input
2–10 V DC input
0–10 V DC input
Floating (3-position)
These control signals provide proportional control in combination with an electric/electronic proportional controller or a DDC (direct digital control) controller.
DDC: Direct Digital Control
ACTIVAL™ Model VY5302A is a two-way ball valve with threaded-end connection (ISO 7-1: 1994).
It proportionally controls chilled/hot water for HVAC applications.
Model VY5302A has bronze valve body, stainless-steel ball and stem, and the components exposed to process fluid are made of other corrosion resistant materials.
Cv value and size variation of Model VY5302A are best suited to HVAC control. Model VY5302A is used in combination with the actuator Model MY53X0A. Regarding the detailed information on the actuator, refer to:
Specifications/Instructions of ACTIVAL Model MY53X0A
HVAC: Heating, ventilation, and air conditioning
ISO: International Organization for Standardization
Feel free to contact us for consultation or inquiries regarding these products.
Online Inquiries
Inquiry Form