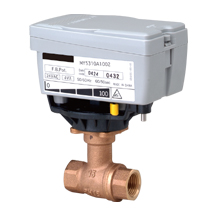 ACTIVAL™
Motorized Two-way Ball Valve with Threaded-end Connection
It proportionally controls chilled/hot water for HVAC applications.
Model MY53X0A actuator
Compact and lightweight:
The ACTIVAL can be installed in a limited space.
Easy and simple mounting onto Models VY53X2 valve:
The actuator can be mounted without tools, and no adjustment is required (one-touch lever-locking mechanism) .
IEC IP54:
Dust-proof and splash-proof enclosure enables to be installed in an AHU (air handling unit) .
Easy manual override:
The actuator operation can be switched to manual from electric. It besides can be manually operated without tools.
Highly-visible position indicator:
Valve position is easily recognized with the indicator/manual lever.
Energy-saving:
No power is consumed in fully open/closed position of the valve because of the limit switch mechanism.(Only for Model MY5310A.)
Built-in auxiliary switch (except Model MY5370A) :
The switch is adjustable between 20-80% position.
2-10 V DC output (for position feedback) available with 4-20 mA DC input type, 2-10 V DC input type, and 0-10 V DC input type.
90° stroke in 60 seconds (50 Hz) / 50 seconds (60Hz) operating time.
ACTIVAL Model MY53X0A conforms to all the standards related to CE Marking.
Model VY53X2A valve
Compact and lightweight:
Valve can be installed in a restricted space such as inside of a compact AHU.
Bronze valve body applicable to PN16.
Easy assembly with Model MY53X0A actuator using no tool, and no adjustment required.
Equal percentage flow characteristic.
AHU: Air handling unit
IMPORTANT:
To control ACTIVAL with a third-party controller, please consult with Azbil Corporation's sales personnel.
Feel free to contact us for consultation or inquiries regarding these products.
Online Inquiries
Inquiry Form