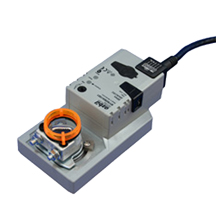 Direct Coupled Damper Actuator
Direct coupled damper actuator is a motorized actuator to open/close a damper.

Manual open/close function allows easy adjustment without power supply.
Standard models are equipped with rotation angle adjuster (mechanical stopper), enabling to adjust motor operating position.
Low power consumption allows energy conservation.
Large torque is assured despite compact, lightweight design.
Rotary switch on the front surface easily changes the motor rotating direction.
Simple physical structure facilitates installation on most types of the damper shafts.
Optional auxiliary devices offer a variety of applications.
Model MY9050A1001 is user-friendly to operate as well as to install and set up.
Model MY9050A1001 damper actuator conforms to all the applicable standards of CE Marking.
Feel free to contact us for consultation or inquiries regarding these products.
Online Inquiries
Inquiry Form