Search Help
How to search
Input a word in the search box and press the "Search" button.
Ex) When searching for the contents containing the word "automation":

Search tips
Search results can be limited by selecting the items beneath the search box. The upper-line items indicate the category of contents while the lower-line items indicate the file type.
Ex) The following is the example of searching contents containing a word "automation" in the ALL file which exists in the category Products.

Search suggest function
Frequently-used words along with search suggestions will appear under the search box as you type a word into the search box.
Ex) When input a word "auto":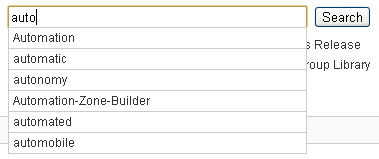 Search Results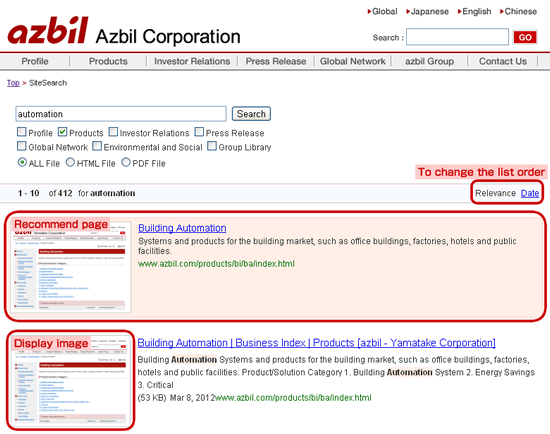 To change the list order
The list order of search results can be changed by clicking the anchor.
Relevance:The high relevant contents will appear on the top.
Date: The recent date contents will appear on the top.
Recommend page
To displays the Recommended page linked to keywords.
Display image
The image can be enlarged by putting the cursor over the image.
How to Require or Exclude Words
Input words divided by the space.


Ex) product censor

To search for pages which contain any of words (or search)


Input words divided by |.
Ex) product | censor

To search for pages which do not contain words (not search)


Type -(minus) in front of each word
Ex) product –censor
*The space is necessary in front of –(minus).

To search for pages which contain an exact phrase including a space or a symbol character (phrase search)


Input a phrase including a space or a symbol character with putting quotation marks around that phrase.
Ex) "product list"
Powered By SyncSearch (Japanese)