Valve Solutions - A Fusion of Tradition and Innovation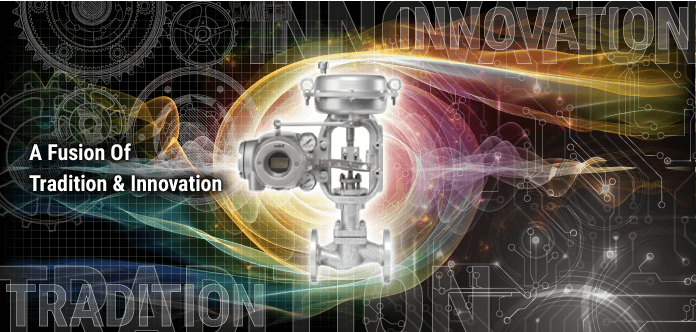 In 1936, an actuator supplier now known as Azbil developed and produced Japan's first domestically manufactured control valve.
Today, Azbil's highly reliable control valves are backed by more than 80 years of history and a rich record of achievements. These control valves, together with Azbil's smart valve positioners, which were developed using advanced mechatronics and information communication technology, and Azbil's control valve maintenance support system, are helping to stabilize operations in plants worldwide.
A diverse product lineup

We have the right products for your needs, allowing you to select the best products for your plant's varied requirements.
Case Studies
Azbil developed and began manufacturing the first Japan-made control valves in 1936, and since that time has offered a wide range of valve solutions in plants in a variety of industries, including food, paper and pulp, steel, and chemicals.
Customer and Case Study Overview
Products and Services

The Mitsubishi Chemical Ibaraki Plant, which produces a wide variety of petrochemical products in the Kashima Coastal Industrial Zone, has recently focused on control valves, which play an important role in production, in order to achieve reliable plant operation. The plant has selected a cloud service that analyzes and diagnoses the data on the condition of operating control valves that is detected by azbil Smart Valve Positioners, and has established a system to identify valve problems and warning signs in order to improve maintenance.

Usina Coruripe was founded nearly 100 years ago in Brazil, the world's leading sugar-producing country. In the company's factories, which produce sugar and ethanol, valve positioner failures sometimes occurred. Fortunately, Usina Coruripe found a high-quality and highly reliable positioner that can be used with all manufacturers' valves, and with valves of various specifications. As a result, plant operation has stabilized, repair costs are down, and the burden on workers has lessened.

With styrene monomer as its main product, NS Styrene Monomer Co., Ltd. (NSSM) meets a wide range of industrial needs. After repeated valve failures, the company's Oita Works plant is now introducing smart valve positioners. The plant is also using a system to improve the monitoring of valve status. In this way, by providing a mechanism to track valve failure trends, a high level of plant operation stability is being achieved.

Showa Denko's Kawasaki Plant in Ogimachi boasts a long history of development and manufacture of organic and inorganic chemical products. In order to promote smart industrial safety using technology such as the Internet of Things (IoT), the company pays special attention to valves, which are indispensable for production. To optimize maintenance work and reduce costs, Showa Denko utilizes Azbil's smart valve positioners, valve diagnostic systems, and valve analysis and diagnosis services provided by specialist engineers.

Valve analysis and diagnosis services

Indonesia's largest gas and oil company, PT Pertamina (Persero), joined hands with the azbil Group to participate in a Japan-led Joint Crediting Mechanism (JCM) project with Indonesia as the partner country. In this project, Pertamina used advanced Azbil control technology at a power plant to optimize boiler operation, and succeeded in reducing CO2 emissions by significantly more than the initial target.

Eastern Petrochemical Company (SHARQ) , located in Saudi Arabia, has upgraded its analog valve positioners to digital ones with communication capabilities in order to improve maintainability of the valves used in ethylene glycol production. As a result, the maintenance workload was greatly reduced. Now that detailed knowledge of valve and positioner condition is available, the company has taken the first step toward realizing "predictive maintenance".
Contact us