Eastern Petrochemical Company (SHARQ)
Eastern Petrochemical Company (SHARQ) , located in Saudi Arabia, has upgraded its analog valve positioners to digital ones with communication capabilities in order to improve maintainability of the valves used in ethylene glycol production. As a result, the maintenance workload was greatly reduced. Now that detailed knowledge of valve and positioner condition is available, the company has taken the first step toward realizing "predictive maintenance".

*SHARQ means "east" in Arabic, and the company was so named because it is located in Saudi Arabia's Eastern Province and it is a joint venture with an eastern country, Japan.
Eastern Petrochemical Company (SHARQ)
Factories and Plants Oil Refining and Petrochemical Reliable Operation Operation Improvement Control Valves and Actuators
Products/Services Provided
A partner supporting petrochemical plants for 30 years
Saudi Arabia by itself makes up most of the Arabian Peninsula and it is the largest country in the Middle East. With the largest oil reserves and oil export volumes in the world, Saudi Arabia's oil resources are the core of its industry and economy. It has been developing oil-related industries such as oil refining and petrochemical as its mainstays.
With its plants in Al-Jubail, one of the world's leading industrial cities located in eastern Saudi Arabia along the Persian Gulf, Eastern Petrochemical Company (SHARQ) was established as a joint venture between Saudi Basic Industries Corporation (SABIC)*1 and Saudi Petrochemical Development Corporation (SPDC)*2 in May 1981. The company manufactures four products: ethylene glycol, linear low-density polyethylene, high-density polyethylene, and ethylene; with a total production volume of 5 million tons a year.
Ethylene glycol production began at the EG1 plant in 1985, expanding to EG2 in 1993, EG3 in 2000, and EG4 in 2009. These production facilities now rank among the world's largest, producing 2.2 million tons per year.
Of these plants, EG1, EG2, and EG3 have adopted Azbil Corporation control valves.
Mr. Al-Ahmadi said: "In the first plant, EG1, we rated the reliability and durability of Azbil control valves and the stability of maintenance parts supply very highly. When we expanded production to EG2 and EG3, we continued to use Azbil products."
Mr. Al-Mutairi said: "When a problem does occur, we only need to give the tag number and, based on that product's delivery date, etc., the correct replacement part is always delivered, which gives us considerable peace of mind. Azbil has been our reliable partner for 30 years."
Introduction of smart valve positioners greatly reduced maintenance load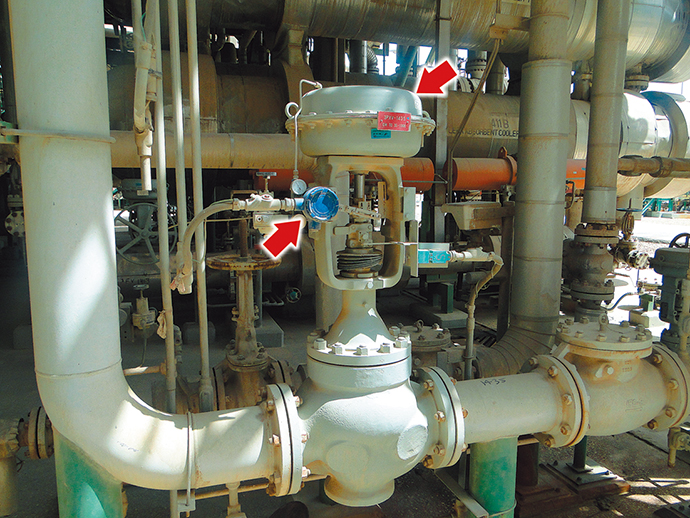 In spite of the severe environment, where sandstorms are likely to blow, Azbil Corporation's CV3000 Series Pressure Balanced Cage-type Control Valve and SVP3000 Alphaplus Smart Valve Positioner are operating smoothly.
At SHARQ, shutdown maintenance*3 is conducted once every three years, at which time valve operation and leakage are checked. Additionally, once every five years valves are overhauled: after disassembly, cleaning, and reassembly, they are restored to like-new condition.
Previously, maintenance personnel made daily inspections, patrolling sites to check the outward appearance of valves; and also checking the degree of valve opening or other aspects of operation from the DCS*4. But checking valve appearance will not disclose small problems occurring inside the valves. In some cases, a valve that previously seemed to be free of problems can suddenly malfunction and affect the manufacturing process.
To eliminate such problems at SHARQ, Azbil proposed replacing the analog valve positioners with communications-capable SVP3000 Alphaplus™ digital smart valve positioners. SHARQ accepted the proposal and at first introduced the SVP3000 Alphaplus for about 60 valves operating in EG1 in 2008.
Until that time, the analog positioners required assembly and adjustment work that even skilled experts found difficult, such as adjusting spring strength or balancing air supply. But after the introduction of digital positioners, auto-setup can be done using only a screwdriver, and maintenance efficiency has improved—a help in this country of severe summer conditions where the outside temperature can exceed 50°C. Also, digital information, such as the input/output range, output characteristics and malfunction condition of a smart valve positioner, can be entered into Azbil's CommPad™ smart communicator (a handheld information terminal) and checked in detail while at the actual valve.
Mr. Al-Otaibi said: "Introducing smart valve positioners has reduced the daily maintenance work load and time tremendously. We can understand a device's condition at any time, which has eliminated production line downtime caused by serious valve failure."
SHARQ replaced the rest of the approximately 70 analog valve positioners in EG1 with SVP3000 Alphaplus, as a second step in 2012.
Expectation from a new Azbil subsidiary
SHARQ hopes to create a system to further reduce valve maintenance work load, enhance safety and peace of mind on the production line, and strictly prevent the occurrence of valve failure.
To that end, when proposing the use of smart valve positioners, Azbil also suggested the Valstaff™ control valve maintenance support system. By introducing this system, data from valves equipped with smart valve positioners can be collected by Valstaff, and device diagnosis and decision-making necessary for maintenance can be made quickly and precisely. Also, field instrument conditions can be checked in the control room without going to sites where environmental conditions are severe. Before using Valstaff, SHARQ plans to systematically introduce smart valve positioners in the plants other than EG1.
Mr. Al-Otaibi said: "Valstaff is the ideal product for achieving predictive maintenance. Valve condition can be monitored and the degree of wear can be checked without opening the valve for inspection, which will be a great help by reducing the number of overhauls."
Also, SHARQ is looking forward to the support from an Azbil overseas affiliate, Azbil Saudi Arabia Limited, established in 2013.
Mr. Al-Mutairi said: "Now that the new affiliate is established and a valve maintenance center is to open soon, we are looking forward to Azbil's finely tuned response, such as faster parts supply and expanded service."
Mr. Al-Ahmadi said: "Above all else, with their new operating base near us, we expect that Azbil will create solutions that meet our needs more than ever. We hope that Azbil, as a good partner, will continue to increase its support of our manufacturing activities."
glossary
*1 Saudi Basic Industries Corporation
SABIC is a top-ranking Saudi-Arabian petrochemical company. In the petrochemical industry, SABIC is among the top 10 companies worldwide.
*2 Saudi Petrochemical Development Corporation
Founded in 1979 to support the development of Saudi Arabia's petrochemical industry, SPDC was established as a research agency by such industrial companies as Mitsubishi Corporation, the former Mitsubishi Petrochemical Co., Ltd. and the former Mitsubishi Kasei Corporation. In 1981 it was restructured into an investment company, with the aid of the Japanese government as a national project.
*3 Shutdown maintenance
Large-scale inspection and repair work conducted regularly in various production facilities or plants. This is carried out when the plant is shut down for a fixed period of time.
*4 DCS (Distributed Control System)
A system that monitors and controls the manufacturing process or production facilities in plants and factories. To achieve even distribution of load, the DCS distributes the functions of each device over a network, resulting in safety and excellent maintainability.
Learn about the customer
Mr. Ali S. Al-Ahmadi
General Manager
Maintenance & Technical
Support
Mr. Naser A. Al-Mutairi
Manager
Electrical & Control
System Dept.
Mr. Sultan Saud Al-Otaibi
EG Control System
Superintendent
Electrical & Control
System Dept.
Eastern Petrochemical Company (SHARQ)
Eastern Petrochemical Company (SHARQ)
Eastern Petrochemical Company (SHARQ)
Location: Al-Jubail Industrial City, Kingdom of Saudi Arabia
Established: May 1981
Business scope: Production and sale of petrochemical products such as ethylene glycol
This case study was published in the 2013 Vol.2 issue of the azbil Group's corporate magazine, azbil.
Factories and Plant Cases
Oil Refining and Petrochemical Cases
Operation Improvement Cases
Control Valves and Actuators Cases