Solid Square
In response to the ever-increasing demand for energy conservation—heightened now by the SDGs—Solid Square, a landmark in Kawasaki, took advantage of an Azbil service to reduce its energy consumption. The service guarantees a certain level of success and does not require an initial investment. With improved operation of existing heat sources and air conditioning equipment, the property has enjoyed great energy savings and a significant reduction in operating costs.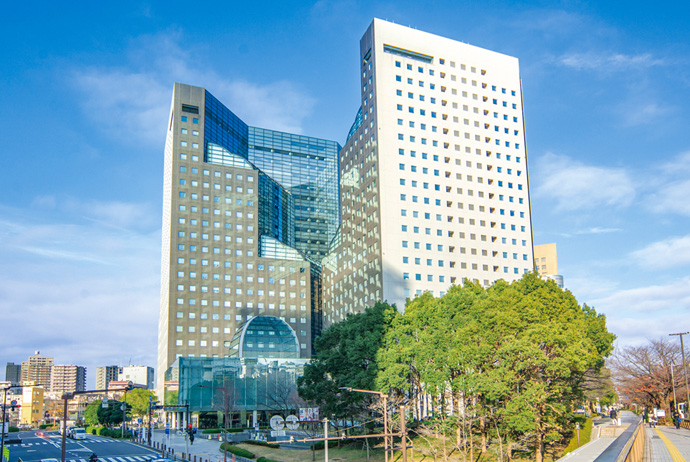 Building Solutions Office Buildings Government Buildings Building Complexes Energy Efficiency Energy Management Cost Reduction Operation Improvement Building Management Systems Cloud Services for Buildings Building Energy Management Energy Management Services
Products/Services Provided
Energy conservation: desired by society and a business strategy
Solid Square was completed in May 1995 and is located in Kawasaki, just outside of Tokyo. The facility, which stands out in the area, consists of two 24-story high-rise office buildings that include company and prefectural offices, sports clubs, and auditoriums. An atrium with a glass dome roof and a round pond at the entrance of the buildings make it a lively place for people to relax.
Solid Square is an investment fund property run by Tokio Marine Asset Management Co., Ltd. Profits from facility rental income and the like are distributed to investors. The company considered energy conservation measures, in addition to the continuing maintenance of the buildings, so as to improve the asset value and evaluation by investors.
"We had been focusing on making contributions to a sustainable society, as indicated by the SDGs.*1 Also, to differentiate ourselves and enhance our competitiveness in the real estate investment trust industry, we had to figure out how to increase the profits returned to investors by reducing equipment management costs, and how to promote internal growth," says Akihiro Yoshida, a manager in the Japanese Property Asset Management Department of Tokio Marine Asset Management Co., Ltd.
No initial investment necessary
To save energy and costs, Tokio Marine Asset Management consulted with Azbil Corporation, which had installed central monitoring equipment in Solid Square when it was built and had assisted in the operation of the buildings through maintenance, management, and upgrading of the system. Considering the characteristics of the property, Azbil proposed a service that guaranteed energy savings.
"Energy-saving measures for buildings usually involve a large amount of investment, such as installing new high-efficiency air-conditioning or heat source equipment, but the service proposed by Azbil did not require significant renovation of facilities. Instead, the service aimed to boost energy efficiency by improving the operation of existing equipment. An initial investment is not required and the service is available for a fixed outsourcing fee. Furthermore, if the results fall below the planned utility cost reduction, Azbil makes up the difference, because it is a performance-guaranteed service, which enables us to avoid risk. All these features fit well with the characteristics of our facility as an investment fund property," explains Mr. Yoshida.
"Since the completion of the building, Azbil has consistently helped us with equipment management. The new central monitoring system installed in 2018 enabled us to collect more detailed operational data on equipment. We had a great deal of confidence in the data-based proposals and thorough services offered by Azbil, and Azbil was already familiar with the buildings," says Ms. Chie Segawa, a deputy manager in the Solid Square Office of the Daiichi Building Co., Ltd.
Based on the operational data for the previous year, Azbil proposed a plan to reduce annual costs by about 11 million yen. Solid Square decided to use the guaranteed service in August 2019 and signed a contract for September 2019 through November 2024. One of the concrete steps to lower energy costs was to monitor the operating efficiency of gas and electric heat sources to preferentially use higher efficiency equipment. For air-conditioning equipment, a controller to regulate the number of running units and control intermittent operation was introduced to reduce the energy used for air transport during low-load periods.
"Azbil's personnel, who have an abundance of experience and knowledge about the equipment and its management, scrutinize the operational data and give advice to onsite facility managers on seasonal operating schedules and procedures. That contributes to smooth operation," explains Ms. Segawa.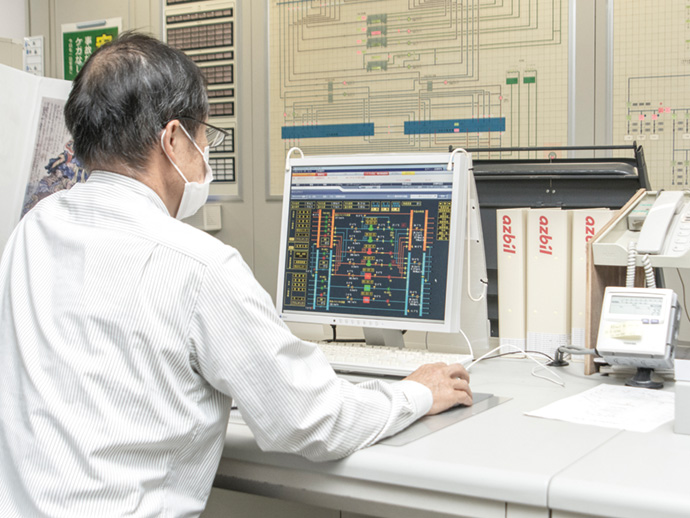 Azbil's building management system, installed in 2018, is used to manage operation of the entire facility.
154% of the contracted cost reduction target achieved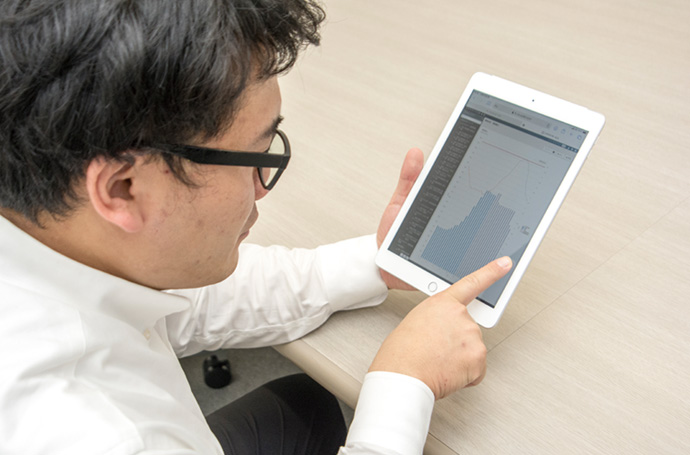 Operational data collected by Azbil's cloud service can be viewed on a tablet or PC. The service generates reports that show how much energy and money have been saved.
As a result of implementing these measures, Solid Square enjoyed energy savings that greatly exceeded expectations.
"From December 2019 to November 2020, which was the first and second terms of the service, the energy consumed by the relevant equipment was reduced by 23%. On a monetary basis, the total electricity and gas charge was cut by about 17 million yen compared to fiscal year 2018, which was made possible mainly because gas usage was reduced dramatically. The target amount was set at 11 million yen, so the achievement rate was as high as 154%," says Ms. Segawa.
Additionally, by using Azbil's Cloud Services for Buildings EM (EM: energy management), information like the present energy usage can be checked from computers in the office or from a tablet. The data can be downloaded and used in reports for investors. Also, Azbil's personnel regularly report on energy conservation. At a semi-annual briefing, the amount of energy saved up to that point and the next steps to take are discussed.
"I find the reports from Azbil to be very convincing because they explain exactly which equipment is consuming significantly less energy than before and which equipment is not, based on actual figures. Their reports facilitate explanations to investors. In addition, although generally the amount of energy savings and the equipment operation tend to vary from building to building depending on the skills of the facility managers, thanks to the advice from Azbil, which is also an equipment manufacturer, the same level can be maintained throughout. It is a great advantage," says Mr. Yoshida.
"Solid Square is subject to the national Energy Conservation Act*2 and Kawasaki's global warming countermeasures ordinance, and is legally obliged to submit reports. Azbil is also helping us prepare accurate and high-quality reports for the relevant government agencies," adds Ms. Segawa.
Solid Square officials indicate that the facility will pursue greater energy conservation by improving the efficiency of energy use through continued tuning of HVAC equipment and improvements in operation.
"We have a lot of trust in Azbil, which has consistently supported the management of our buildings since their completion. We would like to continue proactively utilizing this kind of service when acquiring properties in the future, and we have high expectations for what Azbil can do," says Mr. Yoshida.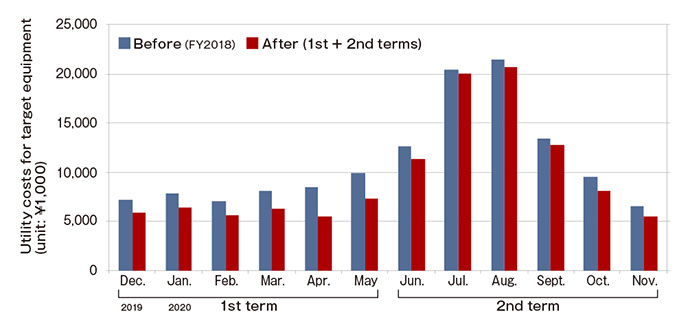 Changes in utility costs for equipment subject to energy-efficiency measures (12/2019–11/2020)
glossary
*1 Sustainable Development Goals (SDGs)
The Sustainable Development Goals are international goals for 2016–2030. They were adopted at a United Nations summit in 2015. Seventeen goals and 169 targets were established in order to achieve a sustainable, diverse, and inclusive society where no one will be left behind.
*2 Energy Conservation Act
Also called the Act on the Rational Use of Energy. Depending on the amount of fuel (crude oil equivalent) consumed by factories and business establishments, Designated Energy Management Factories, both Type-1 (3,000 kl or more per year) and Type-2 (over 1,500 kl per year), are required to submit legal documents, including reports on the status of energy consumption, medium-to long-term reports on energy efficiency measures, and periodic reports, and must appoint an energy manager.
Learn about the customer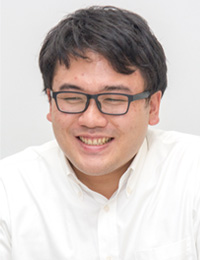 Akihiro Yoshida
Manager
Japanese Property Asset
Management Department
Tokio Marine Asset Management Co., Ltd.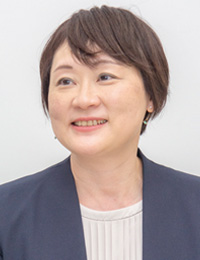 Chie Segawa
Deputy Manager
Solid Square Office
The Daiichi Building Co., Ltd.
Solid Square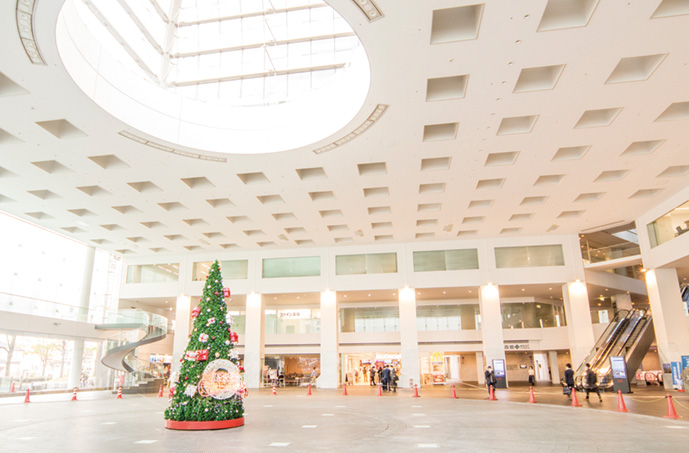 Solid Square
Address: 580 Horikawa-cho, Saiwai-ku, Kawasaki-shi, Kanagawa
Beginning of Operation: May 1995
Business: 2 basement floors, 24 floors above ground, 100 m high, 168,904 m2 total floor area
This article was published in October 2021.
Office Buildings Cases
Government Buildings Cases
Operation Improvement Cases
Building Management Systems Cases
Building Energy Management Cases