Sakura City Museum of Art
The Sakura City Museum of Art houses and displays a variety of artwork by artists who are associated with Sakura City or the Boso Peninsula. More than 20 years after its opening, the museum decided to launch an ESCO project to upgrade its increasingly aging HVAC equipment and central monitoring system. The upgrade achieved both energy savings and an air conditioned environment that helps to preserve works of art.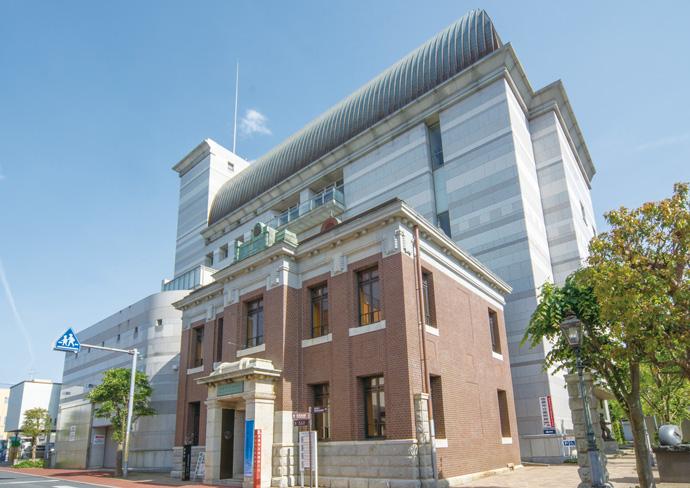 Building Solutions Other (Markets and Industries) Energy Efficiency Energy Management Cost Reduction Countermeasures for Aging Building Management Systems Building Energy Management
Products/Services Provided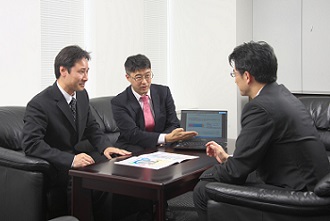 20-year-old equipment upgraded using ESCO project
Sakura City is located about 40 km east of Tokyo. From the 17th to 19th centuries, which was known as the Edo period, it flourished as a castle town in the Sakura domain. Literary and military arts were encouraged, so there are many cultural assets in the city, including warriors' residences that remind one of the Edo period. The Sakura City Museum of Art opened in November 1994 as a main base for stimulating the city's cultural creativity.
The museum stores many works of art by artists connected with the local Sakura and Boso areas, and holds exhibitions that present Japanese modern and contemporary art in addition to various special exhibitions on a regular basis. It also plays an important role in promoting art and culture in Sakura City by offering a place for the city's citizens to present their art.
"To properly maintain the condition of our collections, it is necessary to keep storage and exhibition rooms at a constant temperature and humidity by running air conditioning 24 hours a day, 365 days a year. More than 20 years had passed after the opening of the museum, and its air conditioning, central plant equipment, and central monitoring systems were increasingly aging, so replacing them was an important matter for us," says Museum Director Makoto Shishido.
Sakura City is also known for its early efforts to achieve efficient operation and maintenance of the facilities it owns. A specialized unit called the Facility Management Office was established in 2010. Improving the energy efficiency of city facilities is one of the important missions of the Office.
"The Sakura City government places great importance on environmental and energy-related efforts. It formulated an action plan to combat global warming as a part of these efforts so we needed to implement an equipment upgrade in line with this direction," adds Yuichiro Sugasawa, chief manager of the Office. With this background, and under the leadership of the Office, the Sakura City government decided to upgrade the air conditioning, central plant equipment, and central monitoring system of the Sakura City Museum of Art.
The city government also chose to use an ESCO*1 project, since it offered comprehensive management, including equipment upgrades, maintenance, performance guarantees, and verification of effectiveness.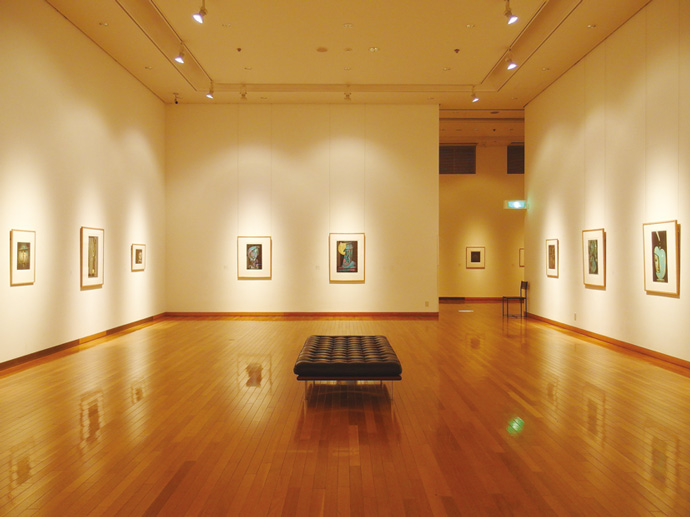 Works of art by local artists are exhibited and special exhibitions are also held regularly.
Temperature and humidity management, along with energy savings
In October 2015, the Sakura City government invited ESCO companies to submit proposals for carrying out the equipment upgrade. After careful examination of the proposals, it chose Azbil Corporation as the ESCO company.
"Strict control of air conditioning requires a lot of energy, but Azbil has abundant experience and expertise in the air conditioning of museums. Also, Azbil proposed that we use a subsidy for promoting energy efficiency and productivity improvement at small and medium businesses offered by the Ministry of Economy, Trade and Industry," recalls Assistant Manager Yuka Shinkawa. Mr. Shishido adds, "Initially, we thought that our stored artwork would have to be moved to a different facility during the construction. However, Azbil suggested a way to carry out construction without moving the works of art, by switching between two air conditioning systems so that the environment necessary to protect the art could be maintained. The museum closed during the four-month construction period, but the risk involved in moving the collections out was avoided, which was a relief to us, since they have to be stored at a consistent temperature and humidity."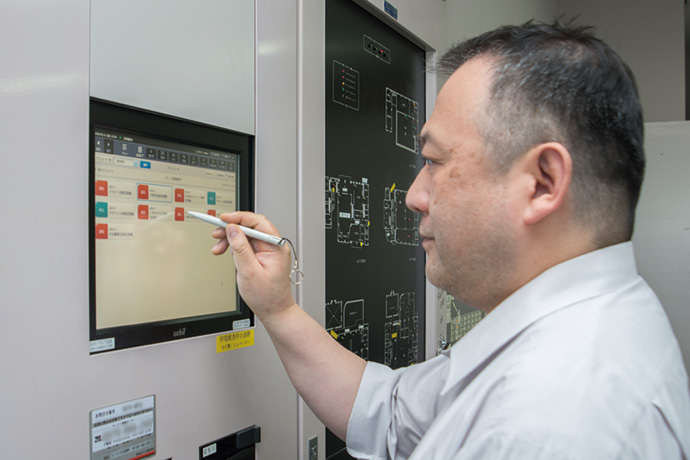 Azbil's Wall-Mounted BA System was selected for installation.
The Sakura City government adopted Azbil's proposal in January 2016, and construction was completed by January 2017. A 10 year ESCO service period began in April 2017. With regard to the details of the project, HVAC central plant equipment, such as aircooled heat pump chillers, was upgraded for greater energy efficiency, inverters were connected to secondary pumps and air conditioner fans, and the central monitoring system was replaced with Azbil's Wall-Mounted BA System.
In addition, the central monitoring system is connected to Azbil's dataware center, so now data such as the operating status of each piece of equipment is collected, analyzed, and presented in report format. Using the reports, the museum can discover energy waste and eliminate it.
With the previous central monitoring system, made by another company, automatic control was somewhat difficult due to aging. However, strict control of the temperature and humidity is a necessity for storage and exhibition rooms in order to maintain the condition of the art. As a result, museum staff members had to go to the HVAC mechanical room almost every day to fine-tune the air conditioning.
"Automatic control for consistent temperature and humidity was achieved by upgrading the equipment. In addition, the temperature and humidity settings can be changed from the new central monitoring system which is installed in the office, eliminating the trouble of going to the mechanical room each time a change is made. So, our staff's workload has been significantly reduced," explains Mr. Shishido.
"The recent contract we made includes maintenance and management, such as equipment maintenance and repair. Maintenance will be provided by Azbil for 10 years, which gives us a great feeling of relief," says Mr. Sugasawa.

The air-cooled heat pump chillers (left) and hot water heater (right) installed on the roof of the Sakura City Museum of Art as part of the ESCO project are highly efficient.
146% of cost reduction goals achieved in the initial year
One year after the start of the ESCO project, the Sakura City Museum of Art is already realizing great energy savings due to accumulated operational improvements and equipment upgrades. In fiscal year 2017, the first year of the contract, 146% of the energy cost reduction goal was achieved.
"After installing the equipment, Azbil carefully verified its effectiveness and made proposals to achieve further energy efficiency based on the results. In fact, we saw results that greatly topped our goal, so we have full confidence in Azbil," comments Mr. Sugasawa.
"The ESCO project at the Sakura City Museum of Art has just passed one year out of the 10-year contract. I expect that Azbil will continue to work for further operational improvement and achieve more energy savings over the next nine years," says Mr. Shishido.
glossary
*1 Distributed control system
A system designed exclusively for the monitoring and control of manufacturing processes
Learn about the customer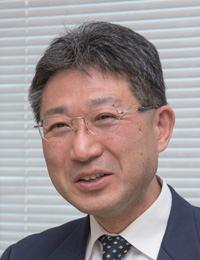 Makoto Shishido
Director
Sakura City Museum of Art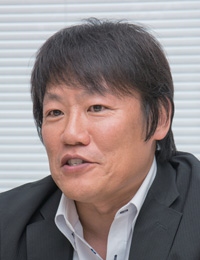 Yuichiro Sugasawa
Chief Manager
Facility Management Office
Sakura City Office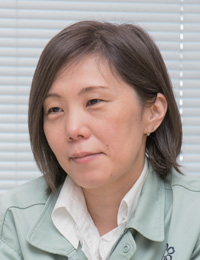 Yuka Shinkawa
Assistant Manager
Facility Management Office
Sakura City Office
Sakura City Museum of Art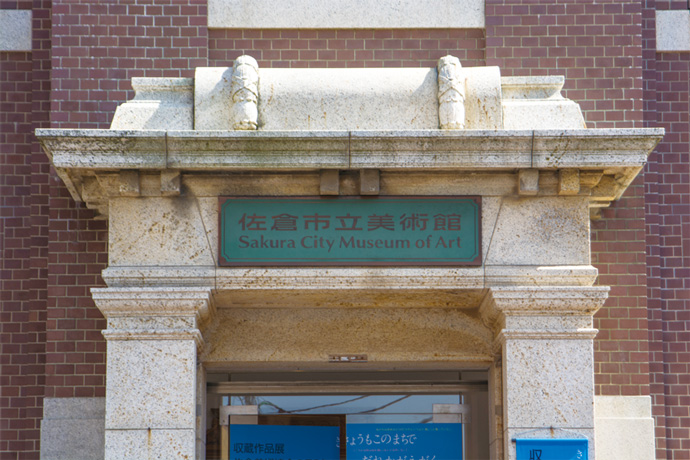 Sakura City Museum of Art
Address: 210 Shinmachi, Sakura City, Chiba Prefecture
Opened: November 1994
Business: Collection and exhibition of art and handicrafts
This case study was published in the 2019 Vol.4 issue of the azbil Group's corporate magazine, azbil.
Other (Markets and Industries) Cases
Countermeasures for Aging Cases
Building Management Systems Cases
Building Energy Management Cases