Amarin Plaza
Amarin Plaza is a large building complex located in the Ratchaprasong district in Thailand's capital, Bangkok. In a bid to further improve the originally implemented energy-saving measures, a decision was made to incorporate energy-saving technology from Japan, which is known as a leader in energy efficiency. Amarin Plaza successfully achieved energy-saving results far exceeding its targets by implementing an ESCO project to optimize the operation of its HVAC equipment while minimizing its investment.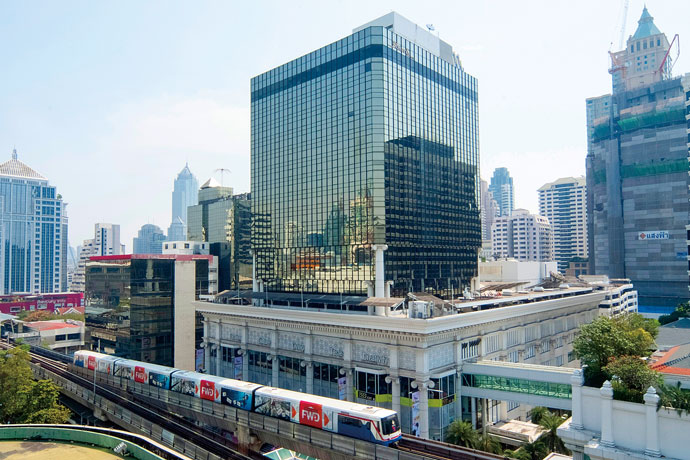 Building Solutions Office Buildings Shopping Centers Building Complexes Energy Efficiency Building Management Systems Building Energy Management
Products/Services Provided
Japanese energy-saving technology presented in a seminar makes an impression
With its record of maintaining a high economic growth rate for many years, Thailand is typical of industrial nations in Southeast Asia. Ratchaprasong Intersection in the heart of Bangkok is crowded with shopping malls and luxury hotels, and is in one of the busiest commercial districts in the country. The extensive 22-story Amarin Plaza building complex was completed in 1984. The first five stories are occupied by a shopping mall hosting some 300 business establishments, including clothing stores, variety shops, grocery stores, electric appliance stores, restaurants, and a food court. The sixth and higher floors are used as the offices of about 30 companies. Amarin Plaza is busy with 15,000 to 20,000 people visiting every day.
Rapid economic development in Thailand has resulted in a sharp rise in energy demand. Thus, energy conservation is a major issue throughout the country. Against this backdrop, Amarin Plaza has initiated various measures to tackle environmental problems and reduce energy costs for operating the building. It has already switched to LED lighting, improved the efficiency of its chillers, and is recycling water, for example. As Mr. Wisit Suthatheerarat, Assistant Vice President of Amarin Ratchaprasong Co., Ltd., recalls, "We had long been seeking effective energy-saving measures. One day, I attended a seminar held in Bangkok by the Global Environment Centre Foundation on energy-saving measures implemented for buildings in Bangkok. I was very impressed with the energy-saving technologies introduced in this seminar. I was particularly interested in the BEMS*1 system, which was not commonly used in Thailand at that time. So, I contacted Azbil Corporation, the company that was explaining energy-efficiency improvements in the seminar, to learn more."
High evaluation for expected energysaving effectiveness and ESCO contract guaranteed energy savings
After sharing information on energy-efficient technologies and methods from Azbil and confirming their capability, Amarin Plaza requested Azbil to submit a proposal for further energysaving. Azbil conducted a field survey at Amarin Plaza, selected the energy-saving items that would be most suitable for Amarin Plaza, and suggested executing the job as an ESCO project.*2
"Considering the plan's significant effectiveness in reducing energy consumption, its guarantee of energy savings with an ESCO contract, and the merits of making the investment, we decided to accept Azbil's proposal for achieving further reduction of energy consumption at Amarin Plaza," explains Mr. Suthatheerarat.
The project involved the installation of the savic-net™ FX Integrated Building Management System as the BEMS. In addition to making Amarin Plaza's energy consumption trends visible and easily understandable, Azbil also installed VFD (variable frequency drive units) at chilled and condenser water pumps of heat source equipment used for air conditioning in order to enable variable flow control. The new system has optimized the operation and control of heat source equipment and reduced the amount of electricity used by the pumps.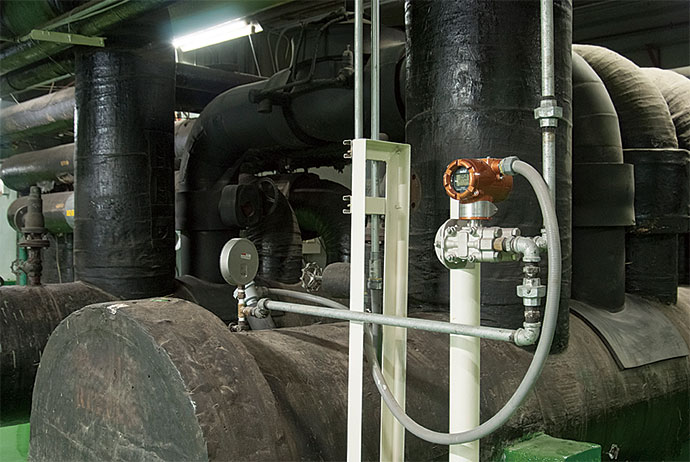 The AT9000 Advanced Transmitter (Model GTX) mounted at the top of the chilled water header for the heat source equipment detects the differential pressure and adjusts the flow rate of the pumps based on the amount of chilled water demand, thus helping to reduce energy consumption.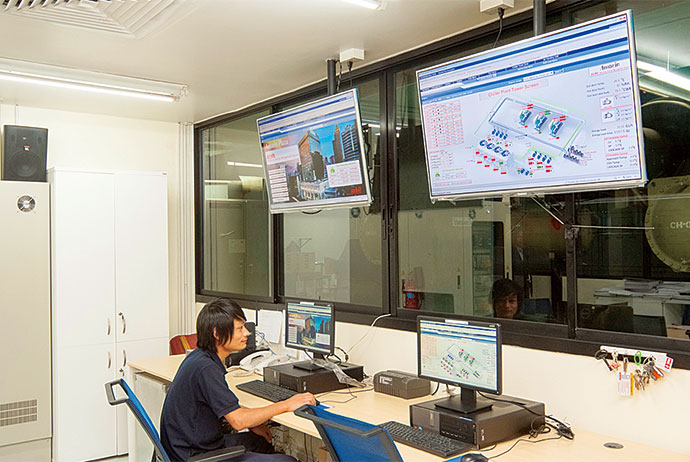 Azbil Corporation's savic-net™ FX in the central monitoring room serves as the BEMS.
Exceeding energy reduction targets and contributing to reduce operator workload
Installation of the new energy-efficiency system at Amarin Plaza took place from October 2013 to March 2014, and the ESCO contract went into effect when the installation work was complete. The new system with its energy-saving functions started to operate and is steadily producing results.
"In the ESCO contract signed between Amarin Plaza and Azbil (Thailand) Co., Ltd., we set a goal of 40 % reduction in the power consumption of the pumps targeted by the project. In actual operation, we were able to achieve a reduction of 50–60 %. Throughout the entire Amarin Plaza complex, we anticipate an energy consumption reduction of approximately 4 % per year," says Mr. Suthatheerarat.
Mr. Pisan Chinnawong, Senior Technician Supervisor at Amarin Ratchaprasong, describes the improved case of managing equipment operation. "Installation of the BEMS has enabled us to monitor and control the equipment from the central monitoring system. That is a great benefit. Previously, our operators had to manually start and shut down the air conditioning system at each equipment unit. Now, we can operate them from the savic-net™ FX screen, so the operator workload has decreased significantly."
Also, the introduction of the BEMS with its ability to visualize equipment operating conditions has produced an unexpected benefit. One day, a decline in energy efficiency was noticed. An analysis of the data recorded by the BEMS indicated deterioration of the cooling tower's capacity. As a result of this BEMS fault detection, Amarin Plaza was able to maintain its original efficiency level by cleaning the cooling tower.
The energy savings achieved by the project are attracting great attention in the community of shopping-mall owners and hotel owners in Ratchaprasong. "Amarin Plaza planned and held a seminar jointly with Azbil to explain the energy-efficiency improvements implemented at Amarin Plaza to business owners in the area. Some business owners expressed their interests in those measures and consulted Azbil about their buildings," says Mr. Suthatheerarat.
Amarin Plaza plans to continue addressing energy conservation in the future.
"Presently, the BEMS visualizes the energy consumption trends of the heat source equipment for air conditioning only. We want to expand its application to the entire building so that we can visualize the energy consumption trends from a broader perspective," says Mr. Chinnawong.
"Azbil provides high quality service, for which Japanese companies are renowned. We are counting on Azbil for continued support," declares Mr. Suthatheerarat.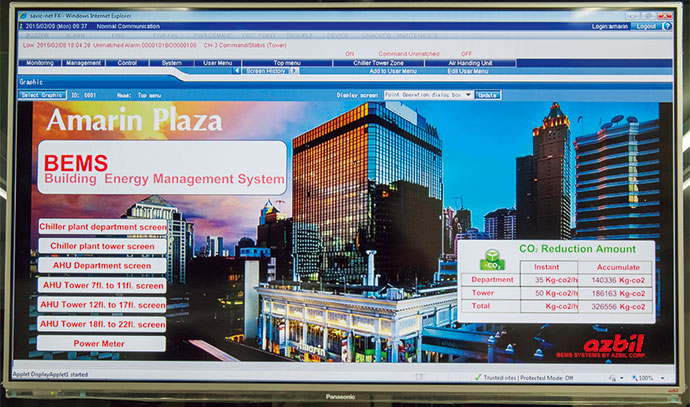 The top-level screen of the central monitoring system for Amarin Plaza shows the current amount of reduction in CO2 emissions.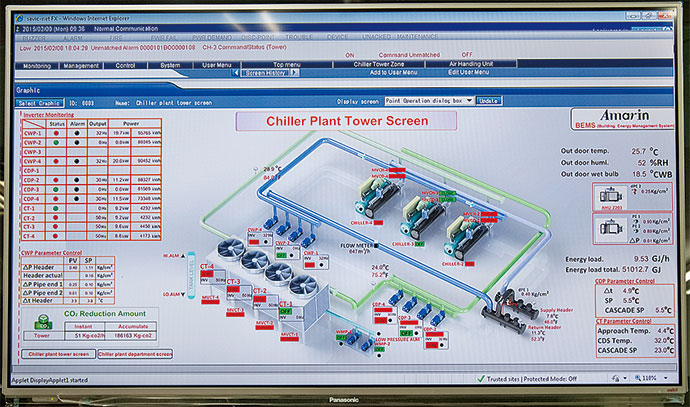 The heat source system diagram enables at-a-glance checking of the operating conditions of multiple pumps for chilled and condenser water including their rotation speed and current power consumption.
savic-net is a trademark of Azbil Corporation.
glossary
*1 BEMS (Building Energy Management System)
A system designed to minimize the energy consumption for an entire building or plant by automating the monitoring and control of energy consumed by energy-using facilities and equipment.
*2 ESCO (Energy Service COmpany) business
A project in which an energy service company guarantees a certain level of energy savings through the provision of comprehensive services for reducing energy consumption in a factory or building. There are two types of contract. In a guaranteed savings contract, the facility owner bears the project cost and the energy service company guarantees the energy savings. In a shared savings contract, the energy service company bears the project costs and the customer pays a fee for the results of energy-saving measures.
Learn about the customer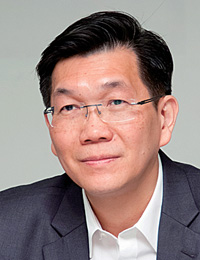 Wisit Suthatheerarat
Assistant Vice President
Property Management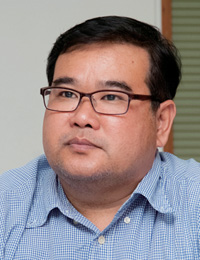 Pisan Chinnawong
Senior Technician Supervisor
Property Management
Amarin Plaza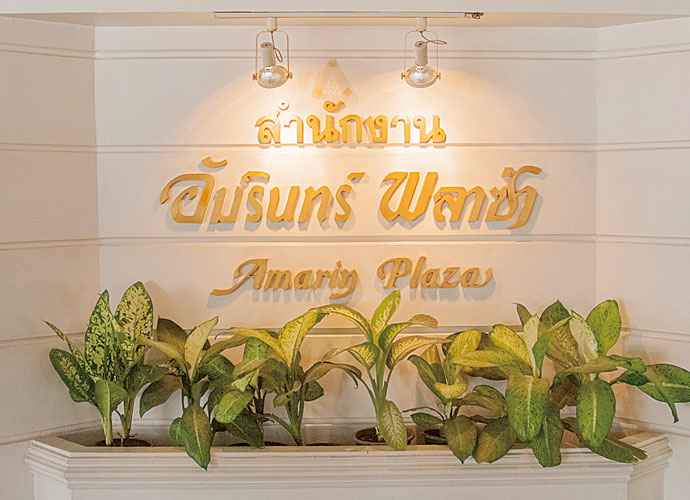 Amarin Ratchaprasong Co., Ltd
Location: Amarin Plaza 7th Fl., 496-502 Ploenchit Rd., Lumpini, Pathumwan, Bangkok 10330, Thailand
Establishment: 1984
Business: Operation and management of shopping malls and office buildings
This case study was published in the 2015 Vol.3 issue of the azbil Group's corporate magazine, azbil.
Office Buildings Cases
Shopping Centers Cases
Building Management Systems Cases
Building Energy Management Cases