Aichi Forging Company of Asia, Inc.
Aichi Forging Company of Asia, Inc. is an Aichi Steel Group company production base in the Philippines which provides the automotive industry with transmission-related forged parts. In order to reduce the cost of electricity while making use of existing equipment, the company turned its attention to compressor operation. By controlling the number of compressors running, it optimized compressor use and successfully reduced the power consumed by the air supply for the production line.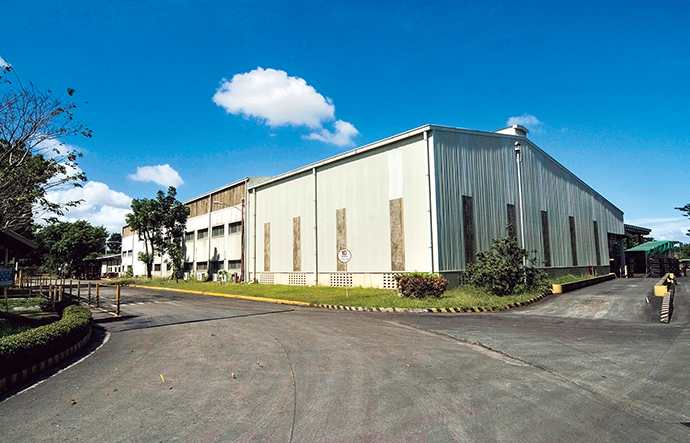 Factories and Plants Iron and Steel Energy Efficiency Reliable Operation Operation Improvement Industrial Automation Control and Monitoring Systems and Software Pressure Gauges (Pressure Sensors) and Differential Pressure Gauges (Differential Pressure sensors)
Products/Services Provided
Compressor optimization control ENEOPTcomp
Compressor Operation as a Key to Reducing Electricity Costs
Aichi Steel Corporation was established in 1940. Formerly, it was a department of Toyota Automatic Loom Works Ltd. (the present Toyota Industries Corporation), which was in charge of the research and manufacture of specialty steel for domestically produced cars. Today, Aichi Steel Corporation provides various kinds of products, particularly forged parts, whose raw materials include varieties of specialty steel, such as nickel chrome and stainless steel and titanium alloy, in order to meet a wide range of needs, from the automotive industry to industrial machines, electronics, construction, and even the pharmaceutical and agricultural industries. Particularly in recent years, the company has been vigorously expanding its affiliate companies operating as production and sales bases in such regions as North America, Europe, the ASEAN area, and elsewhere in East Asia, establishing a global production system to strengthen its competitiveness in the international market, while focusing also on optimizing its supply chain.
Aichi Forging has the longest history of any Aichi Steel Group overseas production base. The company was established in 1995 when Toyota Motor Corporation expanded to the Philippines. The production factory operates day and night to forge parts for automobile transmissions, supplying them to Toyota and other Japanese automotive manufacturers' overseas production bases in Thailand and Indonesia.
"The power infrastructure in the Philippines has high rates compared to other ASEAN nations. Finding a way to reduce the cost of energy at the factory was one of the company's important challenges for a long time. Compressors, in particular, were a focus of our attention since they create the air for various metalworking machines used in different processes such as pressing. How to make their operation more efficient and cut power consumption was a big problem," says Hiroki Morishima, Aichi Forging's Executive Vice President for Marketing.
To reduce energy use, Aichi Forging had taken measures not to operate all of its six compressors 24 hours a day under normal circumstances. Previously, when production quantity increased and consequently air pressure to the production line dropped, an alarm sounded. When they heard the alarm, operators would head out to the utility building and start the necessary number of additional compressors. Compressors were also stopped manually when they were no longer needed.
"Adjusting the air supply manually to meet the need of the production line is difficult. However, if the compressors are put in automatic operation mode they can unload, which leaves the motor running even though the compressor is not supplying air. As a result, the energy driving the compressors sometimes didn't match the load at the production line. Additionally, we did not have enough information on the amount of air being used in the factory and the power being consumed by the compressors, which made it even more difficult for us to control the air supply properly," says Maintenance Department Manager Jaime N. Fajardo.
Azbil's Energy-Efficiency Achievements in Japan Lead to Selection of Its Proposal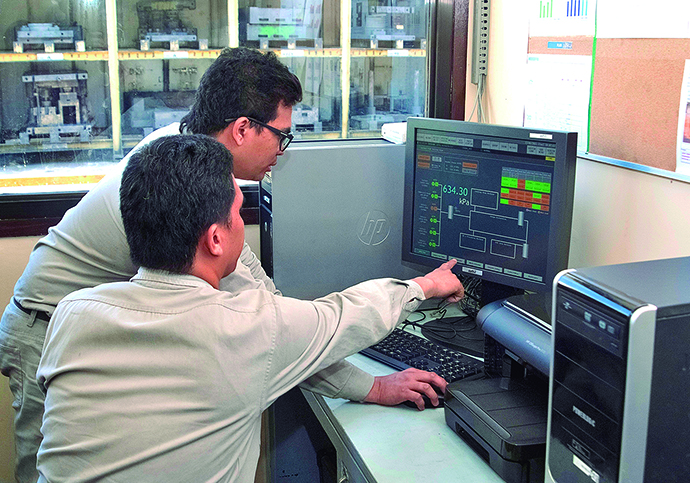 Harmonas-DEO system, which is installed in the central monitoring room, monitors the consumption and pressure of air supplied by compressors to the production line. On this basis it controls the number of compressors operating.
To address its concerns regarding compressor operation, Aichi Forging accepted a proposal from Azbil Philippines Corporation to use Azbil's compressor optimization control solution, ENEOPT™comp.
"At first, we were thinking about replacing aging compressors with new and more efficient ones. However, Azbil's proposal was to use the existing units and more efficiently control the number of compressors running in order to achieve optimal power consumption. In this way, we thought, we could take energy-saving measures with a minimal investment. Because we knew that in Japan, one of Aichi Steel Corporation's factories had introduced ENEOPTcomp and increased its energy efficiency, we accepted Azbil's proposal without question," explains Mr. Morishima.
The company decided in December of 2014 to introduce ENEOPTcomp, and construction started in March 2015. It was completed in the following month, and operation began in that same month. "All of our six compressors were introduced a long time ago, and we did not have enough material about their specs. However, thanks to support from Azbil, we were able to figure out the specifications for each of the different types of compressor, and we then incorporated them into Harmonas-DEO™, the central monitoring and control system for ENEOPTcomp," says Frank Niel F. Fajilan, Facilities Staff Engineer.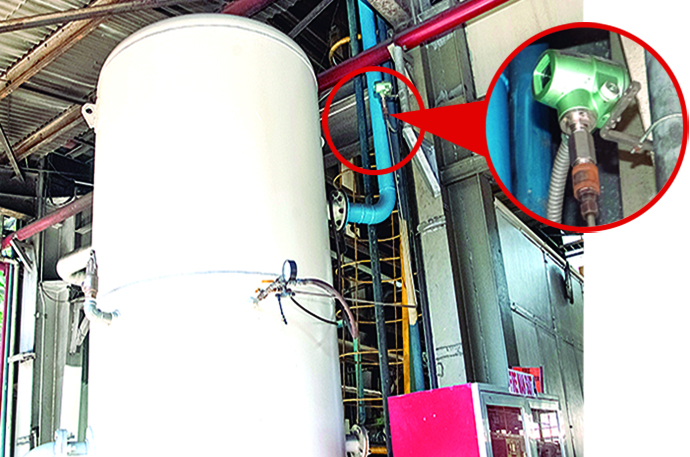 Compressed air from the compressors is stored in an air tank which supplies the necessary amount of air to the production line. Bravolight™, a pressure sensor, has been installed to monitor the air tank for the first time. Harmonas-DEO works to start the necessary number of compressors to supplement the air supply when the pressure sensor detects increased air use on the production line, which causes pressure in the air tank to drop.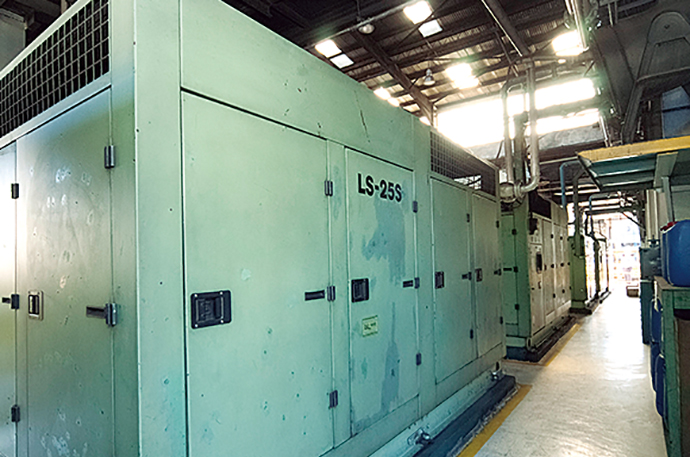 The utility building has a total of six compressors. The number actually running is controlled by Harmonas-DEO. Before ENEOPTcomp was installed, operators would come to this building to manually start the necessary number of compressors.
Optimized Operation and 10% Cut In Power Consumption by Controlling the Number of Operating Compressors
After introducing ENEOPTcomp, the company now operates the three compressors that deliver better efficiency, and Harmonas-DEO controls the starting and stopping of the other three according to the need for air. It has achieved optimized operation that responds to the requirements of the production line in real time while thoroughly eliminating unnecessary power consumption by the compressors.
"These efforts have brought about a 10% reduction in power consumption per month. They have also reduced operators' workload at the production line, since monitoring of compressors and manual starting and stopping of the equipment is no longer needed. In addition, with Harmonas-DEO, we can track trends in air use, accumulate data, and visualize such trends over the long term, which we believe will be helpful in creating future energy-saving measures," explains Mr. Fajardo.
The Harmonas-DEO system operating at Aichi Forging now collects data on air consumption and air pressure. The company is thinking about using it also to gather data on power consumption by the compressors in order to optimize energy use by better control of the balance between the amount of electricity and the amount of air used.
"In Phase 2 we will further advance our energyefficiency efforts by controlling supply air pressure and moving into other areas, such as control of the three cooling towers that supply cool water to the production line," says Lord Nero F. Gazo, Electrical Maintenance Staff.
"In taking these further measures, we will be counting on Azbil's support. We very much look forward to Azbil's proposals for energy-saving measures based upon the high level of knowhow that can only be offered by Azbil," says Mr. Morishima.

A comparison of air tank air pressure trends before (left) and after (right) introducing ENEOPTcomp. Afterwards, compared to the period of manual operation, the stabilization of pressure and elimination of excessive pressure rises can be observed.
* ENEOPT, Harmonas-DEO, and Bravolight are trademarks of Azbil Corporation.
Learn about the customer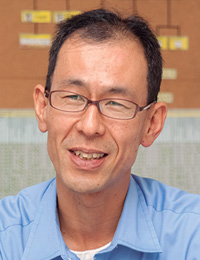 Hiroki Morishima
Executive Vice President for Marketing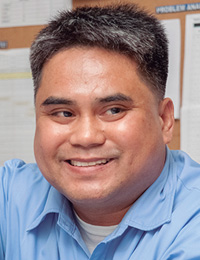 Jaime N. Fajardo
Manager
Maintenance Department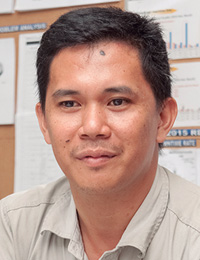 Lord Nero F. Gazo
Electrical Maintenance Staff
Maintenance Department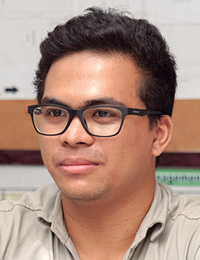 Frank Niel F. Fajilan
Facilities Staff Engineer
Maintenance Department
Aichi Forging Company of Asia, Inc.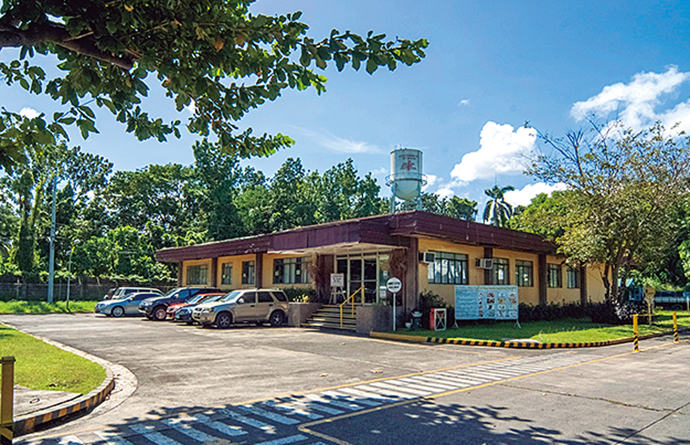 Aichi Forging Company of Asia, Inc.
Location: Barrio. Pulong Santa Cruz, Santa Rosa, Laguna 4026, Philippines
Founded: January 19, 1995
Business area: Manufacture and sale of forged components
This case study was published in the 2016 Vol.3 issue of the azbil Group's corporate magazine, azbil.
Factories and Plant Cases
Iron and Steel Cases
Operation Improvement Cases
Industrial Automation Control and Monitoring Systems and Software Cases
Pressure Gauges (Pressure Sensors) and Differential Pressure Gauges (Differential Pressure sensors) Cases