Subaru Corporation Gunma Oizumi Plant
Subaru Corporation's Gunma Oizumi Plant has standardized on Azbil TA's mist lubrication units for its machine tools. The plant has also consolidated its maintenance work, including the checking of any problems found in inspection of the large number of lubrication units, catching predicted failures, and replacing parts. These changes have allowed the plant to operate continuously and reliably at full capacity.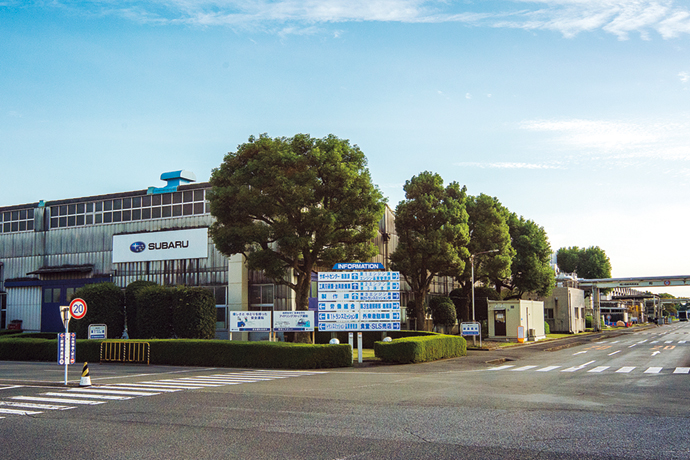 Factories and Plants Automotive Safety & Dependability Reliable Operation Maintenance Support Diagnosis of Factory and Plant Equipment
Products/Services Provided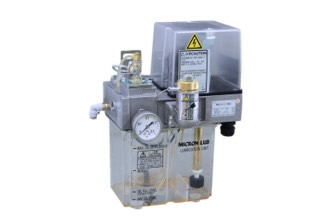 Higher Added Value for Further Growth as a Global Brand
Subaru Corporation does business mainly in the automotive and aerospace fields. Its automotive business and the Subaru brand are widely known from popular car model names like Impreza, Crosstrek, and Levorg.
In April 2017, the company changed its name from Fuji Heavy Industries Ltd. to Subaru Corporation, and expressed its determination to thrive as a brand that delivers value under the slogan "From a company making things, to a company making people smile." Subaru continues to provide "enjoyment and peace of mind" to customers around the world. It also works to raise its value added business to an even higher level to continue growing as an attractive global brand.
Subaru's Gunma Oizumi Plant is a production base for Subaru engines and transmissions. These products are supplied to the company's body factories.
"The first factory at the Oizumi Plant began operation in 1983," recalls Kazuya Saeki, a senior manager in Production Department 3. "Since then, a second, third, and fourth factories began operation at three-year intervals to respond to increased demand for production. In July 2010, a fifth factory was established to produce the new generation of boxer engines, which have low fuel consumption and excellent environmental performance."
Standardizing on Azbil TA's mist lubrication unit to Solve Lubrication Unit Problems
Factories 1 through 4 were using two different types of lubrication system, grease lubrication (grease-prefilled bearings) and mist lubrication (spraying of a lubricant as needed), to reduce frictional heat and wear in the bearings of the main spindle (for rotating a tool) in machine tools such as a machining center*1 for molding and processing a product. The mist lubrication units being used were provided by Azbil TA Co., Ltd.
"With grease lubrication, prefilled grease decreases due to aging, which often causes problems such as sudden locking of the spindle. To refill the grease, the spindle and bearing have to be replaced, which results in stopping the equipment," explains Atsushi Kurashina, a group manager in the Factory 1 Maintenance Group.
In view of this situation, the Oizumi Plant decided to standardize machine tool-related specifications when establishing the fifth factory. Based on the results from Factories 1 to 4, Azbil TA's mist lubrication unit was adopted as a standard because this highly durable system lubricates properly, with fewer machine tool breakdowns. With the mist lubrication unit, the problems associated with grease lubrication were solved. Currently, more than 1,000 Azbil TA's mist lubrication units are running at the five factories.
However, another problem arose, which was the maintenance of the lubrication units.
"Machine tool breakdowns due to lubrication failure directly cause factory equipment to stop. This causes a delay in the supply of engines and transmissions to the body factories here and overseas, eventually leading to a delay in delivery to customers. How to properly maintain over 1,000 lubrication units became a new matter for us to consider," says Mr. Saeki.
In response to a request from the Oizumi Plant, Azbil TA proposed a service providing regular inspections, maintenance plans including replacements, and identification of lubrication units where there is a problem or where warning signs are found. The Oizumi Plant immediately decided to accept the proposal.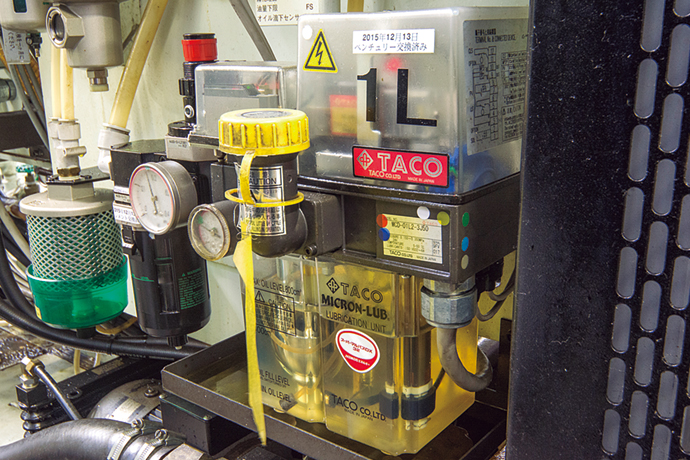 An Azbil TA's mist lubrication unit, incorporated into a machine tool, sprays lubricant on a spindle and bearing.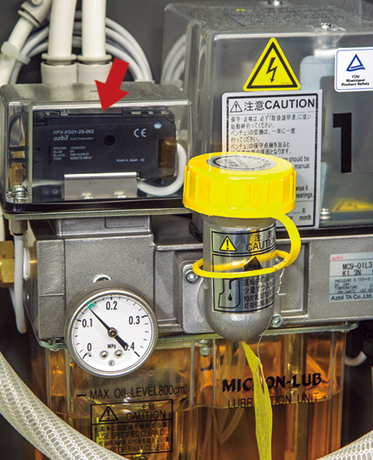 An Azbil Corporation photoelectric sensor monitors oil dropping to the venturi of Azbil TA's mist lubrication unit.
With an Optimized Maintenance Service, the Plant Operates Dependably at Full Capacity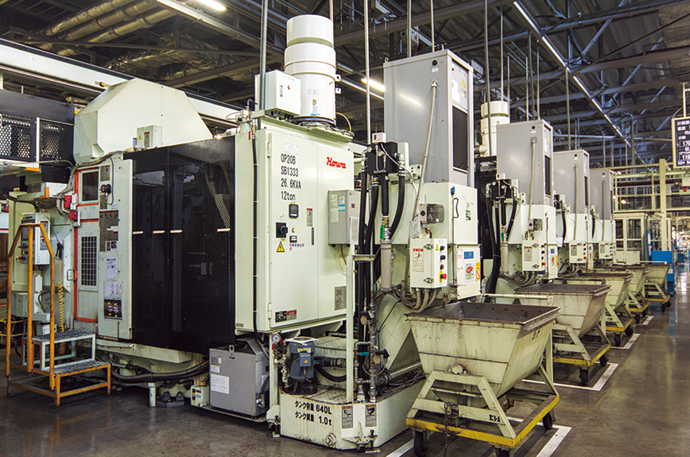 A machining center processes the head cylinder of engines at the production site at Factory 5 of the Oizumi Plant.
Azbil TA inspects the five factories every year, reports the results to the maintenance department of the Oizumi Plant, and at the same time provides comprehensive support, including maintenance plans, parts procurement, and repair work.
"Azbil TA checks the status of each unit from its professional viewpoint as a manufacturer, so it doesn't miss warning signs of a breakdown. The status of all the units is summarized in an easily understandable list. This allows us at the factory to make prompt decisions about repair work," says Norihiro Morita, a group manager in the Maintenance Section 3 Technical Group.
"Replacing a bearing for a main spindle stops production for about 8 hours. That kind of problem, requiring a bearing replacement, used to happen two to three times at each factory per month when the grease lubrication method was used. After adopting the mist lubrication unit, the factories rarely face a main spindle bearing problem that causes the equipment to stop. In addition to this achievement, a maintenance service that prevents equipment failure provides a great sense of security that factory operation will continue to run at full capacity at all times," said Makoto Sugita, a group manager in the Factory 5 Maintenance Group.
The automobile industry is in the midst of change against the background of technological innovation in various areas. Particularly in response to the growing concern for preserving the environment around the world, automobile manufacturers are rapidly developing fuel-efficient, lightweight, compact, and high-performance engines.
"Our company watches industry trends and always strives to understand what kind of next-generation automobiles our customers want. The Oizumi Plant assists the company with production and is also required to continuously improve its production system, so we are looking forward to good support from Azbil TA in the area of facilities," says Mr. Saeki.
glossary
*1 machining center
A machine tool equipped with an automatic tool changer. It can perform different kinds of machining such as milling, boring, and tapping, depending on the need. Mainly used for cutting processes, the tool's magazine stores various cutting tools. With computer control, the machine center can automatically change tools and process parts.
Learn about the customer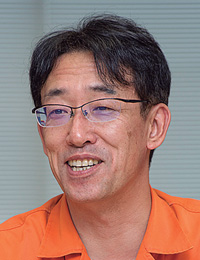 Kazuya Saeki
Section Chief,
Maintenance Division 3
Senior Manager,
Production Department 3
Manufacturing Division,
Gunma Plant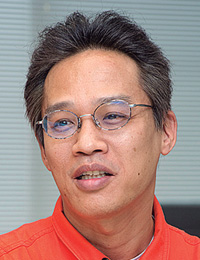 Norihiro Morita
Group Manager,
Technical Group
Maintenance Section 3,
Production Department 3
Manufacturing Division,
Gunma Plant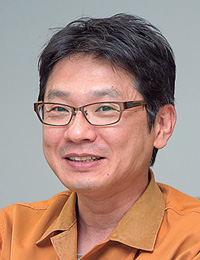 Atsushi Kurashina
Group Manager,
Factory 1
Maintenance Group
Maintenance Section 3,
Production Department 3
Manufacturing Division,
Gunma Plant
Makoto Sugita
Group Manager,
Factory 5
Maintenance Group
Maintenance Section 3,
Production Department 3
Manufacturing Division,
Gunma Plant
Subaru Corporation Gunma Oizumi Plant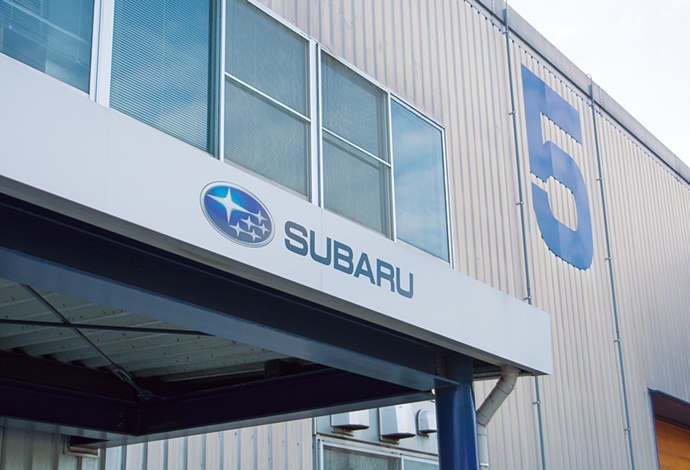 Subaru Corporation
Gunma Oizumi Plant
Address: 1-1-1, Izumi, Oizumi-machi, Oura-gun, Gunma Prefecture
Beginning of Operation: 1983
Business: Production of automotive engines and transmissions
This case study was published in the 2019 Vol.1 issue of the azbil Group's corporate magazine, azbil.
Factories and Plant Cases
Automotive Cases
Safety & Dependability Cases
Maintenance Support Cases
Diagnosis of Factory and Plant Equipment Cases