Usina Coruripe Plant Campo Florido Unit
Usina Coruripe was founded nearly 100 years ago in Brazil, the world's leading sugar-producing country. In the company's factories, which produce sugar and ethanol, valve positioner failures sometimes occurred. Fortunately, Usina Coruripe found a high-quality and highly reliable positioner that can be used with all manufacturers' valves, and with valves of various specifications. As a result, plant operation has stabilized, repair costs are down, and the burden on workers has lessened.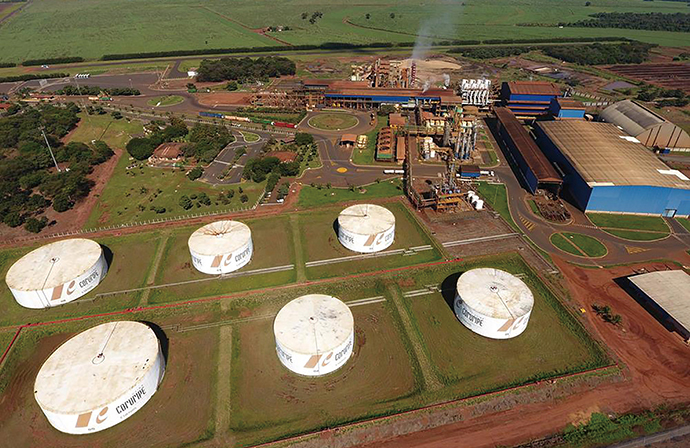 Factories and Plants Food and Beverage Cost Reduction Reliable Operation Operation Improvement Control Valves and Actuators
Products/Services Provided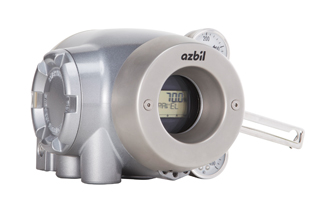 Failure of valve positioners used in sugar and ethanol production presented a problem
Brazil is the world's largest sugar-producing country. It has strong economic ties with Japan, with many Japanese companies doing business in Brazil. Usina Coruripe was founded in 1925 in the city of Coruripe on the southern coast of state of Alagoas in Brazil. As it expanded its sugar production business, Usina Coruripe also began producing ethanol from sugarcane for use as automobile fuel, and is now one of the 10 largest companies in Brazil in sugar and ethanol production. In addition, the company generates power from biomass, an eco-friendly energy source, mainly for running its own plants.
One of the company's main plants, the Campo Florido Unit, can process 4.4 million tons of sugarcane annually. The produced sugar is sold not only to domestic and overseas markets, but also under Coruripe's own brand, which is distributed mainly for household use in Minas Gerais, Alagoas, and other states.
The Campo Florido Unit's sugar and ethanol production processes include fermentation, processing of the remaining material after stripping and crushing sugarcane, drying, evaporating, crystallization, and refining. In the past, the positioners that controlled the valves for various processes often malfunctioned, with a high probability that repair would be needed. Usina Coruripe has a number of factories with similar production processes at various domestic locations, so the challenges it faced affected the entire company.
"Every time we had a breakdown, we had to shut down the plant, lowering its availability factor. So we tested positioners from multiple manufacturers to find a cost-effective product with fewer failures," says Electricity and Automation Maintenance Coordinator Wilson Angelo de Menezes Junior.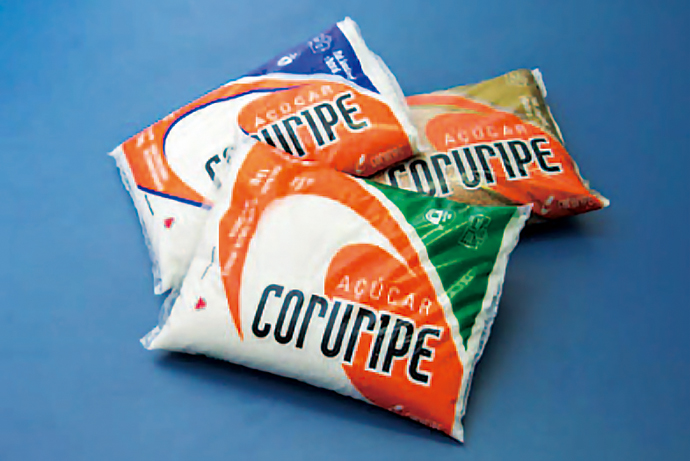 Household sugar sold as the company's own product
Selecting a reliable product to improve productivity and reduce workload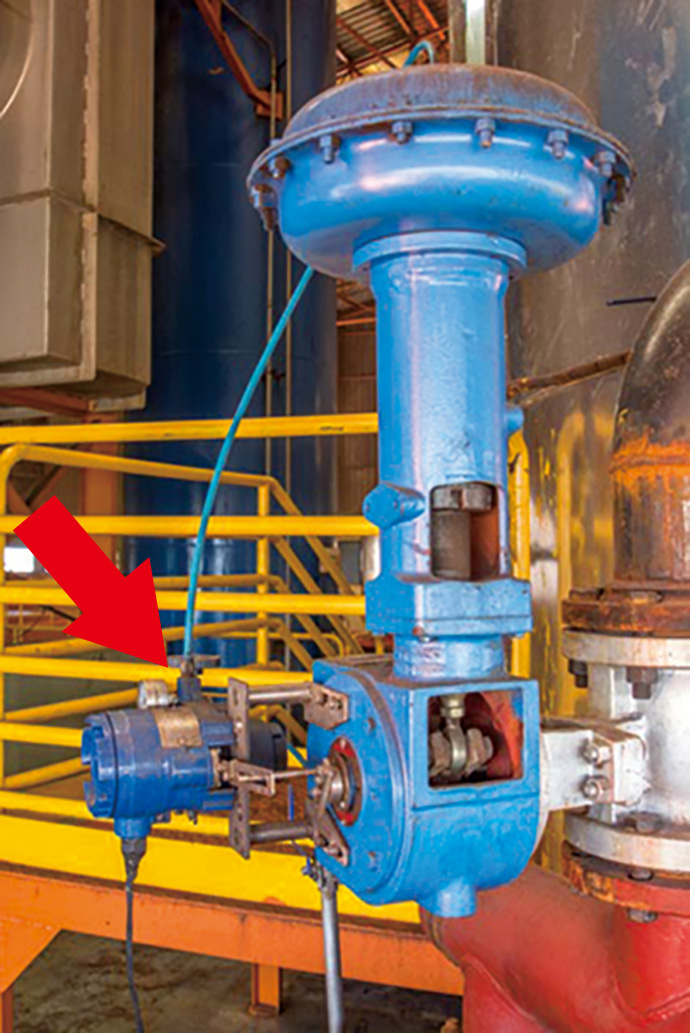 Azbil's smart valve positioner attached to a valve that controls the flow of syrup during the processes of boiling down syrup and producing crystals (decoction and crystallization). The positioner is installed using a mounting plate which differs in
In the examination of many manufacturers' positioners, the quality and cost effectiveness of Azbil Corporation's smart valve positioners became apparent through actual demonstrations. The plant utilizes valves made by a number of manufacturers, both Brazilian and foreign. If a positioner fails, the company must ask the manufacturer for repair, which is a heavy burden on the maintenance site. Azbil's smart valve positioner received high marks for its compatibility with various manufacturers' valves of differing specifications used at Campo Florido, as well as for its quality and cost-effectiveness. Azbil's positioner was selected in June 2018. In July of the same year, smart valve positioners and 10 sets of mounting plates for installation on other companies' valves were delivered, and the positioners began operation.
"Although we do our best to improve the quality of the plant instrumentation air, we cannot completely prevent contamination by water and oil. In operating Azbil's positioners*, we found that they continue to operate without failure better than other manufacturer's positioners," says Wilson Angelo de Menezes Junior.
In addition, the installation and adjustment of positioners differ depending on the valve manufacturer, so with many brands of positioner the operators must learn many different procedures. However, since Azbil's positioners can be mounted on any manufacturer's valve, it is now possible to handle all valves by learning just one installation procedure and adjustment procedure.
"If positioners are standardized throughout the entire plant, we can reduce the workload on the staff. Azbil's positioners are less likely to break down, are easier to maintain, and put less of a burden on the staff. Although it has only been a year since they were installed, they have earned a high level of trust," says Instrumentation Supervisor Cacinildo Silva.
Not only have repair costs been reduced, thanks to the elimination of failures, but also the standardization of positioners has made quick replacement work possible. As a result, the time required to stop the plant has been shortened, and the plant's availability factor has improved.
"The most important thing is that the equipment continues to operate. For that purpose, a situation in which no products fail is a must. Sugar and ethanol production processes run for 7 to 8 months, leaving a 4 to 5 month outage for regular repairs. If the equipment stops due to a positioner problem during the 7 to 8 months of operation, production efficiency is greatly affected. By changing to Azbil's positioners, we were able to increase availability and production efficiency," says Plant Manager Geovani Araujo da Silva.

Azbil's smart valve positioner attached to a steam release valve。
* The positioners used in the plant are designed in such a way that the section housing the electric and electronic parts are isolated from the air circuits, thereby reducing the risk that the instrumentation air, which contains oil and moisture, affects those parts.
Additional product installation considered for continuous and stable operation
In addition to improving plant operation efficiency and productivity and reducing workload, the company has effectively used training kits to promote onsite efficiency.
"The training kit was very helpful for workers who were learning start-up and other procedures. We used this kit for testing before actually installing the positioners, so we were able to do the actual work with confidence," says Cacinildo Silva.
"To continue to increase the productivity of the entire plant, we plan to introduce more Azbil's positioners when we expand the facility. Also, we are considering introduction of the positioner at other plants. Thanks to the good responsiveness after delivery and the high reliability of the product, we are looking forward to Azbil's continuing support as our business partner," says Wilson Angelo de Menezes Junior.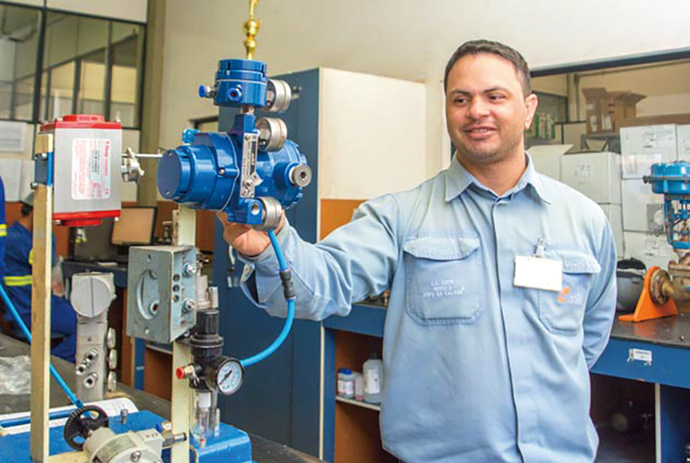 In-house training kit
Learn about the customer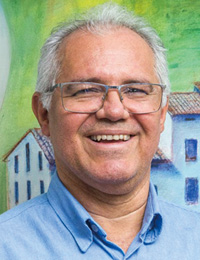 Geovani Araujo da Silva
Plant Manager
Usina Coruripe
Campo Florido Unit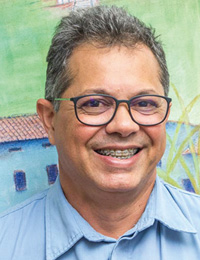 Wilson Angelo de
Menezes Junior
Electricity and Automation
Maintenance Coordinator
Usina Coruripe
Campo Florido Unit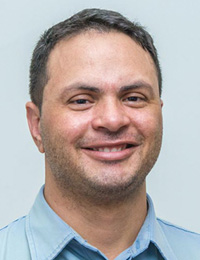 Cacinildo Silva
Instrumentation Supervisor
Usina Coruripe
Campo Florido Unit
Usina Coruripe Plant Campo Florido Unit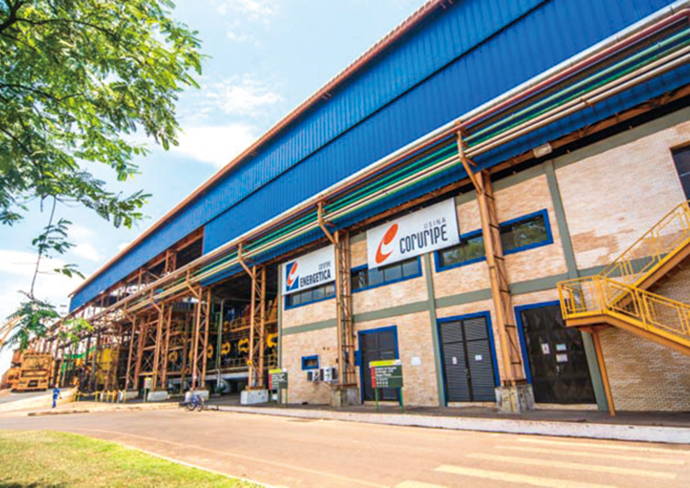 Usina Coruripe Plant Campo Florido Unit
Address: Fazenda Santa Adelaide, Estrada Cruzeiro do Sul, Km 42. CEP: 38130-000–Campo Florido/MG
Beginning of Operation: 2002
Business: Manufacture and sale of sugar, ethanol, feed, and fusel oil
Coruripe Energética Campo Florido Unit
Address: Fazenda Santa Adelaide, Estrada Cruzeiro do Sul, Km 42. CEP: 38130-000–Campo Florido/MG
Beginning of Operation: 2008
Business: Biomass-based power generation and sales
This case study was published in the 2020 No.2 issue of the azbil Group's corporate magazine, azbil.
Factories and Plant Cases
Operation Improvement Cases
Control Valves and Actuators Cases