Daesung Industrial Gases Co., Ltd.
Daesung Industrial Gases Co., Ltd. is a leading company in industrial gases producing market of South Korea. The company supplies manufacturers and other customers with industrial gases on a 24/7/365 basis. For that reason its choice of the instrumentation and control systems that support its industrial gas production facilities is extremely important. It could be said that the company has grown as much as it has since its founding because it has consistently adopted business partners that provide highly reliable products and services based on Japanese quality.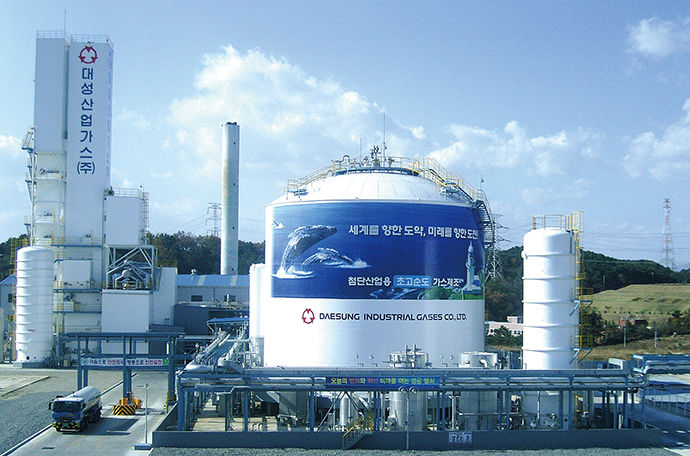 Factories and Plants Electric Power and Gas Maintenance Support Industrial Automation Control and Monitoring Systems and Software Pressure Gauges (Pressure Sensors) and Differential Pressure Gauges (Differential Pressure sensors) Control Valves and Actuators
Products/Services Provided
High ratings for technology and cost lead to long use of Azbil products
Daesung Industrial Corporation was founded in 1947 as an energy supplier for Korean industries. Daesung,*1 with Daesung Industrial Gases Co., Ltd. (hereinafter DIG) as a leading member, does business not only in the energy market, but also in a wide range of areas such as industrial gases, machinery, construction, and distribution.
Among the various companies in Daesung, DIG is the one that produces and sells industrial gases, including oxygen, nitrogen, and argon. Today, the company does business not only with manufacturers, but also with companies in the medical and food industries. Its capacity for producing industrial gases is now top-ranked in Korea.
"We were latecomers in this business; there were already many foreign competitors in Korea back then, and yet we managed to become number one in production capacity," notes Sun-Wook HAN. "We think this is partly because of our successful efforts in four main business areas: bulk production of liquefied gases exclusively, tonnage sale of liquefied gases distributed by pipeline, specialty gases, and industrial plants, where gas is produced on the customers' premises. But we also believe that we were able to achieve impressive success because of our partners who have worked continuously to support us in various ways, and therefore we feel very thankful for them."
In particular, Azbil Corporation, which has continuously supported DIG's production of industrial gases by providing instrumentation devices, transmitters, and control valves, as well as control and monitoring systems, is one of DIG's most important partners. DIG used Azbil's products in 1979 for the first time, and now almost all of its facilities, a total of 13 factories and more than 40 industrial plants, are using Azbil's products.
"The primary reason for our continuous selection of Azbil's products is that they are really satisfying in terms of technology — high-quality products with good operability — and in terms of competitive price," explains Sun-Woo LEE.
Stable plant operation spanning 20–30 years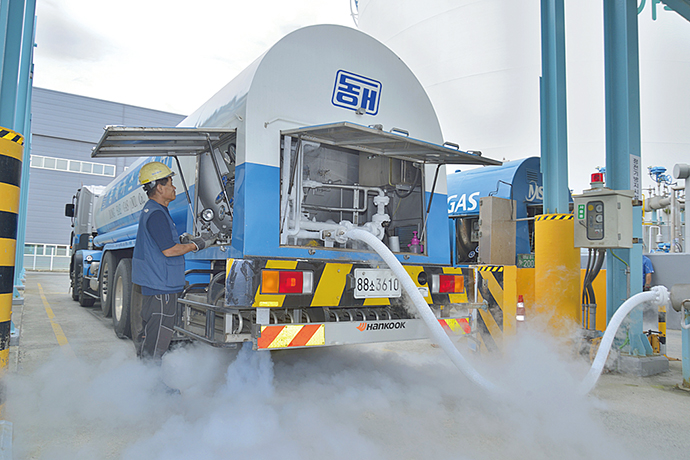 Some of the industrial gases produced at the Ulsan Plant are supplied to the petrochemical complexes of DIG's customers via pipelines, and some are liquefied at ultralow temperatures and delivered by tanker trucks.
Ulsan is one of the largest industrial cities in South Korea, a place where many petrochemical complexes can be seen. The Ulsan Plant, which is owned by DIG, supplies the neighboring petrochemical complexes with industrial gases such as oxygen, nitrogen, and argon, via pipelines and tanker trucks. The plant actually consists of two main plants: the first built in 2008, and the second rather recently in 2012. Both use Harmonas-DEO™, Azbil's monitoring and control system, as a DCS,*2 and are equipped with a wide variety of Azbil-made peripheral equipment, including instrumentation and control valves.
"Azbil provides very reliable products and 24/7 maintenance support services for our plants," says Hee-Chan SEO. "For the air separation process, in particular, good control valves that can endure low temperatures are absolutely necessary. We think that having the high durability needed to meet this kind of requirement is one of the unique strong points of Azbil's products."
"In many cases," adds Myung-Shik CHOI, "the equipment and devices in our facilities continue running for 20 to 30 years. When we choose the products we are going to use, we place importance on their robustness. We look to see whether they could work properly for a long time with a minimum of maintenance. The superb durability of Azbil's products has provided our on-site staff with considerable peace of mind."
According to DIG, Azbil has contributed to a great extent to the operation of the Ulsan Plant by providing technical skills and support services in the areas of engineering and maintenance.
"Whenever we urgently need help on-site with any piece of equipment or the control and monitoring system," says Seok-Jin KIM, "Azbil's staff always responds quickly and deals with each issue from the customer's point of view. And when they are on-site, Azbil's personnel make efforts to pass on their high level of technical know-how to our operators, helping them to build their skills, which we are also really thankful for."
In recent years, DIG has been working to upgrade aging plant equipment, some of which has been in active service for over 30 years now. "The main purpose of this upgrade of devices and equipment at our plants is to seek added value such as increased automation and higher reliability," says Mr. SEO. "By introducing the latest equipment, which we obtain from Azbil, we think we will accomplish this purpose."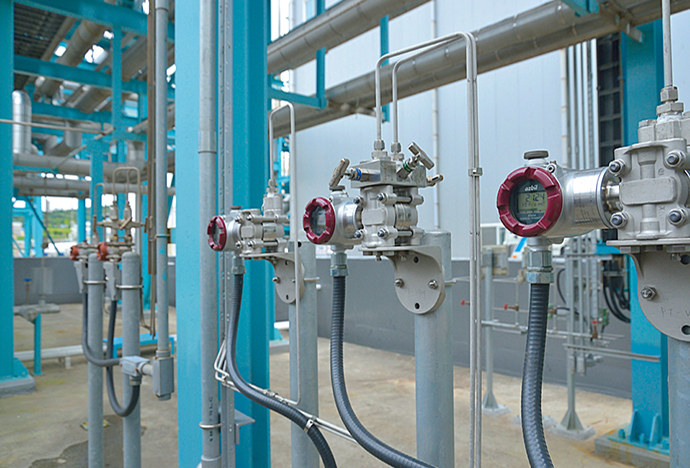 The SuperAce™ AT9000 Advanced Transmitter for pressure and differential pressure is used in the air separation process of gas production.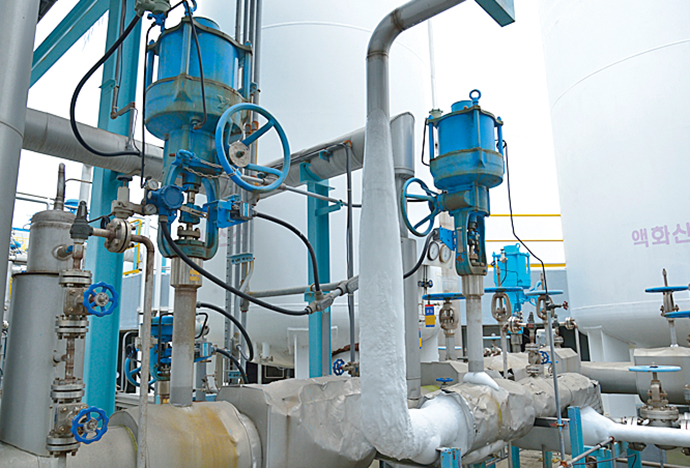 HTS top-guided single-seated control valves can endure the low temperatures of the air separation process. Equipment that controls liquefied oxygen at −190 °C must have high durability at super-low temperatures. Due to the ultralow temperature liquid, part of the piping is covered with frost.
A partner to assist DIG in overseas business development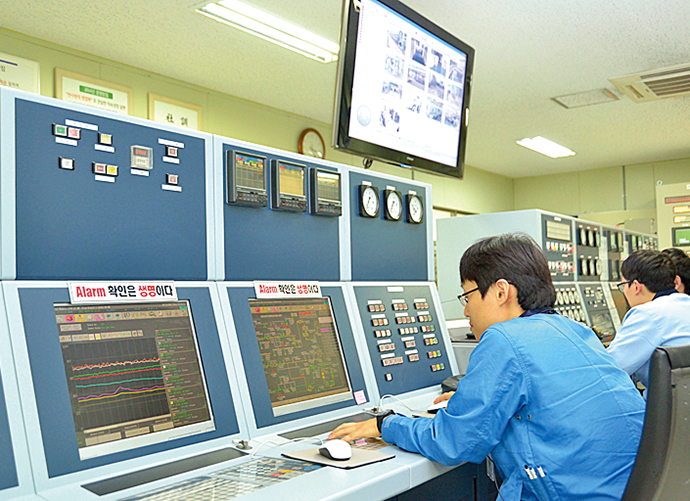 Harmonas-DEO control and monitoring terminals in the central monitoring room. The system enables a minimum of only three regular operators to monitor both the first and second plants at Ulsan.
With the industrial gas market in Korea already reaching the saturation point, DIG has been aggressively working over the past 4 or 5 years on expansion of its business into overseas markets where DIG has growth potential.
"As part of our business expansion, we have already started two industrial plants in China," says Mr. LEE. "Also, we have started exporting gas processing plants and facilities to Indonesia in Southeast Asia, Kazakhstan and Uzbekistan in Central Asia, and to nations in the Middle East. We have set a medium-term goal of becoming the number one industrial gas supplier in Asia."
DIG understands it important to build good relationship with partner companies in order to increase its market share overseas, just as it did in Korea, and naturally, increasing expectations have been placed upon Azbil also.
"We expect to make the business relationship with Azbil stronger than ever in the global market," says Mr. HAN. "In the global market, in the midst of intense competition, our requirements for quality, cost, and ontime delivery will be even stricter. Nevertheless, we are sure that Azbil, which has been helping us grow for as long as 35 years, will meet our expectations."
glossary
*1 Daesung
Daesung is the name of a group to which Daesung Industrial Gases Co., Ltd. belongs.
*2 DCS (distributed control system)
Distributed control systems are specially designed to monitor production processes and control production equipment at plants and factories. A DCS distributes various functions to many component devices that are connected over a network, so that the workload is shared and maintenance can be done safely.
Learn about the customer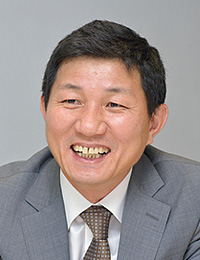 Sun-Wook HAN
General Manager
Purchasing Headquarters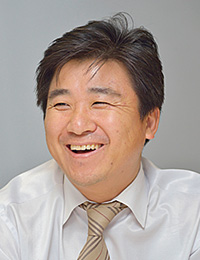 Sun-Woo LEE
J.Leader
Technical Purchasing Team
Purchasing Headquarters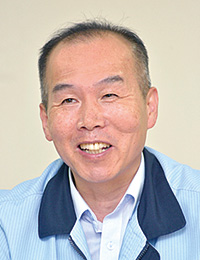 Hee-Chan SEO
General Manager
Production &
Safety Management Dept.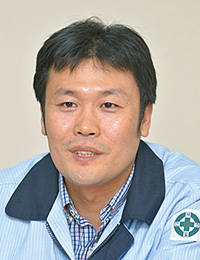 Seok-Jin KIM
Manager
Production &
Safety Management Dept.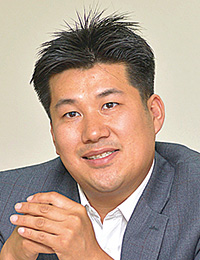 Myung-Shik CHOI
Junior Manager
Engineering Department
Engineering Headquarters
Daesung Industrial Gases Co., Ltd.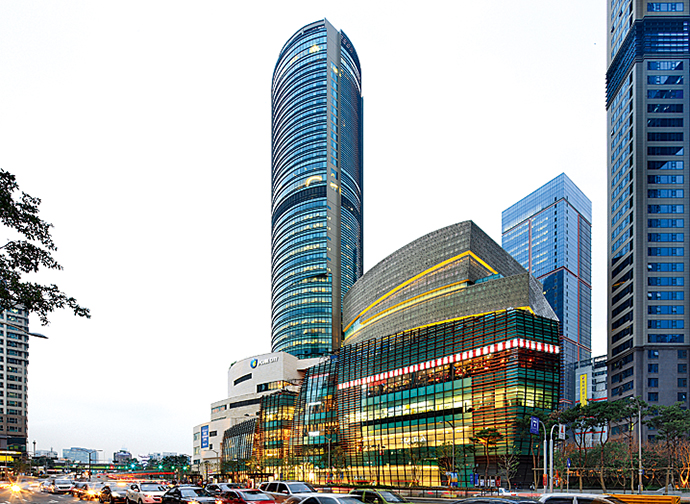 Daesung Industrial Gases Co., Ltd.
Location: 12F, D-CUBE, 662 Kyunginro, Guro-gu, Seoul, Korea
Establishment: February 1979
Representatives of the Board: Hyoung-Tae KIM, Sin-Han KIM
This case study was published in the 2015 Vol.1 issue of the azbil Group's corporate magazine, azbil.
Factories and Plant Cases
Maintenance Support Cases
Industrial Automation Control and Monitoring Systems and Software Cases
Pressure Gauges (Pressure Sensors) and Differential Pressure Gauges (Differential Pressure sensors) Cases
Control Valves and Actuators Cases