Siam Kraft Industry Co., Ltd.
Siam Kraft Industry Co., Ltd., is a leading player in the packaging paper industry in Thailand. Representing one of the main core businesses of a major ASEAN business conglomerate founded by royal decree in 1913—the Siam Cement Group—it is committed to saving energy and protecting the environment. To drive its efforts, air production and energy efficiency were optimized by introducing automatic coordinated control of the air compressors at the company's Wangsala Complex. The energy-savings target at the complex was successfully achieved by improving the compressors' specific energy consumption.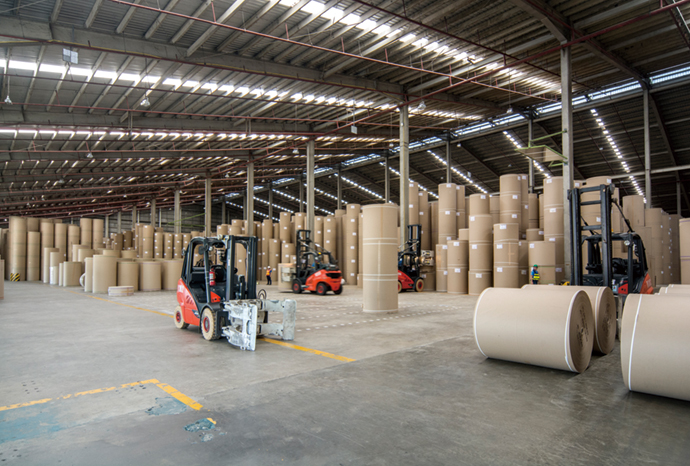 Factories and Plants Paper and Pulp Energy Efficiency Industrial Automation Control and Monitoring Systems and Software
Products/Services Provided
Compressor optimization control ENEOPTcomp
Energy Efficiency a Key Concern with Rise Energy Prices
The 68 million people of the Kingdom of Thailand have achieved robust economic growth and rapid industrial and commercial development over the past thirty years. Energy-intensive industries, including petrochemicals and construction, together with export-oriented manufacturing industries such as pulp and paper, constitute a large part of Thailand's GDP, which ranks high among those of Southeast Asian nations.
Siam Cement Group (SCG) has stood out as a role model for operating business domestically and internationally for over a century. Established in 1913 following the decree of His Majesty King Rama VI, the group provides products that contribute significantly to the country's modernization. With the Crown Property Bureau as its top shareholder, with a 30% stake, SCG has three primary businesses, SCG Cement-Building Materials, SCG Chemicals, and SCG Packaging.
SCG Packaging, with more than 50 subsidiaries, is the first manufacturer of high-quality packaging paper in Thailand and the largest in Southeast Asia. It provides a comprehensive range of products and services to satisfy the diverse needs of various industries. Siam Kraft Industry Co., Ltd. (SKIC) is a subsidiary with environmentally friendly paper recycling as its core business. With production sites in Thailand, the Philippines, and Vietnam, the company's output is 2.3 million tons of packaging paper per year.
"SCG has a consistent policy of pursuing energy efficiency and environmental protection as it does business, says Panya Sopasriphan, SKIC's Energy Division Director. "Thailand as a whole views environmental policy as important and has been making efforts in this area since the 1970s, when laws related to environmental protection were enacted. Since that time, policy measures are being strengthened, particularly now regarding energy efficiency and renewable energy. SCG, as a business group representing Thailand, has been working hard in these areas."
SKIC, as a part of SCG, has been implementing energy-saving and environmental initiatives for a long time. Mr. Sopasriphan notes that "The price of coal increased sharply in 2008, and electricity and natural gas prices rose continuously afterward. Improving energy efficiency became an important issue when considering production costs."
Coordinated Control of Compressors Optimizes Air Production
It was under these circumstances that Azbil Corporation approached SKIC's Wangsala Complex with a proposal based on successful energy-saving projects in Japan. SKIC expressed an interest and asked Azbil to conduct an energy audit. "Azbil has a subsidiary in Thailand and has abundant experience implementing various energy-saving projects. We knew that its technology and ability to offer solutions are outstanding, and we were also looking forward to learning from Azbil as the project proceeded," comments Sombat Tungtiwanon, Energy Department Manager.
Among the alternatives Azbil proposed on the basis of the energy audit, SKIC chose to install ENEOPT™comp to optimize control of the compressors supplying air to its production facilities. "Compressor power consumption did not account for a large proportion of our total energy cost, but we knew that the specific energy consumption was high, because six compressors were individually started or stopped depending on the demand at the production site. Managing them was one of our big challenges," says Tun Towichakchaikun, Power Plant Diagnostics Center Manager.
Before the new control method was implemented, individual compressors vented any over-pressure in the piping caused by reduction of air consumption at the production site. Azbil's proposal involved controlling the pressure of the compressor system as a whole to efficiently use the energy in each compressor's lines without venting it. For the six compressors, which differed in age, manufacturer, efficiency, and energy consumption, an optimized system providing individualized and coordinated control was installed.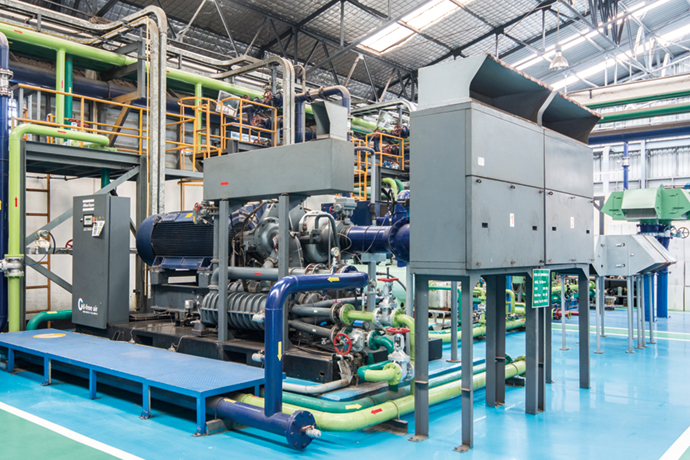 Compressors that supply air to SKIC's entire Wangsala factory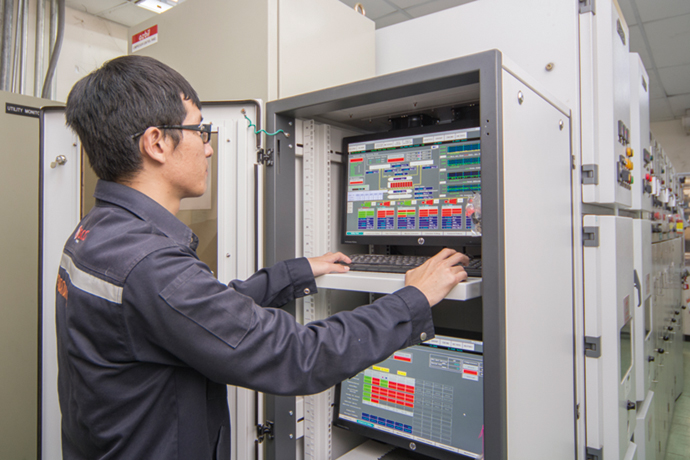 The operational condition of each compressor is displayed on an ENEOPTcomp screen
Expanding Energy-Solutions Business within SCG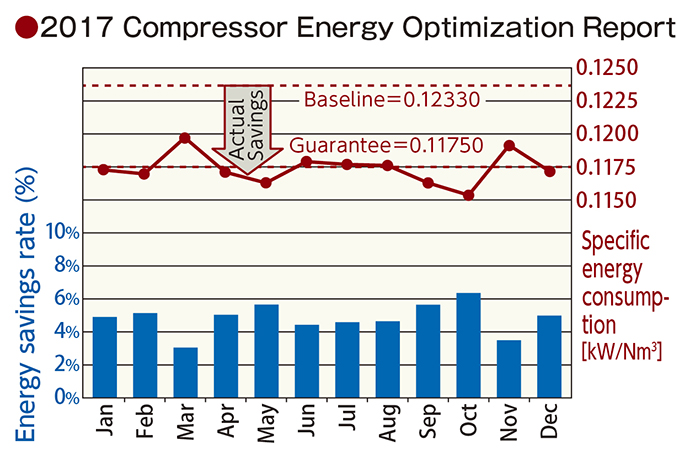 2017 Compressor Energy Optimization Report
ENEOPTcomp's optimized compressor control began operation in December, 2016, and generated good results. "In terms of improving the specific energy consumption, we were able to monitor each compressor's efficiency, with energy savings of 4.83% for 2017, compared to our initial target of 4.7%. That means we achieved 102% of our goal," says Mr. Towichakchaikun. "What's more," adds Mr. Tungtiwanon, "ENEOPTcomp visualizes our data, enabling us to improve operation, find and fix equipment errors, and make maintenance plans."
Based on the results of this project, SKIC is now planning to improve the energy efficiency of its compressors at the Ban Pong Complex, its other production site in Thailand. "Compressors at the Ban Pong Complex are installed at multiple locations on a large site, unlike the Wangsala Complex, where the six compressors are in a single location, so we can't just copy the previous solution. We will consult energy conservation specialists as we proceed," says Nattawut Suragiattichai, Diagnostic and Optimization Engineer.
SKIC aims at further developing our energy business. Mr. Sopasriphan explains, "Energy efficiency is our top priority, since energy costs make up 15–20% of SCG's packaging production costs. We at SKIC are thinking of expanding our energy solutions business, either based on an ESCO model,*1 or with other financial arrangements. We will start with SCG companies first, using what we learned from this project, and then approach companies outside SCG." Mr. Sopasriphan adds, "Our other priority is energy security. Our new businesses include sustainable projects like utilizing waste, solar, and biomass for energy generation in order to distribute risk and avoid reliance on specific energy sources like coal. We hope for a fruitful collaboration with Azbil across a wide range of energy business sectors in the future."
ENEOPT is a trademark of Azbil Corporation.
glossary
*1 ESCO (energy service company) model
In an ESCO (energy service company) model, a specified level of energy savings is guaranteed by the ESCO, which provides comprehensive services to reduce energy consumption in a factory or building.
Learn about the customer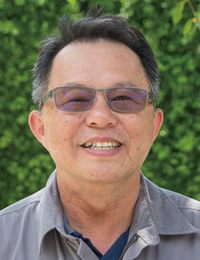 Panya Sopasriphan
Energy Division Director
Siam Kraft Industry Co., Ltd.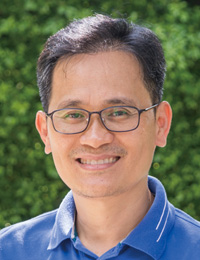 Sombat Tungtiwanon
Energy Department Manager
Siam Kraft Industry Co., Ltd.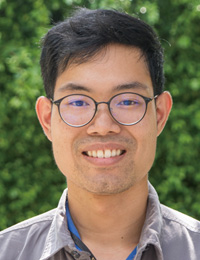 Tasana Buayam
Process Engineer
Energy Department
Siam Kraft Industry Co., Ltd.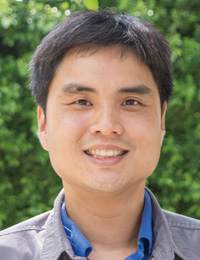 Tun Towichakchaikun
Power Plant Diagnostics Center
Manager
SCG Paper Energy Co., Ltd.
Nattawut Suragiattichai
Diagnostic & Optimization
Engineer
SCG Paper Energy Co., Ltd.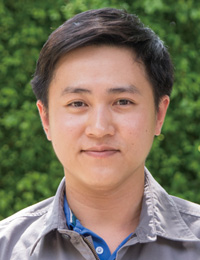 Wutthikorn Ekdamrongkit
Diagnostic & Optimization
Engineer
SCG Paper Energy Co., Ltd.
Siam Kraft Industry Co., Ltd.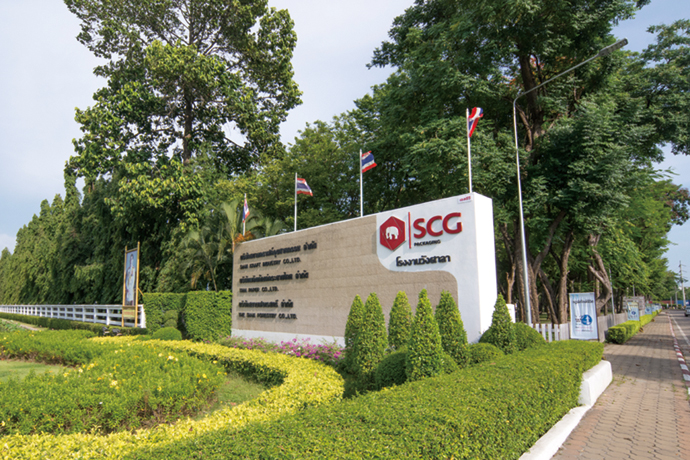 Siam Kraft Industry Co., Ltd.
Address: 99 Moo 6, Saeng-Xuto Road, Wangsala, Thamuang, Kanchanaburi 71130 Thailand
Establishment: 1976
Business profile: Manufacture of packaging paper
This case study was published in the 2018 Vol.4 issue of the azbil Group's corporate magazine, azbil.
Factories and Plant Cases
Paper and Pulp Cases
Industrial Automation Control and Monitoring Systems and Software Cases