Gaysorn Tower
Gaysorn Group, headquartered in Bangkok, has opened Gaysorn Tower, a 30-story office and commercial building, in the city's Ratchaprasong district, which is known as the busiest commercial area in Thailand. To ensure efficient and smooth building operation, Gaysorn Group selected Azbil's building management system for the Tower, its latest building, because Azbil has a proven track record in energy conservation. Gaysorn Group also expects to partner with Azbil to promote energy-saving measures throughout the Ratchaprasong district.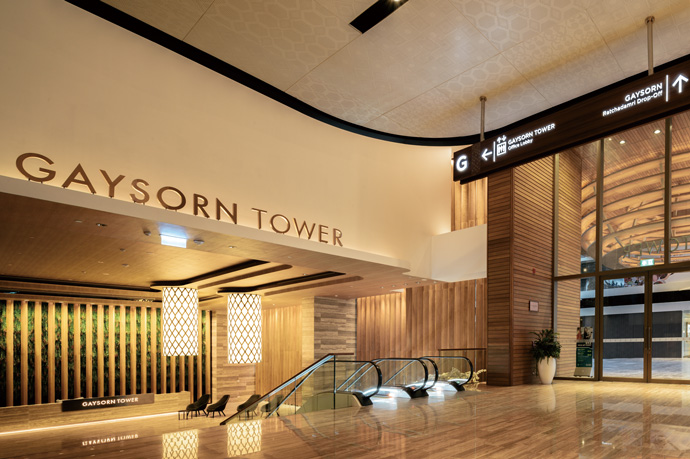 Building Solutions Office Buildings Building Complexes Comfort Energy Efficiency Building Management Systems
Products/Services Provided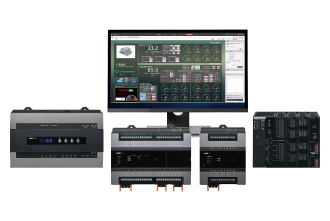 Selecting the best partner based on energy conservation results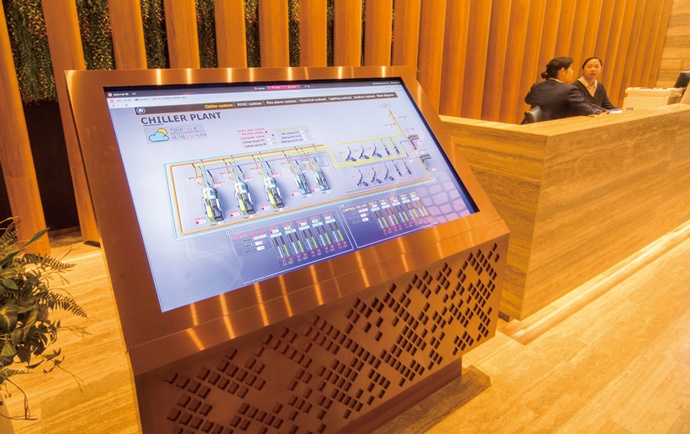 Digital display next to the reception desk for Gaysorn Tower's office floors. The display usually shows an information screen, but it can be switched to display the savicnet G5 monitoring screen during tours focused on Gaysorn Tower's building management.
Thailand is located in the heart of mainland Southeast Asia. Its economy and Japan's are deeply connected, with about 5,500 Japanese companies are doing business there. Gaysorn Group has expanded its real estate development and management business, since its founding in the 1960s, to food and pet food manufacturing, health care, beauty, etc., contributing in various ways to the enrichment of people's lives in Thailand.
Gaysorn Property Co., Ltd. is a Gaysorn Group company that develops and manages real estate. In September 2017, it opened the 30-story Gaysorn Tower in the Ratchaprasong district, a bustling commercial area filled with large-scale shopping malls and high-class hotels and located in the center of the capital city of Bangkok.
"The office zones on the 14th and higher floors house the offices of many well-known global enterprises," says Charn Srivikorn, Gaysorn Property's chairman. "The lower floors have commercial facilities, including popular restaurants, shops for brand-name goods, and hot springs and spas. This new building integrates office and commercial functions."
"Gaysorn Tower was designed to be an environmentally friendly building with energy-efficiency in mind, and was certified as 'Gold' class by LEED*1, which rates buildings for their environmental performance," adds Fafuen Temboonkiat, the company's managing director.
Around 2014, Gaysorn Property initiated the process of selecting a partner for the Gaysorn Tower construction project. In the Ratchaprasong district, the Group operates another largescale office and commercial building called Amarin Plaza. Since 2014, Gaysorn Property has improved the energy efficiency of Amarin Plaza with the assistance of Azbil Thailand Co., Ltd. Based on this successful implementation, Azbil was selected as the partner to assist with Gaysorn Tower operation and management and to make it energy-efficient.
"For Amarin Plaza, we initially set the expected payback period at 3.2 years, but that was shortened to 2.8 years as a result of continuous good energy savings. This success led us to trust in the capabilities of Azbil, allowing us to choose them again without hesitation from among the globally competitive candidates recommended by our consultants," explains Mr. Srivikorn.
Laying the foundations for energy conservation with the latest BEMS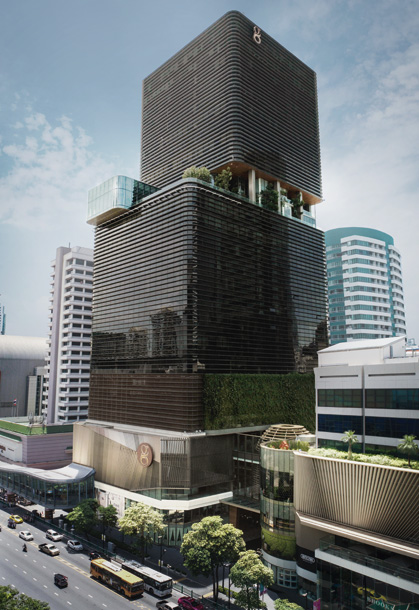 Exterior of Gaysorn Tower
In 2015, Gaysorn Property welcomed Azbil as the BEMS*2 vendor for the Gaysorn Tower project, and construction began in 2016. By September 2017 the building was fully operational.
Gaysorn Tower adopted Azbil's savicnet™G5, its latest building management system, which was developed in consideration of global market needs, based on the cumulative know-how and expertise gained by Azbil in the building market. Since savic-net G5 is compatible with BACnet*3, it can easily connect to various devices from different manufacturers. With a broader range of equipment options available for combination with Azbil's control system, Gaysorn Tower was ready to create an ideal indoor environment. Gaysorn Tower also installed VAV*4 controllers that maintain, in each area, finely-tuned room temperature suited to the needs of the occupants. The office areas on the upper floors of the tower are divided into small zones where proper airflow is maintained by the VAV controllers according to preset temperatures, so that a higher value-added indoor environment can be provided to office users.
"There are still some vacant floors in the building," says Mr. Temboonkiat. "On these floors, air conditioning is running in necessary areas only, and the air conditioning throughout the whole building is optimally controlled according to the tenant occupancy rate. We are impressed with the technology and also very satisfied with Azbil Thailand's high-quality services for system management and maintenance."
For additional energy efficiency, a system was prepared to understand and manage energy usage peaks, waste, etc., based on the operational data on electricity, heating/cooling source, air conditioning, etc., that is accumulated by the BEMS. Based on the data, Gaysorn Group will plan energy-conservation measures and consider how to put them into practice.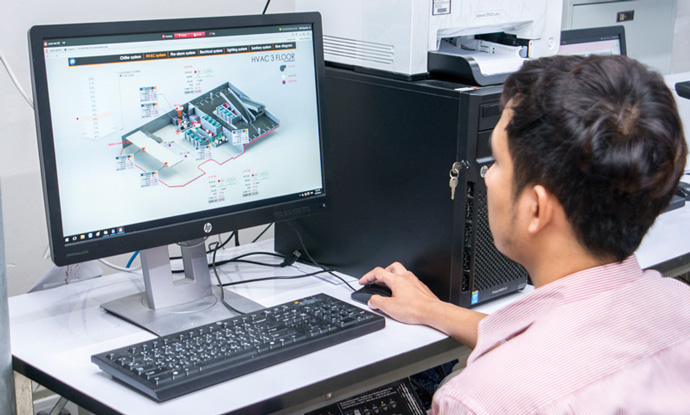 A savic-net G5 monitoring screen in the central monitoring room. The system's graphical and userfriendly interface allows the desired information to be accessed quickly.
Collaboration on energy-saving and environmentally friendly city development
Based on the results at Amarin Plaza and Gaysorn Tower, Gaysorn Group intends to continue collaborating with Azbil. For example, with Azbil's cooperation, Gaysorn Group plans to implement energy efficiency measures for Gaysorn Plaza, an existing building complex next to Gaysorn Tower.
"In addition to building management, a beverage manufacturer in our Group decided to install Azbil's industrial monitoring systems in its factory, and construction is currently ongoing," says Chai Srivikorn, director of Gaysorn Private Equity Company Limited.
Gaysorn Group has many large buildings in the Ratchaprasong district and plays a leading role in driving urban development, including energy and environmental conservation efforts. In cooperation with other local real estate management companies, the Group hopes to involve the entire district and redouble its efforts toward energy efficiency and environmental conservation. It has high expectations of Azbil as a partner in these efforts.
In the Ratchaprasong district, a large commercial facility called The Market is currently under construction. With the urging of Gaysorn Group, the facility has decided to use Azbil's BEMS.
"In Thailand, the birthrate is decreasing and the population is aging," explains Director Srivikorn. "If various facilities in the district install the same vendor's systems, they can benefit by sharing personnel, as a way of dealing with the decreasing labor force. Other than providing products and services to buildings, we would like Azbil to use its abundant experience and expertise to help us to improve energy efficiency and environmental conservation throughout the whole town."
· savic-net is a trademark of Azbil Corporation.
· BACnet is a registered t 4 2019 Vol. 2 rademark of ASHRAE.
glossary
*1 LEED (Leadership in Energy and Environmental Design)
An environmental performance evaluation system based on how buildings and sites are used. The system was developed by the U.S. Green Building Council and is operated by Green Business Certification, Inc. In this system, energy-efficient and environmentally friendly buildings and sites are rated as being on one of four levels: Certified, Silver, Gold, and Platinum.
*2 BEMS (Building Energy Management System)
A system that automates the energy-saving monitoring and control of all energy-consuming equipment in buildings, factories, and district heating and cooling plants. With this system, the energy consumption for an entire building can be minimized.
*3 BACnet (Building Automation and Control Networking Protocol)
A communication protocol for intelligent buildings. BACnet connects and monitors various devices from different manufacturers through the same interface, allowing it to be used for the comprehensive control of facilities such as air conditioning, lighting, access control, and fire detection.
*4 VAV (Variable Air Volume)
A type of HVAC system that keeps a constant airflow temperature but adjusts the air conditioning by changing the airflow volume. This makes the control of individual areas easier, which in turn reduces the power used for transport and results in energy savings.
Learn about the customer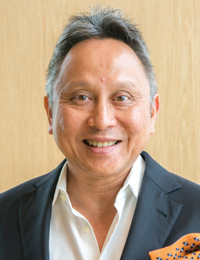 Charn Srivikorn
Chairman
Gaysorn Property Co., Ltd.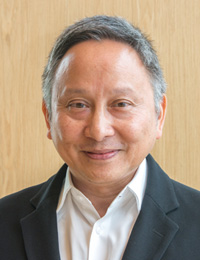 Chai Srivikorn
Director
Gaysorn Private Equity Co., Ltd.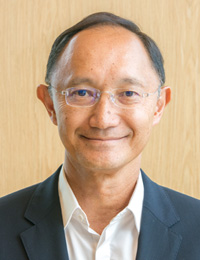 Fafuen Temboonkiat
Managing Director
Gaysorn Property Co., Ltd.
Gaysorn Tower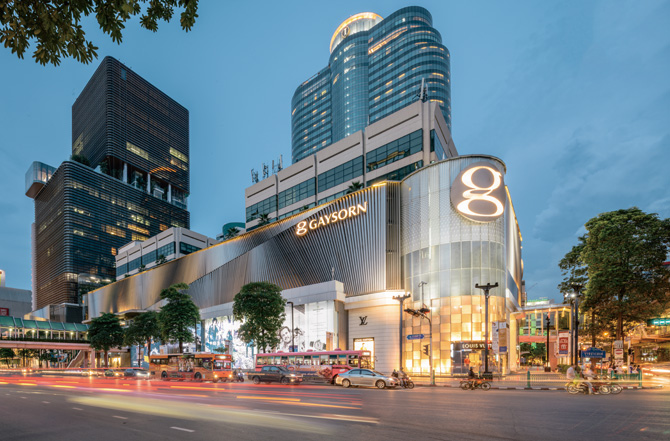 Gaysorn Property Co., Ltd.

Address: 4th Floor, Gaysorn Building, 999 Ploenchit Road, Lumpini, Pathumwan, Bangkok 10330
Beginning of Operation: 2000
Business: Real estate development and management
This case study was published in the 2019 Vol.2 issue of the azbil Group's corporate magazine, azbil.
Office Buildings Cases
Building Management Systems Cases