Amari Watergate Bangkok
The Amari Watergate Bangkok hotel is located in a downtown area called Pratunam in Bangkok, the capital city of Thailand. The hotel was selected for a model energy conservation project proposed by a Japanese company. It has implemented a series of energy-saving measures, including a BEMS, and as a result of optimal air-conditioning and heat source equipment operation it has saved a large amount of energy. The system implemented at the hotel has also made it possible to visualize energy performance. The hotel now receives much attention as a leading example of energy efficiency in Thailand.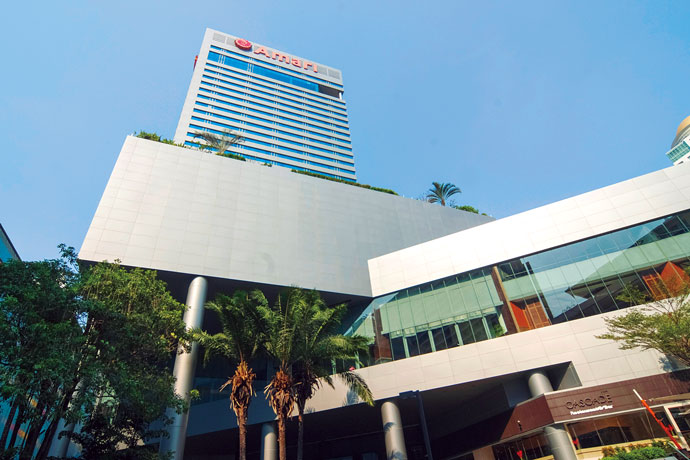 Building Solutions Hotels Comfort Energy Efficiency Cost Reduction Building Management Systems Direct Digital Controllers Valves and Actuators Building Energy Management
Products/Services Provided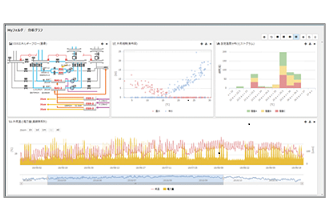 PARACONDUCTOR Chiller Plant Optimization Core Server
Chosen for a Japanese company's model project, Amari Watergate Bangkok redoubled its energy-saving measures
Amari Watergate Bangkok, a five-star hotel, opened in 1994 in Thailand's capital city of Bangkok, and is conspicuously situated in a 34-story modern building on Petchburi Road, which is lined with shopping malls. In addition to the view of the city from its luxurious rooms, the hotel provides various facilities such as restaurants and a fitness center. Many foreigners who visit Bangkok for sightseeing and business purposes choose to stay at the hotel.
Today, Thailand is faced with a skyrocketing demand for electricity as its economy continues to grow. It is imperative for the nation to find ways to use energy efficiently, and so Amari Watergate Bangkok is also making efforts to save energy, with both cost reduction and environmental policy in mind. "We have always taken measures like adding thermal insulation film to the hotel windows and introducing a water recycling system and cleaning system for the air-conditioning cooling tower," explains Udom Srisanit, engineering director at the hotel.
In 2009, the Chugoku Electric Power Co., Inc. (Chugoku EPCO), a Japanese firm, drew up an energy-saving plan for Thailand in cooperation with the Metropolitan Electricity Authority (MEA), a Thai company supplying power to the capital city area, and submitted the plan to a competitive subsidy program arranged by NEDO.*1 The plan was accepted, and after examining the possibilities for implementation, Chugoku EPCO selected Amari Watergate Bangkok as its Thai recipient company because of its enthusiasm for energy efficiency. The hotel was judged to have the potential for large energy savings.
NEDO is pushing forward with its project of supporting the implementation of energy- saving measures in foreign nations in order to promote Japanese "green" technologies around the world. For participants in the project, NEDO entirely covers the equipment costs necessary for implementation, with the facility owner paying only the construction and renovation costs. Therefore, the plan was very attractive to Amari Watergate Bangkok.
Hotel remains open during renovations, with no guest complaints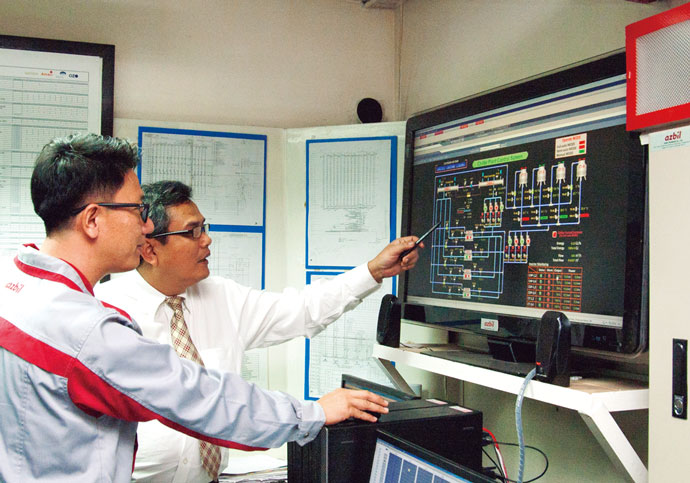 Azbil installed savic-net FX in the central control room as the BEMS. Operating status and the amount of energy use for the heat source equipment can now be checked at a glance.
Chugoku EPCO determined the specific energy-saving measures to be implemented for the facility in areas such as air-conditioning, hot water supply, and lighting, and selected Japanese manufacturers for each area. Azbil Corporation and its local affiliate, Azbil (Thailand) Co., Ltd., were selected to install the BEMS 2 and the controllers for air-conditioning and heat source equipment. As the only Japanese company that has a local office in Thailand and provides solutions in the area of energy conservation for buildings, Azbil has proven its performance through one-stop provision of a range of services including design, construction/renovation, and maintenance.
"I have known about Azbil for quite some time, because it is a Japanese manufacturer with abundant experience in the automation industry. We were relieved to hear that Azbil was put in charge of implementing the BEMS and HVAC control, because these systems were an essential part of the renovations," says Mr. Srisanit.
Renovation work began in the latter half of 2011. Despite the considerable effects from the flood that hit Thailand in the fall of that year, the entire renovation project was completed in March 2012.
Azbil installed its savic-net™FX building management system as the BEMS. Working together with equipment such as the PARAMATRIX™III digital controller for the heat sources and ACTIVAL™ control valve with flow measurement, savic-net FX accumulates data and stores it in the PARACONDUCTOR™ heat source optimization controller. The building management system provides easily understandable visual data on the operating status of all air-conditioning and heat source equipment. This allows comparison of the figures obtained before and after implementation of the energy-saving measures, so the amount of energy saved by each piece of equipment is now clear.
Variable speed drives were added to the water condenser pumps and coolant pumps in order to control the flow rate and consequently to optimize the amount of power consumption. They were also added to the cooling tower fans in order to keep their power consumption to a minimum in accordance with the operation of the chillers.
"Our hotel operates 24 hours a day, 365 days a year, so we had to be particularly careful in renovating the air-conditioning system, since it has much to do with a comfortable guest experience. Renovations were completed without a single guest complaint, thanks to Azbil's thorough planning and thoughtful consideration, which were what we expected from a Japanese company. We are now operating the hotel as usual with no changes on the surface, but in actuality we are saving a great amount of energy," Mr. Srisanit explains.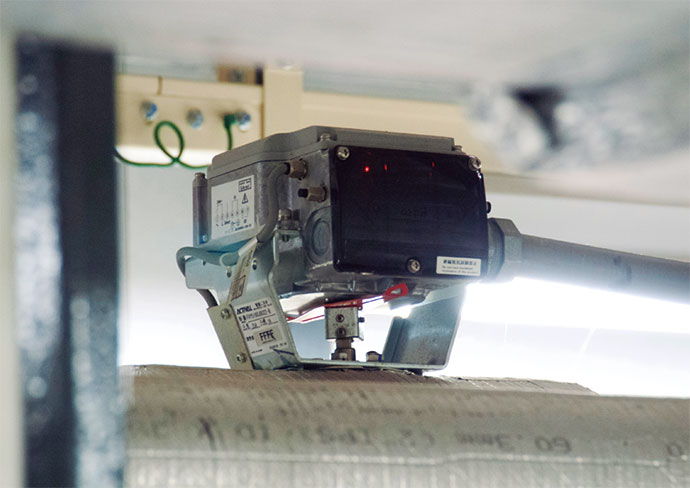 An ACTIVAL control valve with flow measurement controls the flow rate of the air-conditioning cooling water.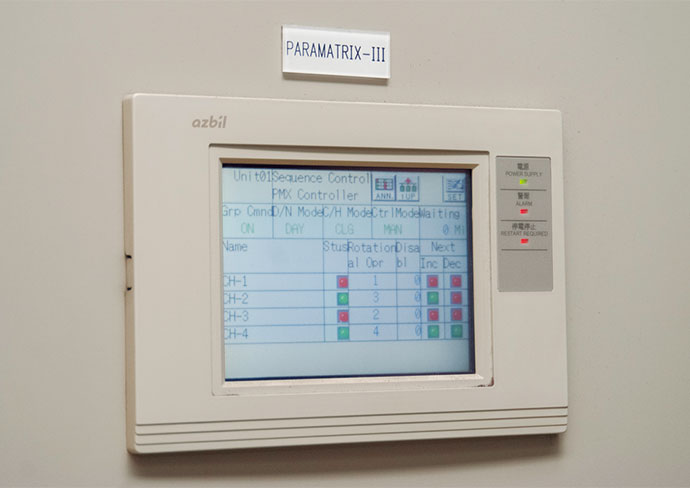 PARAMATRIX III optimizes the operation of chillers.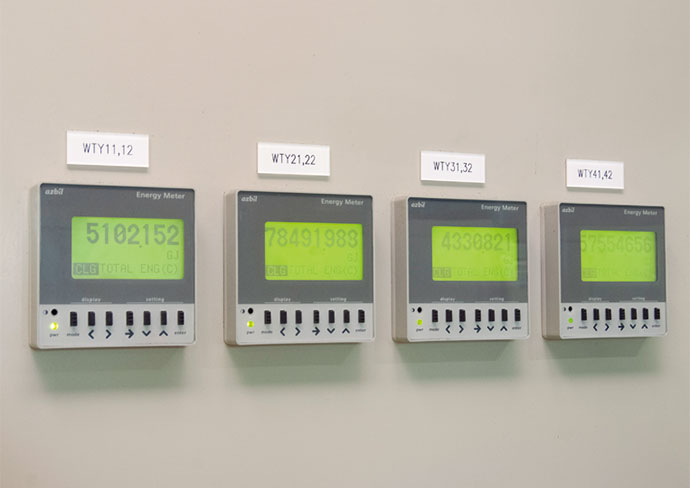 Calorimeters for monitoring the operating status of 4 chillers.
Whole-building energy consumption cut by 15 %, resulting in large reduction in power costs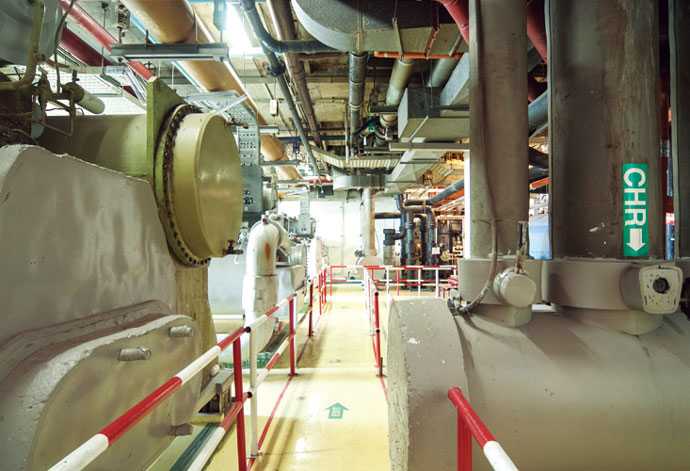 The heat source machine room has been modified for tours. Guests can learn about the energy-saving measures by observing equipment like chillers and pumps
Since the energy-saving measures were implemented, the energy consumption of the whole building has been reduced by about 15 %. This reduction is equivalent to about 700 kiloliters of oil consumption per year. "We spent 4,500,000 THB (approx. US $128,000) for electricity every month before the project, but that has now been reduced to 3,300,000 THB (approx. US $94,000). I am very satisfied with this result," says Mr. Srisanit.
The effects of the energy-saving measures implemented at the hotel have attracted attention as one of the leading examples of green technology in Thailand, which is committed to nationwide energy conservation. The hotel offers walk-through tours of its facilities, such as the air-conditioning system and the central control room where the BEMS is installed. Many people who are interested in energy conservation and who work for government agencies, educational organizations, and commercial facilities such as hotels and shopping malls have taken the tour.
Amari Watergate Bangkok is moving forward with better equipment management for saving even more energy by analyzing data that is "visualized" and stored by the BEMS. "Amari Hotels & Resorts Group is also thinking about implementing energy-saving measures at its other hotels in Thailand. Azbil provides us with considerable support in managing the renovated systems, and I expect that Azbil will continue to provide reliable support for our future endeavors in energy conservation," says Mr. Srisanit.
savic-net, savic-net FX, PARACONDUCTOR, PARAMATRIX, and ACTIVAL are trademarks of Azbil Corporation.
glossary
*1 NEDO
New Energy and Industrial Technology Development Organization. This is a Japanese government R&D organization promoting the development of new energy sources and industrial technologies.
*2 BEMS
Building and energy management system. A BEMS uses automation technology to monitor and control power consumption for facilities such as buildings, factories, and district heating and cooling facilities, to minimize the power consumption for the whole facility.
Learn about the customer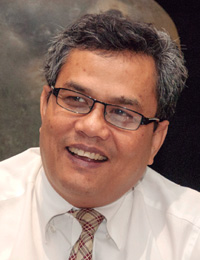 Udom Srisanit
Engineering Director
Amari Watergate Bangkok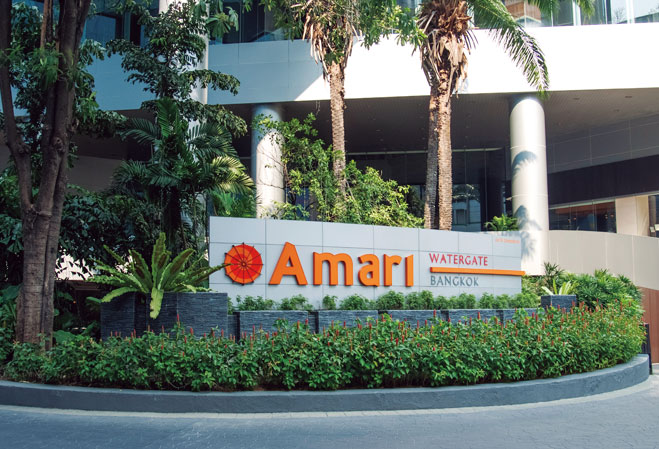 Amari Watergate Bangkok
Location: 847 Petchburi Road, Bangkok, Thailand
Founded: 1994
Business: Hotel, restaurants, fitness center, etc.
This case study was published in the 2016 Vol.1 issue of the azbil Group's corporate magazine, azbil.
Building Management Systems Cases
Direct Digital Controllers Cases
Valves and Actuators Cases
Building Energy Management Cases