The University Art Museum, Tokyo University of the Arts
The University Art Museum on the Ueno Campus of Tokyo University of the Arts implemented energy-saving measures when replacing its aging heat source equipment by high-efficiency models. Temperature and humidity must be precisely controlled to protect the valuable cultural assets the museum houses, but energy efficiency is nowadays increasingly demanded by society. Azbil, with its extensive knowledge of site operations, satisfied these conflicting demands by introducing high-efficiency devices and a BEMS to provide optimal control operation.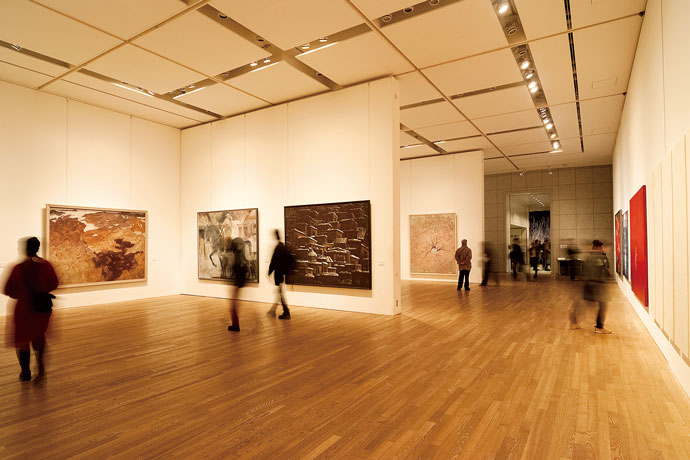 Building Solutions Schools Other (Markets and Industries) Energy Efficiency Reliable Operation Countermeasures for Aging Building Management Systems Direct Digital Controllers Comprehensive Building Management Services
Products/Services Provided
Seeking the best way to replace essential but aging facilities and make them energy-efficient while protecting cultural assets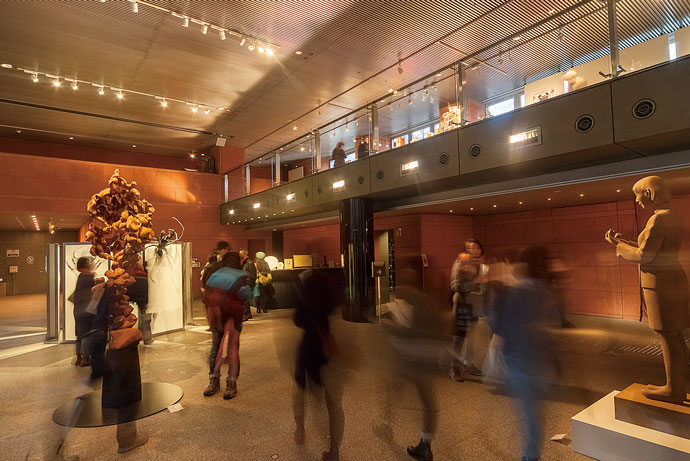 Comfort is maintained for the many visitors to the entrance hall and exhibition areas.
Tokyo University of the Arts (TUA), which is a national university corporation, has always played a leading role in developing Japanese arts and culture. Today, in cooperation with various domestic and overseas universities and institutes, TUA is attempting to nurture world-class artists and to establish an international brand, "Geidai. "
TUA established the University Art Museum in 1999 to house and display a collection of famous art works and graduates' works inherited from one of its predecessors, Tokyo Fine Arts School. Many important cultural assets are kept in the storage rooms of the museum building, which has four stories above ground and four basement levels. Among the museum's holdings are antiquities like "E Ingakyo" from the Tempyo period (710–794 A.D.), which is the oldest Japanese painting and a national treasure, and "Maki (Chinese black pine) and Maple Trees" from the Edo period, which was painted on a folding screen by Korin Ogata (1658–1716) and designated as an important cultural asset by the Japanese government, as well as modern works of art, such as "Avalokitesvara as a Merciful Mother " by Hogai Kano (1828–1888), which is also an important cultural asset, and "Jo-no-mai" (Dance Performed in Noh Play) by Shoen Uemura (1875–1949).
To store such vulnerable and sensitive pieces of cultural heritage, proper environmental control of the storage areas is indispensable. From around 2012, the heat source equipment at the museum was beginning to show signs of malfunction due to age, and the university began to discuss replacing it.
"Keeping these important assets in optimal condition and protecting them from deterioration are key responsibilities of our museum. For that, we have to run the air conditioning equipment without interruption 24 hours a day, 365 days a year. On the other hand, the museum is also required to conserve energy as well as preserving cultural assets, and as a public educational and research institution, we at the museum need to take that into full consideration," says Masato Satsuma, a professor at the University Art Museum.
The TUA's Ueno Campus is classified as a "large facility" by the Tokyo Metropolitan Environmental Security Ordinance*1 and is obligated to achieve the CO2 emissions targets imposed by the ordinance. Since the museum had been responsible for one third of the energy consumption of the entire campus, it was a high-priority building for energy-saving measures. "In replacing our facilities, the challenge was to satisfy the two conflicting requirements of a high level of environmental control, which is essential for the protection of our collections, and energy efficiency—and to achieve both within a limited budget," says a member of the Facilities Division at TUA.
Implementing energy-saving measures and cutting investment cost with an ESCO plan
TUA decided to adopt an ESCO*2 plan to replace the aging equipment and issued a public invitation for proposals. As a result, Azbil Corporation was selected as its partner.
"Azbil's idea was to introduce a BEMS*3 to achieve optimal control of air conditioning facilities while updating the heat source equipment. It aimed for an average energy reduction of 46.2 % over three years. We thought it would be hard to achieve," says the Facilities Division staff member.
An application for a government subsidy, submitted jointly by TUA and Azbil, was approved by Japan's Ministry of Economy, Trade and Industry, and the upgrade work began in September 2014. Heat source equipment was replaced with high-efficiency models, and various control functions were incorporated for purposes such as storage and exhibition, operating facilities efficiently according to the heat load, and taking in the proper amount of outdoor air to control the indoor CO2 density. Also, as the BEMS, Azbil's savic-net™ FX2 was installed.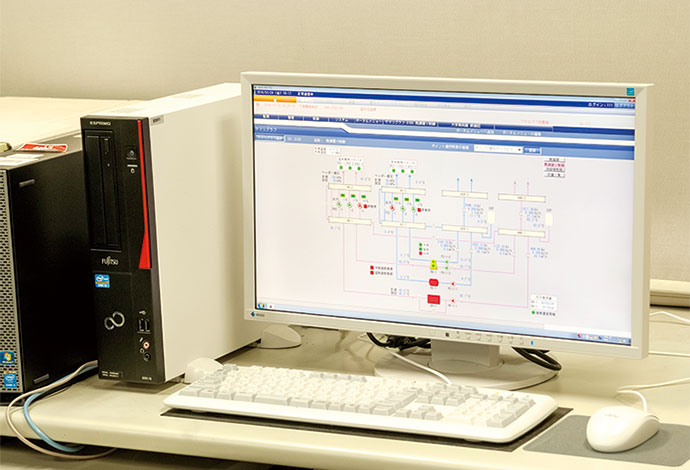 A savic-net FX2 system installed in the central monitoring room. The system provides easily understandable visual data on the temperature and humidity of storage and exhibition areas, as well as data on the energy consumption of the equipment. Operating data is also collected.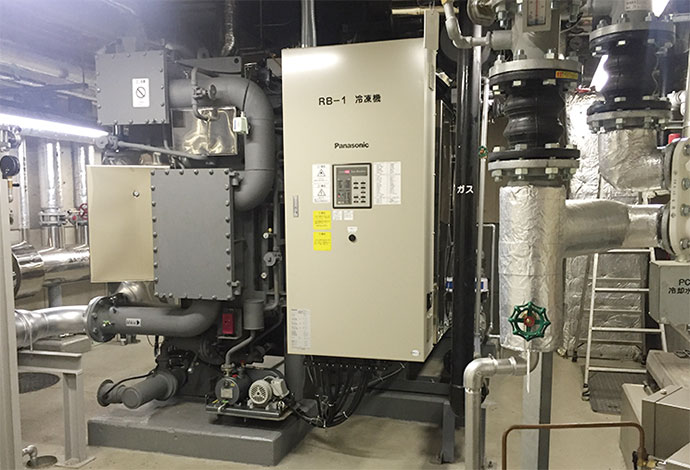 The museum installed high-efficiency heat source equipment and a PARAMETRIX™4 digital controller to manage it. Thanks to optimal control of the equipment, energy consumption has been greatly reduced.
Optimal environment for preserving cultural assets is ensured by constant temperature and humidity in storage areas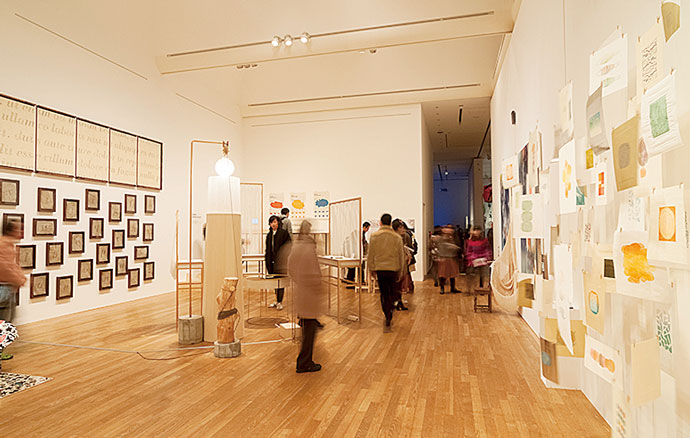 The museum receives many visitors to its Doctoral Program Final Exhibition in December and Graduation Works Exhibitions in January.
The University Art Museum began operating with its new facilities in April 2015. The energy efficiency of the entire museum building has improved even beyond the initial targets presented by Azbil, and CO2 emissions for the entire Ueno campus have decreased below the limits set by the Tokyo Metropolitan Environmental Security Ordinance. At the same time, temperature and humidity of the storage areas are well maintained at 22 ± 0.2 ˚C and 55 ± 2 %, respectively.
"Much to our surprise, we are saving a large amount of energy, and yet the temperature and humidity are maintained at a high and stable level," says the Facilities Division staff member. "We expected that settings of temperature and humidity would always go up and down because the heat load must fluctuate as people come and go, but environment of storage areas is always steady at 22 ˚C and 55 %. So, we can ensure the optimal conditions to protect our cultural assets, which have to be kept constant. When we initially solicited proposals for upgrading our facilities, we were concerned that the energy-efficiency upgrade work would affect our valuable collections, but that concern was entirely unnecessary."
Also, TUA decided to take advantage of Azbil's remote monitoring service for integrated building management. "Azbil's remote monitoring service center always monitors our museum, and if some equipment is not working properly, the problem is fixed right away, so we don't need to worry. Also, the status of all facility operations is recorded and reported to us, so we hope that information will help to plan future energy conservation," comments the staff member from the Facilities Division.
TUA is planning energy-saving measures for its other buildings and facilities. According to Professor Satsuma, "This museum is one of the institutions approved by the Agency for Cultural Affairs for exhibition*4 of its cultural assets. In a recent inspection, the temperature and humidity control in the storage areas was rated as "almost perfect," thanks to Azbil's advanced control capabilities and energy-saving technology. I hope that Azbil will help us with our future efforts, and also more broadly to contribute to society."
savic-net, savic-net FX, and PARAMATRIX are trademarks of Azbil Corporation.
glossary
*1 Tokyo Metropolitan Environmental Security Ordinance
A Tokyo Metropolitan Government ordinance concerning the environment and pollution. To maintain a safe living environment for Tokyoites, the ordinance includes various regulations on pollution from factories, proper management of chemical substances, reduction of environmental impact by buildings, CO2 emissions from automobiles, etc.
*2 ESCO (Energy Service COmpany) plan
A project in which an energy service company provides comprehensive energy services for a factory, office building, etc., and guarantees the results.
*3 BEMS (Building Energy Management System)
A system for minimizing the energy used by an entire office building, factory, district heating and cooling plant, etc., by automating the monitoring and control of energy-consuming facilities.
*4 Institutions approved for exhibition
Institutions, such as art museums or other types of museum, which have been pre-approved by the Commissioner for Cultural Affairs to exhibit their national treasures, important cultural properties, etc. The examination of institutions by this system is designed to promote the open use of cultural properties, so long as the institutions keeping them can maintain their quality while exhibiting them.
Learn about the customer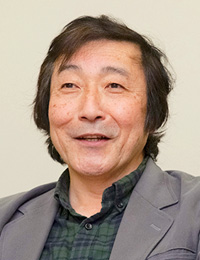 Masato Satsuma
Professor,
Tokyo University of the Arts
The University Art Museum, Tokyo University of the Arts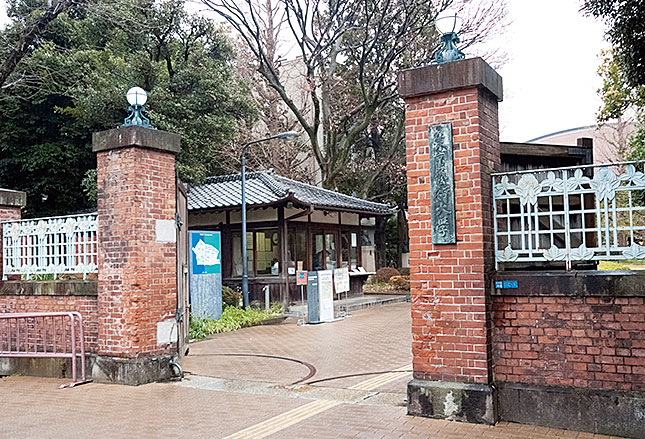 Tokyo University of the Arts (National University Corporation)
Location: 12-8 Ueno Park, Taito-ku, Tokyo 110-8714, Japan
Founded: May, 1949
Undergraduate faculties: Faculty of Fine Arts, Faculty of Music
Graduate schools: Graduate School of Fine Arts, Graduate School of Music, Graduate School of Film and New Media, Graduate School of Global Arts
This case study was published in the 2017 Vol.4 issue of the azbil Group's corporate magazine, azbil.
Other (Markets and Industries) Cases
Countermeasures for Aging Cases
Building Management Systems Cases
Direct Digital Controllers Cases
Comprehensive Building Management Services Cases