Himeji Plant, Nippon Shokubai Co., Ltd.
As part of its manufacturing innovation activities, Nippon Shokubai's Himeji Plant built a system to facilitate accurate and smooth communication of instructions and information pertaining to the operation of manufacturing plant. The successfully installed system is capable of collectively managing the current condition, past background, and priority of each event that occurs during operation. Consequently, the system has brought about changes in working styles on the production workplace.
Himeji Plant, Nippon Shokubai Co., Ltd.
Factories and Plants Chemicals Reliable Operation Operation Improvement Industrial Automation Control and Monitoring Systems and Software
Products/Services Provided
Digital Shift-Change Log and Knowledge Base OperationKnowledgeBase
Limitations of paper-based and oral communication in accurately conveying detailed information on operations
Nippon Shokubai Co., Ltd. is a chemical company that conducts business based on the corporate philosophy, "TechnoAmenity: Providing affluence and comfort to people and society with our unique technology." Nippon Shokubai's Himeji Plant is situated on an 880,000-m² site in the western part of the Harima Coastal Industrial Zone. As Nippon Shokubai's main plant, the Himeji site produces a wide range of chemical products such as acrylic acid ester for use in various applications including paints, glues, and adhesives; superabsorbent polymers for paper diapers and sanitary products; as well as fine and specility chemicals and automotive catalysts. These products are highly acclaimed by industries both inside and outside of Japan.
"Since 2007, the Himeji Plant has been actively conducting 'Himeji Manufacturing Innovation (HMI) Activities' with the aim of creating an 'extremely safe and reliable manufacturing plant.' In order to strengthen our manufacturing platform and attain optimum operation of the entire plant, we have organized several teams for each activity domain, such as quality control, conprehensive safety, business processes, operation, plant maintenace, and human resources development, and are striving to realize our vision of what our plant should be like," said Mr. Okazaki.
Among those activity domains, job instructions and communications related to plant operation was an issue that demanded close attention.
"Production activities were performed by regular daytime operators and shift operators based on the four-group three-shift system, and information was communicated verbally or on paper using daily operation records during a briefing at the time of shift takeover. However, with that method it was difficult to accurately communicate detailed information about problems and precautions, and thus it left much to be desired when it came to reliable dissemination of information to all staff members," said Mr. Munechika.
"Personnel who did not attend the shift takeover briefing — for example, section managers who organize and manage the information of events at the manufacturing site and staff members who prepare reference documents — could not fully grasp the details or progress of an event that occurred during production by reading the daily operation records, or subsquent events," said Mr. Nomoto.
Easy arrangement of form layouts on the screen as the vital factor
To resolve those problems and achieve accurate and smooth job instruction and communication, the Himeji Plant installed the azbil Group's Operation Knowledge Base™ (OKB).
"We examined a number of products besides OKB and also considered the possibility of in-house development. The fact that OKB allows easy arrangement of form layouts on the screen by user departments and can be operated without having advanced skills was the vital factor for selecting OKB," said Mr. Okazaki.
The Himeji Plant decided to install OKB in September 2008. Later, form design work started, 95 types of daily operation record which subject to conversion to digital data by OKB were selected from more than 1,000 conventinal forms. These were finally consolidated into 34 types of forms. Each manufacturing section produced custom forms by using the standardized forms as a basis and modifying them for its specific needs. Following the completion of such processes as operational design and test operation, the new system became effective in April 2009.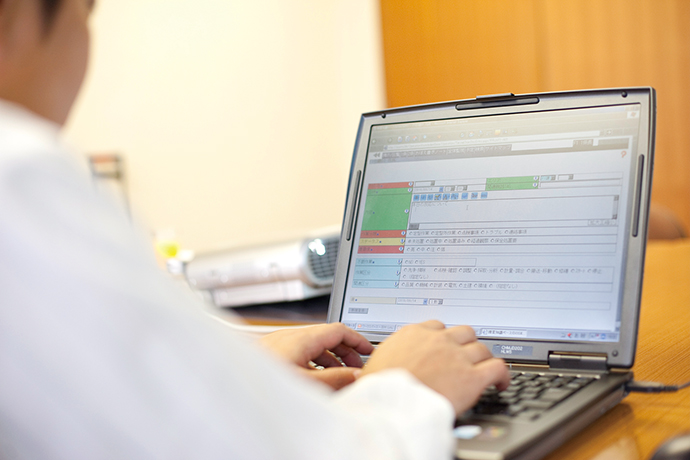 A total of 300 PCs are in use at the Himeji Plant. OKB can be accessed from any of those PCs, allowing ubiquitous data availability.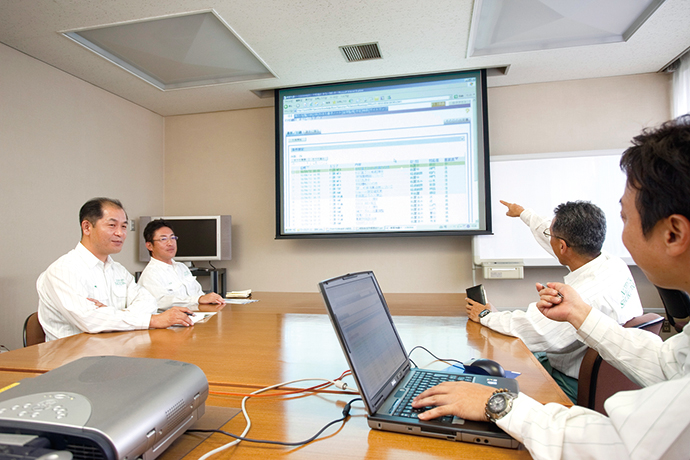 The OKB interface can be projected onto a large screen to allow participants to check details as required during meetings.
Innovation of working styles brought about by the new system
The incorporation of OKB has already produced favorable results in various ways. The first benefit was that OKB was able to eliminate variations in the description of information written by different sections and individuals, since the information to be communicated was entered into forms that were standardized according to the general guidelines established by the Himeji Plant. For example, essential information that must be included when communicating operation information, such as "5W1H," is now recorded without omission.
"In addition, during the shift takeover briefing, the new system clearly shows the types of work progress as well as a work status description such as 'unprocessed,' 'in process,' and 'processed.' Indications are displayed in different colors according to the level of priority. For instance, items requiring immediate attention are indicated in yellow. This has made workers more careful to ensure that high-priority tasks are performed before others, with no exceptions. In that sense, OKB has changed working styles," said Mr. Munechika.
"Since the system manages each event generated during the manufacturing process in linkage with the circumstances of its progress, the workload of the section managers and staff members preparing reference documents or monthly performance reports has decreased dramatically. Furthermore, having information on previous events in a digital format enables operators to search the past event cases more quickly and reliably. This has led to the reduction of some 4,500 working hours per year. Additionally, the use of OKB provides space for describing additional operation details and site conditions that could not be included in paper-based daily records because of their limited space for describing information. Now that we have established a system that enables practical application of operation information as knowledge, we expect to expand its use in the future," said Mr. Nomoto.
"Additionally, OKB has contributed to improved efficiency of work performed by the equipment maintenance department. Before OKB was installed, we rarely had an opportunity to look through the daily operation records at the production site. After OKB began operation, if an equipment causes a problem, for example, I check OKB first to confirm the equipment's operating status. I would like to use OKB even more frequently in order to ensure smooth communication with the staff on the production department during troubleshooting," said Mr. Gonoo.
Through the effective use of OKB for smoother communication with the production floor, the Himeji Plant plans to further strengthen its efforts and activities for maintaining operational safety and reliability as well as management efficiency.
"To that end, we are continuously taking measures to achieve operational improvement, such as the instruction to young operators on textual expressions in communicating information. I would like the azbil Group to actively hold user meetings and events for the exchange of information and opinions pertaining to the advanced use of OKB, including the presentation of case examples of other companies," said Mr. Okazaki.
Note: Some of the information for March 2012 and earlier may use the former names of azbil Group companies.
Learn about the customer
Fumio Munechika
Manager
Production Section No. 2
Chemicals Production
Department
Koji Nomoto
Manager
Production Section No. 1
Fine & Specialty Chemicals Production
Production Department
Katsuyuki Gonoo
Manager
Electricity & Instrument Section
Engineering Department
Kazuto Okazaki
General Manager
HMI Development Department
Himeji Plant, Nippon Shokubai Co., Ltd.
Himeji Plant, Nippon Shokubai Co., Ltd.
Himeji Plant, Nippon Shokubai Co., Ltd.
Location: 992-1, Aza-Nishioki, Okihama, Aboshi-ku, Himeji, Hyogo, Japan
Start of operation: 1960
Business lines: Research, development and manufacture of basic chemicals,performance chemicals, and environmental & catalyst products
This case study was published in the 2012 Vol. 2 issue of the azbil Group's corporate magazine, azbil.
Factories and Plant Cases
Operation Improvement Cases
Industrial Automation Control and Monitoring Systems and Software Cases