MITSUI ELASTOMERS SINGAPORE
In a bid to respond to the rapidly growing demand for its products, MITSUI ELASTOMERS SINGAPORE PTE LTD decided to build a new plant with the aim of doubling its production capacity. For construction of the control system for bolstering production, the Company actively addressed process improvements by drawing on the experiences accumulated through the operation of the existing plant, thus achieving further improvement of efficiency of production processes.
MITSUI ELASTOMERS SINGAPORE
Factories and Plants Chemicals Reliable Operation Operation Improvement Industrial Automation Control and Monitoring Systems and Software
Products/Services Provided
Decision to construct a new plant in order to double the production capacity
Jurong Island in Singapore is one of the world's leading petroleum refining clusters. On this island, which measures approximately 32 km² in area, huge petrochemical complexes have been established, where the plants of global players in related fields are processing petroleum and producing industrial petrochemical products. Since April 2003 MITSUI ELASTOMERS SINGAPORE PTE LTD (MELS) has been operating a plant on Jurong Island for the production of Tafmer* (alpha-olefin copolymer) and other elastomer products. Tafmer is a resin characterized by its flexibility. By blending with other resins such as polyethylene and polypropylene, impact resistance is improved and it is used in various applications, including automobile bumpers as well as packaging materials, cable sheaths, and mid-soles for sports shoes.
In response to the rapidly growing demand for its products in recent years, particularly in the Asian region, MELS decided in July 2007 to revamp its production facilities with the aim of doubling its production capacity. The Company initiated a project to construct a new second plant to augment the existing Plant No. 1. For construction of Plant No. 2, MELS invited Azbil Singapore (ASG), an overseas affiliate of Yamatake, as a partner and selected Yamatake's Harmonas-DEO™ "Harmonized Automation System-Dependable Open" and related control instruments for the distributed control system (DCS) that supports the plant's production processes.
"Since we use Yamatake's DCS products in Plant No. 1, we know from our own experiences that Yamatake's products are highly reliable. I think it is only natural to select products of ASG and Yamatake because they allow us to continue utilizing our operators' skills," said Mr. Ohori.
Renewal of two systems in pursuit of greater functionality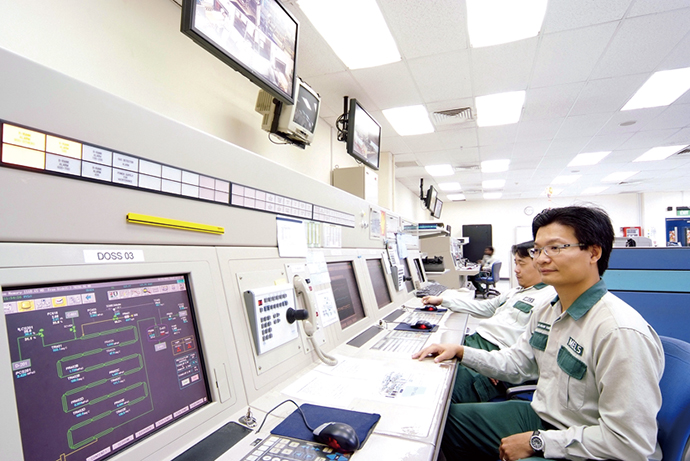 Harmonas-DEO installed in the central monitoring room monitors both Plant No. 1 and Plant No. 2.
In conjunction with the construction of Plant No. 2, MELS also launched a project for upgrading the existing Plant Information System (PIS) and modeling system in Plant No. 1. The PIS manages the recipe information of each product grade and transmits the information at the time of production for the control of pressure and temperature. In addition, it collects production data from the DCS and verifies whether production has been executed according to the instructions.
MELS produces Tafmer of various grades continuously using a single facility. To change product grades, a series of processes had to be performed before. First, the recipe was changed, and the product was actually produced. Then, the manufactured product was taken to the laboratory where its physical properties, such as viscosity, were verified for conformity with the specification for the particular product grade. In other words, it was necessary to actually manufacture a product to find out whether its physical properties meet the requirements for the particular grade of product to be manufactured next.
In view of this, MELS had been developing a system based on a modeling tool for estimating the physical properties of a product during production by collecting and analyzing various process data, instead of actually measuring the physical properties of the manufactured product. However, during the process of operating the system, it was faced with various problems, such as high cost, future use of the system, and specification issues. Therefore, MELS decided to replace the existing tool with Yamatake's data-FOREST™ data mining tool in order to solve the problems.
"If we could accurately predict the physical properties of a product without actually analyzing the actual product, we would be able to significantly reduce the time required for adjusting operating conditions to the next product grade. The virtual sensor technology incorporated in the dataFOREST answers our need in the most suitable way," said Ms. Wasuntarawat.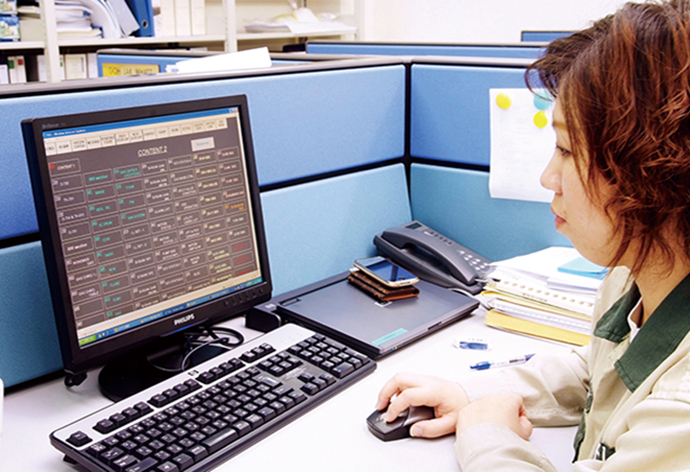 Client terminal of the TSS (Thin client Supervisory Server) server/client system installed in the office. MELS installed the TSS in order to check and operate the monitoring/control screen of the Harmonas-DEO from locations outside the central monitoring room.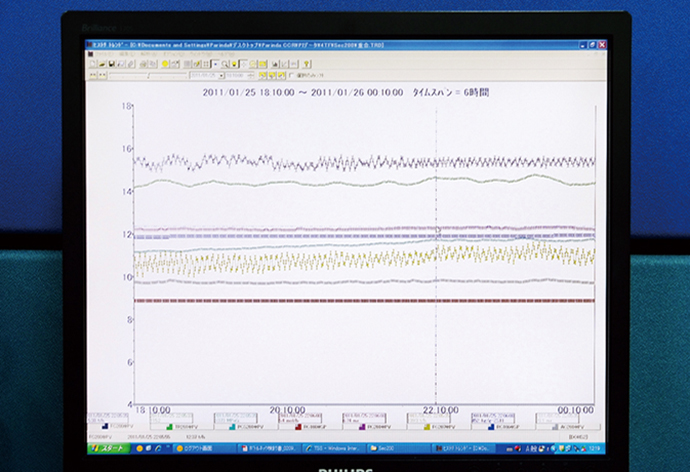 Screen on the client terminal of the PREXION installed in the office. This terminal displays the history and trend data of the production facilities' operating status, which are used to investigate the cause should a problem occur. MELS installed the PREXION in Plant No. 1 and also decided to install it in Plant No. 2. This tool is also utilized in making process improvements.
Promoting further improvement of production processes for stable operation and product quality control
For the Plant No. 2 project, Yamatake provided the software and hardware as it did so for Plant No. 1, except for the PIS whose construction was subcontracted entirely to Yamatake, while MELS conducted engineering and programming tasks themselves in accordance with their production needs.
"The fact that we could easily perform the engineering work ourselves was also a major advantage of using Yamatake products," commented Mr. Li.
MELS's Plant No. 2 began operation in March 2010. Stable operation of the DCS and PIS systems enabled the Company to achieve its original target of doubling its production capacity.
"When installing the systems in Plant No. 2, we drew on our experiences of operating Plant No. 1 and have improved the automation sequences implemented in the DCS. As a result, while the commencement of Plant No. 1 required nine support members from Japan, the number of support members dispatched from Japan for the startup of Plant No. 2 was only two, and the rest was handled by local personnel," said Mr. Ohori.
"Both plants have been operating 24 hours a day, 365 days a year. Stopping plant operations due to any problem will have a huge impact on our business. If any system problem should occur, we can call ASG. Its service personnel will come to the plant immediately and solve the problem in a short time. We can count on their excellent support," said Mr. Kuah.
MELS intends to further drive the improvement of production processes in the future for continuous and stable plant operation and product quality control, by fully utilizing the newly installed systems.
"We are about to discuss the possibility of constructing another plant, although nothing is decided at present. Should another new plant project become reality, there is no doubt that ASG will be the most promising partner candidate for the configuration of the control system for that plant. We look forward to ASG's support to our production activities through its outstanding support and product capabilities," said Mr. Ohori.
*Tafmer is a registered trademark of Mitsui Chemicals, Inc.
Note: Some of the information for March 2012 and earlier may use the former names of azbil Group companies.
Learn about the customer
Mr. Yoshiji Ohori
Director and General Manager
Plant
Mr. Li Shi Wei
Manager
Engineering Department
Mr. Kuah Hsian Yang
Manager
Production Department
Ms. Parinda
Wasuntarawat
Senior Engineer
Technical Department
MITSUI ELASTOMERS SINGAPORE
MITSUI ELASTOMERS SINGAPORE
MITSUI ELASTOMERS SINGAPORE
Plant location: 701 Ayer Merbau Road Singapore 627853
Established: February 7, 2001
Business scope: Manufacture and sales of elastomer products
This case study was published in the October 2011 issue of the azbil Group's corporate magazine, azbil.
Factories and Plant Cases
Operation Improvement Cases
Industrial Automation Control and Monitoring Systems and Software Cases