Shin-Sapporo ARC City
Shin-Sapporo ARC City is a commercial complex located in Shin-Sapporo, a sub-center of Sapporo on the island of Hokkaido, Japan. As the equipment in the complex's shopping center began to age, as an ESCO project was planned, involving large-scale renovations, equipment upgrades for some 30 items, and also improvements in operation management. One of the largest ESCO initiatives in Japan, this project successfully achieved 16.2% reduction in energy costs, as compared to the expected rate of 11.5%, thus fulfilling one of its most important objectives.
Building Solutions Hotels Shopping Centers Leisure Facilities Energy Efficiency Energy Management Cost Reduction Reliable Operation Countermeasures for Aging Building Management Systems Building Energy Management
Products/Services Provided
An ESCO project to improve energy efficiency on equipment replacement after for over 35 years operation
Shin-Sapporo was developed around JR Shin-Sapporo Station in the eastern part of Sapporo City in the early 1970s. In 1974, Sapporo Subcenter Development Public Corporation (hereinafter, SSDPC) was established with investment by the city of Sapporo as a third-sector company (a public-private partnership). Since then, this public corporation has been spearheading the development of the area as well as the administration and management of development projects. In the central district of the area is a commercial complex called Shin-Sapporo ARC City where Sunpiazza shopping center, dUo station building, an aquarium, a performing arts theater, and many other business establishments are located. Some 14 million people visit Shin-Sapporo ARC City annually.
Among the establishments in Shin-Sapporo ARC City, Sunpiazza boasts the largest number of visitors. Since its opening in 1977, the shopping center's infrastructure equipment had been operating for more than 35 years. Therefore, in the summer of 2009, SSDPC began examining the replacement of aged equipment and measures for reducing energy consumption.
"During those years, revenues were declining due to the effects of lingering deflation, and thus cost reduction was the highest priority. With the aim of achieving a large reduction in utility costs, which accounted for a large portion of expenses, we decided to initiate large-scale and drastic upgrades of equipment not only in Sunpiazza but also in the dUo station building," explains Mr. Toshimichi Terashima, Executive Vice President of SSDPC.
"In the planning stage," adds Mr. Hitoshi Shinohara, General Manager of the corporation's Facilities Department, "we decided to conduct a series of operations from equipment design to upgrading, system reconstruction, and operation and management as an ESCO project."*1
A variety of initiatives in pursuit of substantial energy savings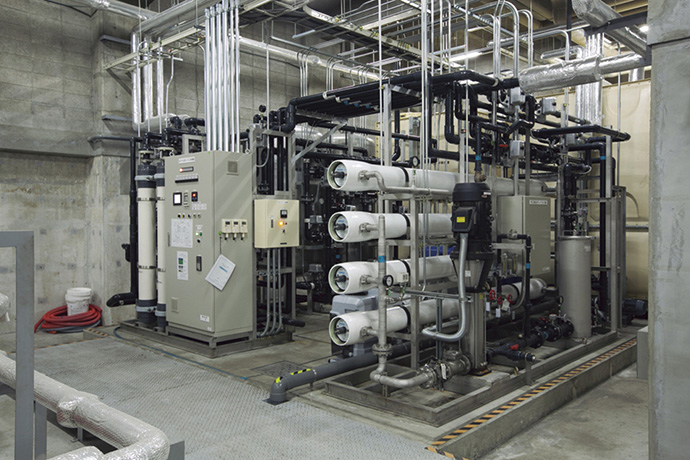 The well-water purification system supplies water comparable to city tap water in quality to the restaurants and other establishments in the facility. It contributes considerably to the reduction of utility expenses.
SSDPC made a public announcement to invite energy service companies to submit effective proposals for the ESCO project. These proposals from various companies were examined, and Azbil Corporation's was adopted.
"Azbil's proposal included a variety of improvement initiatives, and aimed to achieve energy conservation in all aspects," says Mr. Terashima. "Azbil also presented remarkably high figures for the energy reduction expected from those initiatives. In addition, Azbil took the Public Corporation's role into consideration, and included initiatives related to business-academia collaboration and an information campaign for promoting regional energy-saving activities. We had a high opinion of the proposal because of its comprehensiveness."
Having decided to adopt Azbil's proposal, SSDPC concluded a shared savings contract for the ESCO project with Azbil. The equipment replacement construction for Sunpiazza was conducted from October 2011 to the end of March 2012, followed by the construction at the dUo building that was completed at the end of March 2013. The large-scale refurbishment construction encompassed 30 items, including an upgrade of the HVAC system by installing an air-cooled heatpump chiller, replacement of the extra high-voltage transformers in Sunpiazza, installation of a well-water purification system, integration of electric monitor panels, and incorporation of a BEMS*2 into the central monitoring system. For those tasks, a grant-in-aid program of the Ministry of Land, Infrastructure, Transportation and Tourism of Japan was utilized, as suggested by Azbil. Furthermore, Azbil took charge of the operation and management of the new equipment and systems after they began operation.
Azbil's approach is described by Mr. Takanori Fukuzawa, Facilities Department Assistant Manager at SSDPC: "For the HVAC system, Azbil combined different types of energy sources such as electricity, gas, and hot water from the district heating and cooling systems, and provided a control system that switches heat sources as required to achieve the optimal "best-mix" operation. This enables flexible response to fluctuations in the cost of energy and also to disaster risk. Azbil did not merely install equipment, but also provided appropriate control functions and fine-tuned operations as its unique strengths for maximum efficiency."
"Using the BEMS," adds Mr. Shinohara, "we were able to configure a system that distributes the information on energy used by each business establishment to tenants in real time via the Internet. Furthermore, the 60-inch digital display panels installed in Sunpiazza and dUo show energy consumption in real time to visitors."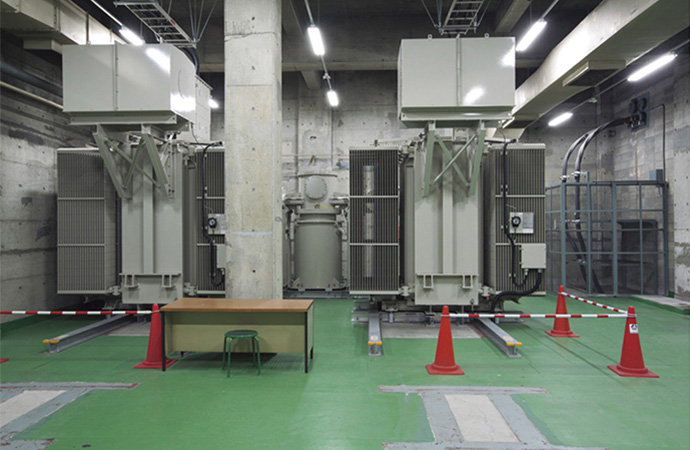 The extra high-voltage transformers (two 7,500 kVA units) installed on the side of Sunpiazza integrated the previously separate power receiving systems for Sunpiazza and Duo, supplying power to both Sunpiazza and Duo buildings.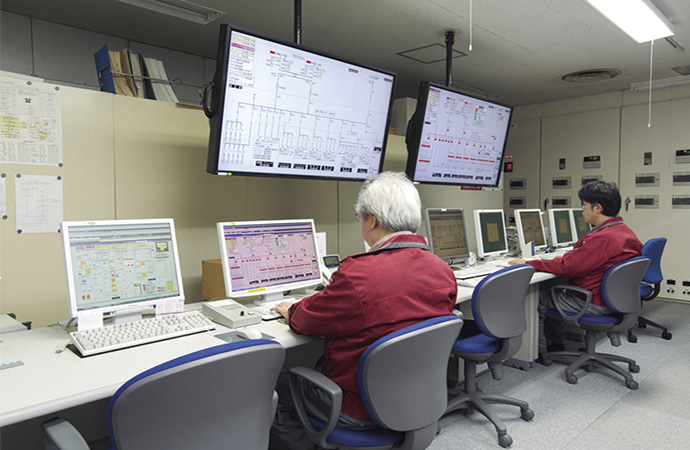 The central monitoring room in Sunpiazza is equipped with the Azbil savic-net™FX building management system and BEMS. It al lows bilateral monitoring with the BEMS installed in the central monitoring room for Duo.
Seminars and lectures disseminate information on the successful ESCO project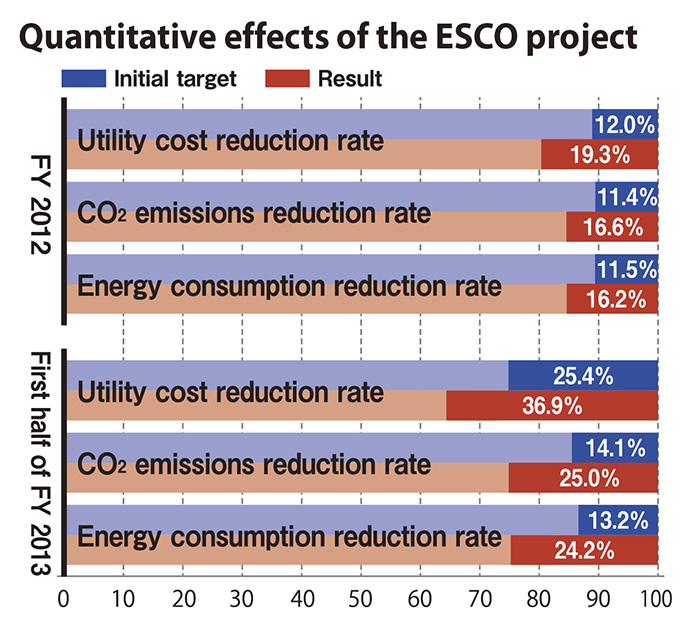 The series of initiatives implemented through the project resulted in a significant reduction in energy use in Shin-Sapporo ARC City. The actual energy reduction rate achieved in its 2012 fiscal year was 16.2% as compared to the expected rate of 11.5%. The utility cost reduction rate was 19.3% as compared to the anticipated rate of 12.0%. Even though both initial reduction targets were set high, the actual results exceeded them to a large degree. The benefit from this reduction is returned to tenants in the form of a decrease in the common service fee.
"'Visualization' of results in comparison to target values has stimulated the managers of tenant business establishments in the facility to view energy consumption and utility costs as important indicators for management," says Mr. Terashima. "At the same time, it helped develop the awareness of energy conservation among employees."
The energy-saving initiatives implemented at Shin-Sapporo ARC City are attracting a great deal of attention from people in various fields because of the scale of the project and the effectiveness achieved. In response to inquiries from companies and organizations, SSDPC is holding seminars and lectures on energy-saving measures and the ESCO project.
"Our corporation is going to continue to develop this Shin-Sapporo sub-center," says Mr. Terashima. "We will also upgrade and rebuild buildings as required. In these efforts, we are looking forward to Azbil's ongoing advice on energy-saving equipment and systems."
glossary
*1 ESCO (energy service company) project
A project in which an energy service company guarantees a certain level of energy savings through the provision of comprehensive services for the reduction of energy consumption in a factory or building. There are two types of contract. In a guaranteed savings contract, the facility owner bears the project cost and the energy service company guarantees the energy savings. In a shared savings contract, energy service company bears the project costs and the customer pays the fee for services for the results of energy-saving measures.
*2 BEMS (building energy management system)
A system designed to minimize the energy used in an entire energy-consuming facility, such as a building, factory, or district heating and cooling system, by automating and visualizing energy usage based on energy-saving monitoring and control technologies.
Learn about the customer
Toshimichi Terashima
Executive Vice President
Hitoshi Shinohara
General Manager,
Facilities Department
Takanori Fukuzawa
Assistant Manager,
Facilities Department
Shin-Sapporo ARC City
Sapporo Sub-center Development Public Corporation
Location: 5-7-2, 2-jo, Atsubetsu-chuo, Atsubetsu-ku, Sapporo City, Hokkaido Japan
Date of establishment: May 1, 1974
Business line: Construction, operation, and management of development projects, commercial/business facilities, etc., based on the "Atsubetsu Sub-center Development Basic Plan."
This case study was published in the 2014 Vol.3 issue of the azbil Group's corporate magazine, azbil.
Shopping Centers Cases
Leisure Facilities Cases
Countermeasures for Aging Cases
Building Management Systems Cases
Building Energy Management Cases