Okura Graden Hotel Shanghai
The Okura Garden Hotel Shanghai was the first commercial building in China to be selected as the venue for an energy-saving model project undertaken by the New Energy and Industrial Technology Development Organization (NEDO), a Japanese independent administrative institution that implements energy-saving projects in various countries in the Asia-Pacific region. Yamatake Corporation participated in this energy-saving model project and significantly contributed to reducing energy costs and carbon dioxide emissions by maximizing its advanced know-how and characteristic technologies backed by an excellent track record in China.
Okura Garden Hotel Shanghai
Building Solutions Hotels Energy Efficiency Building Management Systems
Products/Services Provided
Implementing a national energysaving model project under rapid economic growth
China has achieved remarkable economic growth in the past twenty years or so. Against this backdrop, its CO2 emissions exceeded those of the United States in 2007 to become the highest in the world. The nation's rapid growth, however, has caused rising concern at the serious impact on the global environment and energy market.
Under such circumstances, on November 28, 2008, NEDO*1, an agency operating under the Ministry of Economy, Trade and Industry of Japan, officially decided to implement an energy-saving model project aiming to introduce Japan's energy-saving technologies, together with the government of China, for the Okura Garden Hotel Shanghai located in Shanghai, China. The project was launched in January 2009.
NEDO promotes energy-saving model projects mainly in countries in the Asia-Pacific region with the aim of verifying the effectiveness of Japan's energy-saving technologies and disseminating the technologies in the countries where such projects were launched in order to contribute to reducing energy consumption in those countries.
The energy-saving model project launched in China was entrusted to Japan Facility Solutions, Inc. (JFS) by NEDO. JFS, in turn, commissioned Yamatake to construct a BEMS*2, the core of the project, including the design of the energy-saving system, procurement of equipment, as well as instrumentation and engineering. To undertake these tasks, Yamatake decided to form collaboration with its local subsidiary, Azbil Control Solution (Shanghai) Co., Ltd.
Solving issues by applying advanced know-how accumulated through extensive experience in China
The Okura Garden Hotel Shanghai selected for the model project opened in 1990. The building was constructed as the French Club in 1926 during the French Concession period, and its elegant Art Deco architecture stands out. This highly rated hotel is owned by Nomura China Investment Co., Ltd. and managed by Okura Hotels & Resorts.
"About half our guests are Japanese. Our hotel is very popular particularly among Japanese who come to Shanghai for business or pleasure," says Ms. Tang.
The Okura Garden Hotel Shanghai obtained ISO 9001 certification in 2001 and ISO 14001 certification in 2006. As such, it is well-known for its proactive efforts in the areas of quality control and environmental management.
"Our hotel was the first commercial building selected in China for NEDO's project. We believe the reason for this selection was the high evaluation given to the advanced technologies we incorporated in 2002 for the building's operation and management, such as automatic control devices and monitoring system for heating, ventilation and airconditioning (HVAC)," says Mr. Iimura.
In this model project, a number of measures were taken centering around the energy management system and energy-saving equipment. The main item is Yamatake's building management system, savic-net™FX, which functions as a BEMS. This system collects and accumulates energyrelated data via a link of the existing monitoring system and BACnet*3, and enables the management and analysis of energy consumption trends as required. Furthermore, inverter control was introduced for the HVAC equipment and heat source pumps. By varying their operating conditions in accordance with the load demand, energy consumption can be optimized. "It is true that we faced various difficulties in introducing these systems and equipment in terms of the differences in engineering and construction methodologies between China and Japan, as well as adjustments with the vendors who supplied the existing systems. Yamatake solved each and every issue that arose by drawing on its advanced technological capabilities and extensive know-how based on the experience of completing many projects in China, so the project progressed smoothly," says Mr. Iimura.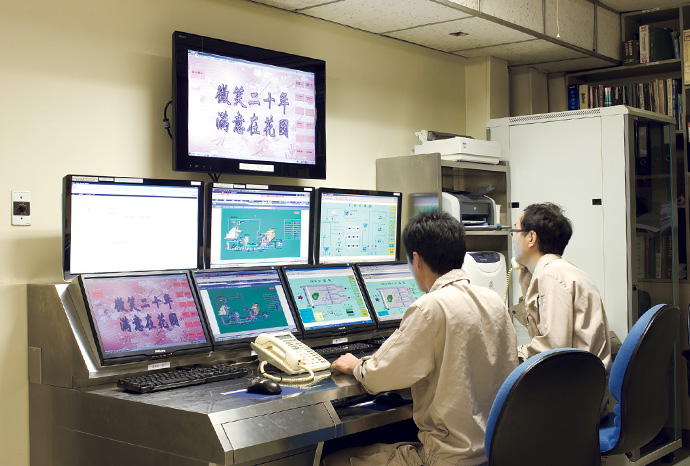 The savic-net FX installed as part of the project and existing monitoring system. The savic-net FX installed as a BEMS links with the existing system for monitoring, managing and analyzing the energy consumption trends.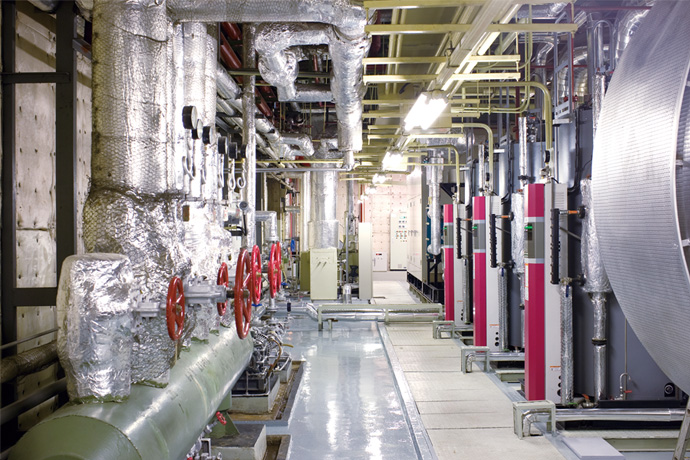 Machine room installed with highly efficient oncethrough boilers and cogeneration system as part of the project. Many visitors come to see this system.
True goal is to spread the achievement of energy-saving measures throughout China
The installation of the system and equipment for the project was completed by the end of May 2010, whereupon full operation commenced.
"At present, we are making adjustments to some machines. In 2010, after the system went into operation, the energy cost was curtailed by more than 10% as compared to the first half-year of 2009. CO2 emissions also decreased by more than 10%. In view of these achievements, I believe that we can attain the target specified for this project, namely an energy-saving rate of 16% as compared to the 2006 level. Thanks to Expo 2010 Shanghai, our occupancy rate has increased significantly. With that in mind, I think the energy-saving result we have attained to date should be highly acclaimed," says Mr. Yan.
The energy-saving model project, jointly implemented by the Japanese and Chinese governments, is drawing considerable attention in China. In fact, the Okura Garden Hotel Shanghai is visited by many companies, not only Chinese companies planning to take energy-saving measures but also Japanese companies operating in China.
"Our aim goes beyond merely achieving energy-saving effects in our hotel. We hope that the achievements obtained through the project will spread across China. That is our true goal," says Mr. Yan.
Note: Some of the information for March 2012 and earlier may use the former names of azbil Group companies.
glossary
*1 NEDO(New Energy and Industrial Technology Development Organization)
Independent administrative legal entity of the Japanese Ministry of Economy, Trade and Industry.
*2 BEMS (Building Energy Management System)
A system designed to minimize the energy consumption for an entire building or plant by automating the monitoring and control of energy consumed by energy-using facilities and equipment including district heating/cooling equipment.
*3 BACnet (Building Automation and Control Networking protocol)
A communications protocol for networks for intelligent buildings. BACnet is used for the integrated control of various facilities and equipment, such as HVAC, lighting, access control, and fire detectors. This protocol enables the connection and monitoring of devices made by different manufacturers through a common interface
Learn about the customer
Mr. Ming Yan
Executive Administration
Director
Director of Engineering
Department
Ms. Hong Lin Tang
Manager
Planning & Advertising
Executive Office

Mr. Seiji Iimura
General Manager
Nomura Land and Building Co., Ltd
Okura Graden Hotel Shanghai
Okura Garden Hotel Shanghai
Okura Garden Hotel Shanghai
Location: 58 Mao Ming Road(S.), Shanghai 200020, China
Opening date: March 20, 1990
Outline of facilities: 492 guest rooms, 5 restaurants, 3 bars/lounges, 10 banquet halls, indoor swimming pool, tennis courts, business center, gym, etc.
This case study was published in the July 2011 issue of the azbil Group's corporate magazine, azbil.
Building Management Systems Cases