Aqua Planet Jeju
Aqua Planet Jeju, which opened in July 2012 in Jeju Island, Korea, is the largest aquarium in Asia in terms of size and the number of aquatic animals on display. To keep a stable water temperature in the exhibit tanks, the aquarium introduced a life support system (LSS), which is maintaining an optimal environment to sustain the health of its aquatic inhabitants that are vulnerable to temperature change.
Aqua Planet Jeju
Building Solutions Leisure Facilities Comfort Energy Management Building Management Systems
Products/Services Provided
The importance of precise control of water temperature appropriate for the aquatic species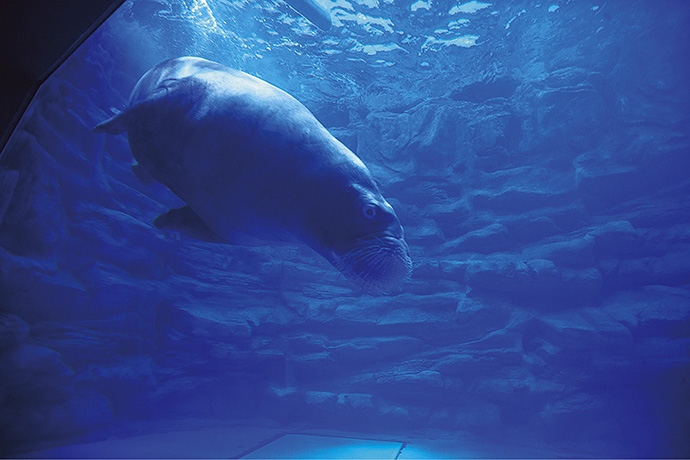 Jeju Island is located in the southernmost part of Korea. Owing to the warm Tsushima current that flows along its coast, Jeju Island is blessed with the mild climate in Korea where winters are bitterly cold, so the island is called as the "Hawaii of Korea" and is well-known as a resort destination visited by tourists from Japan as well as many domestic travelers.
Opened July 2012 on the east side of Jeju island, Aqua Planet Jeju is one of the largest aquarium in Asia. There are 11,000 tons of water exhibit tanks built in two stories and one story below ground, and approximate 58,000 aquatic animals and over 500 different kinds of species mainly come from the ocean around Jeju Island. The aquarium is operated and managed by Hanwha Hotels & Resorts Co., Ltd., a company of the Hanwha Group in Korea. The Hanwha Group is globally engaged in three major sectors: manufacturing / construction, finance, and services / leisure; and Hanwha Hotels & Resorts is positioned at the core of the services / leisure sector.
Mr. Park said: "Controlling the water temperature in the exhibit tanks is the most critical point for operating an aquarium. Particullary, fish living in cold waters with an average temperature of 10 to 15 degrees C are extremely sensitive, and even a slight change in water temperature will cause tremendous stress. If the water temperature is not controlled precisely, the fish will become sick, and in some cases might even die."
High evaluation of Azbil's proven track record in automated control of aquariums
An important topic in constructing Aqua Planet Jeju was how to build the life support system (LSS)*1 , consisted of the heat source equipment and monitoring and control system for maintaining the appropriate water temperature in the display tanks continuously. Hanwha Hotels & Resorts selected Azbil Korea, an overseas affiliate of Azbil Corporation, as a partner for building the LSS.
Hanwha Hotels & Resorts is building and operates many aquariums throughout Korea. One of them is 63 Sea World in the 63 City building, a landmark of Yeouido, Seoul. The LSS for this aquarium was equipped with Azbil products, which were chosen for their high performance.
Mr. Ju said: "Previously, 63 Sea World used Azbil analog controllers for water temperature control. In 2008, when we decided to replace the analog controllers with digital controllers, we chose Azbil for, which are maintaining a stable water temperature in the exhibit tanks. So, in building the LSS for Aqua Planet Jeju, we highly evaluated the strength of Azbil products. Furthermore, we had much confidence in the azbil brand, which has a proven track record in the automated control of aquariums."
Additionally, in order to introduce best practices of aquariums to key members of Hanwha Hotels & Resorts, Azbil Korea planned site visit to major aquarium in Japan. Getting confidence through the performance of total Azbil solutions, services, and support, Azbil Korea has been chosen as a partner of Hanwha Hotels & Resorts aquariums construction.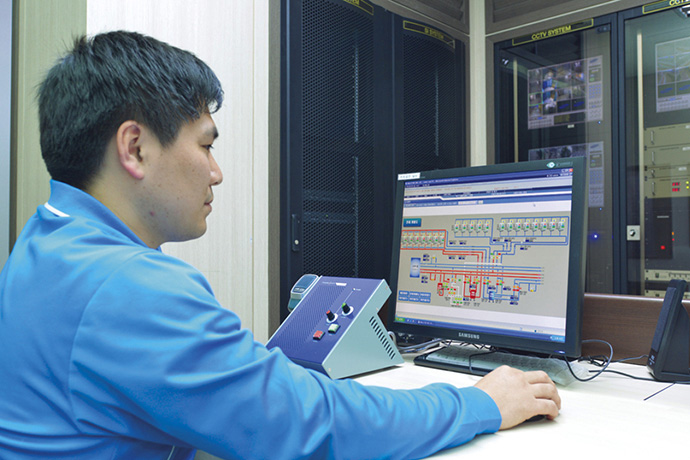 The monitor terminal of the savic-net FX installed in the central monitoring room. Enables centralized monitoring of water temperature, etc. in the exhibit tanks.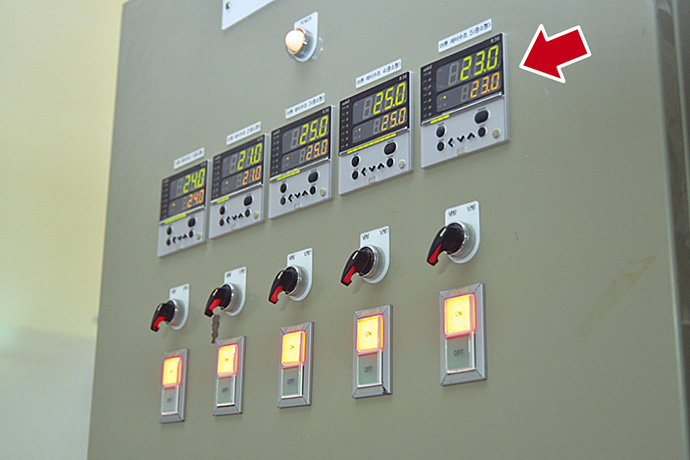 Digital indicating controller. Controls water temperature according to measurements by temperature sensors, etc.
Expectations for Azbil as a partner to support future business expansion
In July 2010, immediately after Azbil Korea was chose as a partner to build the LSS for the aquarium, construction of Aqua Planet Jeju was started and completed in May 2012. Since the aquarium's opening in July 2012 until today, the LSS keeps steady operation all the time.
Measuring the sea water temperature at the outlet of tank, the LSS controls the water temperature in the tank by adjusting the heat exchange amount of the seawater circulating into the tank. This control sequence is programmed in digital indicating controllers, and the savic-net™FX building management system continuously monitors the environment in the exhibit tanks. Introduction of the savicnet FX has made possible the centralized facility management, furthermore eliminated surveillance works several times a day to adjust and manage the water temperature of multiple water tanks, and significantly reduced the burden on the operators.
Mr. Kim said: "Now the aquarium's water temperature control is completely automated, we can maintain the optimal environment for all the aquatic animals in the water tanks, without worrying about the delay in responding to troubles."
Mr. Oh said: "In the event of an abnormality of the water temperature in the tanks, the savic-net FX alerts operators by sending a short message to their mobile phones. Even if the operator is not constantly watching the monitor screen, the operator can respond quickly to the alarm."
In order to meet the growing popularity of aquariums in Korea, Hanwha Hotels & Resorts is actively planning new aquariums in other areas, and considering Azbil as its first choice for partner in constructing the LSS. In fact, Azbil Korea provided the monitoring and control of the LSS for Aqua Planet Yeosu aquarium, which opened on May 12, 2012, slightly earlier than the opening of Aqua Planet Jeju. Furthermore, Azbil Korea was selected to build the LSS for Aqua Planet Ilsan, another aquarium now under construction.
Mr. Park said: "We are very satisfied with not only the superiority of Azbil products and systems but also the total service and response of Azbil employees, from installation through to operation support and maintenance."
Mr. Ju said: "I am sincerely looking forward for Azbil Korea, a company with advanced technical capabilities and know-how, to playing an important partner for our aquarium business, which is a strategic priority for our company."
glossary
*1 LSS (Life Support System)
A system for maintaining an appropriate environment for raising and displaying aquatic creatures in an aquarium.
Learn about the customer
Ju Bok Taek
Chief Manager
Culture Business Development
Team
Culture Business Department
Hanwha Hotels & Resorts Co., Ltd.
Park Jin Hee
Deputy Senior Manager
Aqua Planet Jeju
Oh Jae Deuk
LSS Manager / AQ Aquarist
Aqua Planet Jeju
Kim Yong Bae
Aquarist / AQ Team
Aqua Planet Jeju
Aqua Planet Jeju
Aqua Planet Jeju
Location: 127-1 Goseong-ri, Seongsan-eup, Seogwipo-si, Jeju-do, Korea
Opening date: July 14, 2012
Hanwha Hotels & Resorts Co., Ltd.
Location: 1 Janggyo-dong, Jung-gu, Seoul, Korea
Established: March 1979
Business scope: Operation and management of condominiums, golf courses, various theme parks, membership resorts, and other facilities
This case study was published in the 2013 Vol.3 issue of the azbil Group's corporate magazine, azbil.
Leisure Facilities Cases
Building Management Systems Cases