National Chiao Tung University, Kuang-Fu Campus
National Chiao Tung University, one of the most prestigious universities in Taiwan, carried out a renovation for energy conservation of the heating, ventilation, and air-conditioning (HVAC) facilities of its library building as an ESCO business, in order to comply with the energy conservation measures for public institutions put forth by the Taiwan government in August 2008. By renewing existing facilities and re-examining automatic control and operation, the university achieved energy savings that far exceeded its target. These initiatives are gaining recognition as future guidelines for energy conservation measures in Taiwan.
National Chiao Tung University, Kuang-Fu Campus
Building Solutions Schools Energy Efficiency Building Management Systems Valves and Actuators Building Energy Management
Products/Services Provided
savic-net FX Building Energy Management System Energy Data Server
More advanced energy conservation measures are necessary to meet the requirements set by the government
National Chiao Tung University's (NCTU) main campus is located in Hsinchu City in northwestern Taiwan. Since its establishment in 1958, as Taiwan's leading university, it has produced many of Taiwan's political and business leaders. Today, over 14,600 undergraduate students and graduate students are enrolled in 11 departments of NCTU, which plays a key role as an educational and academic research base in Taiwan. Especially in the engineering and computer science fields, NCTU has produced the world's top research achievements and academic papers, and has made immense contributions to the development of Taiwan's electronic industry.
To comply with a recent move toward CO2 emissions reduction worldwide, the Taiwan government has set forth an important policy to reduce carbon emissions, and is aggressively promoting measures based on the policy. In August 2008, to set an example for private organizations, the government announced a new requirement for public institutions including public universities and schools to implement energy conservation measures. Specifically, it set a target of 7% energy savings from 2009 to 2015, compared with 2007 energy consumption levels.
Since 2007, prior to the government's announcement, NCTU's Kuang-Fu Campus has been promoting energy conservation through initiatives focused on introducing heat pumps, replacing the school buildings' lighting with high-efficiency LEDs, and installing motion sensor lighting in the hallways and bathrooms.
Mr. Yang said: "In addition to mandatory energy conservation, the cost of electricity is increasing in Taiwan. To cope with these situations, it was necessary to prepare and execute more advanced energy conservation measures. NCTU decided to implement energy conservation measures for the heating, ventilation, and air-conditioning (HVAC), which consume large amounts of energy. To begin with, we chose to renovate the HVAC of the library building, which is open for long hours, and is also a symbol of the university."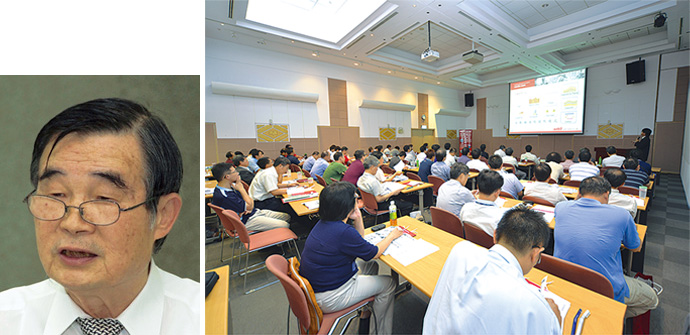 Taiwan Energy Service Association (TESA-ESCO) and Azbil Taiwan jointly held a seminar featuring success cases of ESCO business, at the National Chiao Tung University on July 26, 2012. TESA-ESCO Chairman Bill Chen said: "In Taiwan, the ESCO business's energy performance contracting is being promoted, based on the International Performance Measurement and Venfication Protocol. TESA-ESCO will actively encourage our government to develop laws providing ESCO businesses with financial assistance. We also hope to have more seminars like this to promote the ESCO business, with the cooperation of Azbil and its energy-saving know how."
Utilizing Japanese control technology and know-how to achieve a high energy conservation rate
NCTU laid out a plan for renovating the HVAC of the library building, with the support of EAK Engineering Consultants & Technology Co., Ltd., which was already providing energy conservation consultation to the university.
To select a partner who can implement measures based on the plan, NCTU conducted a general competitive bidding in December 2010, where bidders presented concrete measures for energy conservation. Azbil Taiwan Co., Ltd., an overseas affiliate of Azbil Corporation, participated in the bidding jointly with Kuen Ling Refrigerating Machinery Co., Ltd., a local equipment installation company. They succeeded in winning the contract as an ESCO business.*
Mr. Yang said: "Their proposal introduced measures from a different perspective that we had never considered. They also outlined energy conservation measures for automatic control and operation, which are expected to reduce energy consumption by 31%. Their analysis of energy conservation calculations was also appropriate and rational, which we evaluated highly."
Mr. Wu said: "We knew that Azbil accounts for a large share of the energy conservation market in Japan. For this reason, we had complete trust in Azbil Taiwan."
The construction started in January 2011. First of all, to achieve high efficiency and energy conservation of the heat source facilities for HVAC, Azbil's ACTIVAL™PLUS Motorized Two-Way Valve was introduced. This valve alone measures and controls the flow rate, or controls the flow according to load demand. Next, by thoroughly reviewing the chilled water piping system, the number of feedwater pumps was reduced and an inverter was introduced. This realized a system for optimizing the chilled water supply and reducing wasted electricity. In addition, the savic-net™FX BEMS (Building Energy Management System) and the Energy Data Server (EDS) help to visualize energy consumption trends, and this trend data can be evaluated and analyzed to plan for further energy conservation. Instead of replacing individual equipment to conserve energy, this renovation examined the entire heat source system and entire building to realize more comprehensive solutions for energy conservation.
Mr. Kao said: "The library is open even on days when no classes are held, and it is always used until late at night. How to prevent the construction work from affecting the comfort of library users was an important issue for us. Azbil lived up to our expectations with its rigorous, Japanese-style schedule control."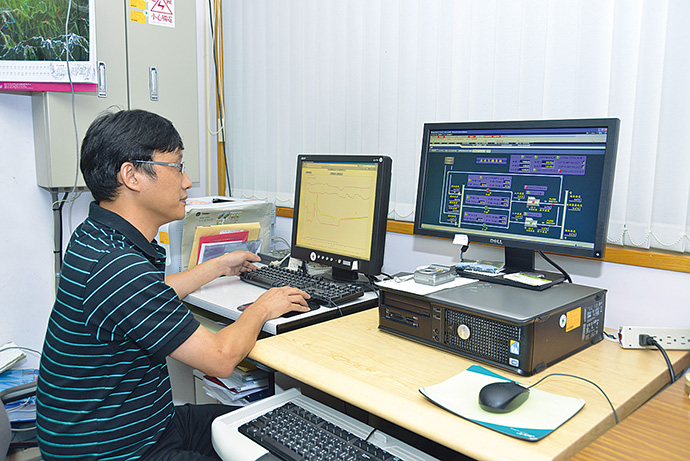 The monitoring terminals for the savic-net FX (right) and the EDS (left) in the monitoring room on the basement level of the library building. The operator can monitor and control the operation of the newly installed HVAC and check the energy consumption trend.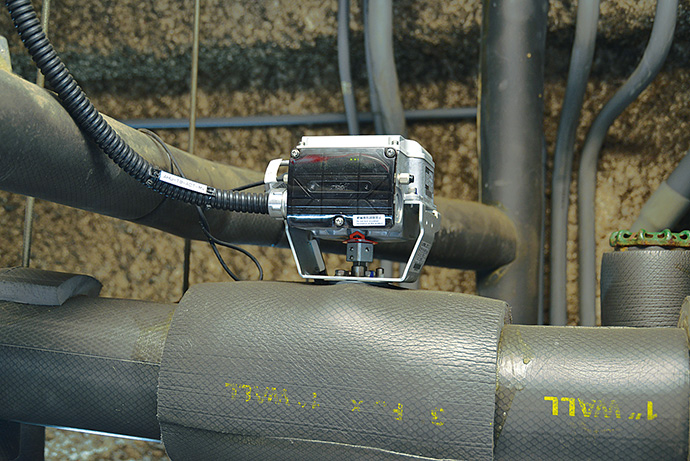 ACTIVAL PLUS Motorized Two-Way Valve installed on a chilled water coil piping for HVAC. An all-in-one valve with the functions of a control valve, flowmeter, pressure gauge, and thermometer, a significant cost saving is possible when these functions are used together.
Expectations for Azbil as a leading force in energy conservation in Taiwan
The renovation of the HVAC facilities was completed in May 2011. Since June 2011, the new facilities have been in operation and attaining impressive results.
Mr. Yang said: "Af ter the system began operating, energy consumption decreased significantly by 53%, far exceeding our initial target of 31%."
Mr. Kao said: "The graphical screen of the savic-net FX enables us to monitor and control the facilities more easily than ever before. Moreover, by using data recorded by the EDS, we can easily investigate problems that happened at night when the facility is not monitored. The newly introduced system provides outstanding performance even for purposes other energy conservation."
In the future, NCTU will implement energy conservation measures for the HVAC facilities of buildings other than the library. Mr. Yang said: "We will examine more effective measures for energy conservation by utilizing the savic-net FX and the EDS to collect and manage important facility operation data. An energy-conserving renovation of two lecture buildings in the same campus is already scheduled. We will implement the same program at other campuses, so we expect to ask for support from Azbil more and more."
Mr. Wu said: "Until now, the concept of standard energy conservation measures in Taiwan was to simply replace existing equipment with the latest, high- efficiency model. The measures we implemented with Azbil this time were to carry out appropriate control while upgrading existing equipment in order to achieve energy conservation. Our method is exactly in line with today's global trend. And I believe it will become guidelines for the energy conservation measures we should take in the future. In that sense, the expectations for Azbil as a leading force in energy conservation is rising in Taiwan."
glossary
* ESCO (Energy Service COmpany) business
This business provides comprehensive services for conserving energy in plants and factories. In Japan, there are two types of ESCO business contracts. One is the "guaranteed-savings contract" where customers themselves raise funds for initial investment, and the other is the "shared-savings contract" where the service provider shoulders the initial cost. For both types of contracts, the service provider guarantees the amount of energy cost reduction from which facility investment can be recovered.
Learn about the customer
Mr. Li-Hsi Yang
Section Chief
Construction Division
Division of General Affairs
National Chiao Tung University
Mr. Hsiao-Hua Kao
Officer
Library Maintenance Section
National Chiao Tung University
Mr. Hubert Wu
HVAC Consultant
Chairman and President
EAK Engineering Consultants &
Technology Co., Ltd.
National Chiao Tung University, Kuang-Fu Campus
National Chiao Tung University, Kuang-Fu Campus
National Chiao Tung University, Kuang-Fu Campus
Location: 1001 University Road, Hsinchu, Taiwan
Established: 1958
University outline: Eleven undergraduate and graduate departments and research centers, including electrical engineering and computer science
Library building: 8 floors, 1 underground: 32,000 m²
This case study was published in the 2013 Vol.1 issue of the azbil Group's corporate magazine, azbil.
Building Management Systems Cases
Valves and Actuators Cases
Building Energy Management Cases