PT. Pertamina
PT. Pertamina, which provides a reliable supply of energy for Indonesia's industries and everyday life, revamped its aging DCS while the plant was shut down for routine maintenance. This method enabled the company to modernize the system while minimizing production loss during system renewal. Going forward, the company is planning to implement energy-saving measures.
PT. Pertamina
Factories and Plants Oil Refining and Petrochemical Reliable Operation Countermeasures for Aging Industrial Automation Control and Monitoring Systems and Software
Products/Services Provided
The problem of renewing a DCS in operation for 20 years
PT. Pertamina was established in 1957 by the Indonesian government to provide stable supplies of oil and gas. In November 2001 the company was privatized with the aim to more effectively utilize energy resources; today, it has grown into Indonesia's largest oil and gas enterprise. Pertamina owns oil and natural gas reserves across Indonesia and handles a vast array of oil-related products; including the production of various fuels from gasoline and light and crude oils through to liquefied natural gas and jet fuel, and the production of non-fuel products such as asphalt and coke, and petrochemical products as benzene and paraxylene. Already well known throughout Indonesia, Pertamina is gaining recognition overseas. And in a bid to become a leading enterprise representing Southeast Asia, the company is meeting the challenge of changing mindsets internally to tackle cost reduction, environmental measures, and other initiatives.
Pertamina currently operates six oil refineries, of which Refinery Unit IV at Cilacap is positioned as a strategically important production base. It boasts a production capacity of 348,000 barrels/day, and produces fuels such as gasoline, avtur, diesel, and LPG, paraxylene, lube base oil, and sulfur.
Mr. Sundhoro R said: "Cilacap's Refinery Unit IV consists of two oil refining plants that began operation in 1971 and 1983, and a paraxylene plant that started operation in 1990. Our challenge was updating the existing DCS*1 used for operation and management of the paraxylene plant. So we asked several vendors to draw up proposals for this project."
System renewal during planned maintenance realized a changeover in minimum time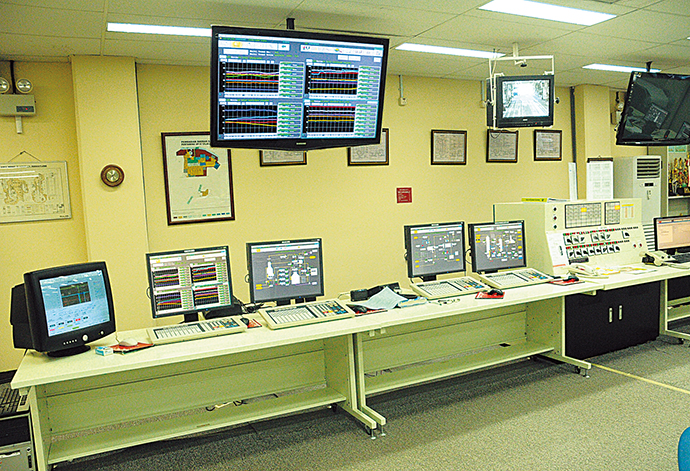 The Harmonas-DEO installed in the paraxylene plant.
Proposals for modernizing the aging system of the paraxylene plant were solicited from four vendors, with the condition that the renewal be completed in a short time. To mitigate the risk of production loss due to a delay in construction, Pertamina imposed a strict requirement for the vendor to pay a penalty should construction fall behind schedule. After carefully reviewing all vendors' plans, the company selected Azbil Corporation and its local affiliate, PT. Azbil Berca Indonesia (ABID), as partners for this project.
Mr. Ibnu Zaenal said: "Consumption of paraxylene continues to expand in Indonesia and surrounding areas such as Taiwan, so as a manufacturer we need to establish a framework for stable supply. It's our responsibility to minimize plant downtime for renewal of the system."
Azbil and ABID proposed revamping the DCS during the plant's planned maintenance*2. Specifically, this meant performing a hot change over (HCO), or renewing part of the system while the plant remained operational; and a cold change over (CCO), or replacing the system during the plant's scheduled downtime for planned maintenance. The changeover required two days, but since it was carried out during planned maintenance while a section of the plant was shut down anyway, actual plant downtime for replacing the system was zero.
Mr. Dadi Sugiana said: " This method of combining HCO and CCO was in fact adopted in the late 1990's when the DCS was installed at Cilacap's two oil refining plants, and we were able to significantly reduce plant downtime compared with a conventional system changeover. Our partner at the time was Azbil. So we considered its track record, including its engineering capability to respond flexibly to unforeseen situations, and decided to award this project to Azbil."
Raising operational efficiency is future issue of business management
To shorten the switchover time and cut the renewal cost, any equipment such as sensors, valves, and terminal panels already installed and in good working condition were left in place, and only the DCS was renewed. Azbil's Harmonas-DEO™ monitoring and control system was introduced as the new DCS. It offers similar ease-of-use and is achieving the same operability and productivity after system switchover.
Mr. Erfan Gafar said: " The DCS was replaced while part of the plant was shut down for planned maintenance. So the timing of replacing the DCS would change depending on how the maintenance work progressed. Despite repeated schedule changes, the switchover was completed as originally planned without delay."
Following a pledge by Indonesian President Yudhoyono to reduce the nation's greenhouse gas emissions by 18% by 2025, Indonesia's key industries are now expected to implement measures to reduce carbon emissions. In response, Pertamina is taking initiatives to lower both carbon emissions and energy costs.
Mr. Imam Udiantoro said: "One of the targets in our performance contract with the Indonesian government is optimizing energy usage at the paraxylene plant. And we are aiming to achieve this by optimizing furnace operation and reducing heat source loss."
Mr. Dadi Sugiana said : " At Pertamina, all seven refineries are aiming to place in the top 25 percent for energy efficiency based on the Solomon Associates Energy Intensity Index, a benchmarking method for the oil refining sector. Among them, our Cilacap refinery has the highest ranking, in the top 30 percent worldwide, and we plan on improving it further. We look forward to continued support from the azbil Group, which is regarded highly for its control technologies."
glossary
*1 DCS (Distributed Control System)
A system that monitors and controls the manufacturing process or production facilities in plants and factories. To achieve even distribution of load, the DCS distributes the functions of each device over a network, resulting in safety and excellent maintainability.
*2 Planned Maintenance
Large-scale, scheduled inspection and repair work routinely carried out at production facilities and plants.
Learn about the customer
Mr. Dadi Sugiana
Engineering & Development
Manager
Mr. Erfan Gafar
Deputy Section Head
Project Engineering
Mr. Sundhoro R
Facility Engineering
Mr. Ibnu Zaenal
Section Head
Paraxylene
Mr. Imam Udiantoro
Deputy Section Head
Paraxylene
PT. Pertamina
PT. Pertamina
PT. Pertamina
Head office: Jl. Medan Merdeka Timur 1A, Jakarta, Indonesia
Established: December 1957
Business scope: Production and sales of oil, gas, and processed products; geothermal energy business including geothermal power generation; and production of liquefied natural gas
Refinery Unit IV, Cilacap (Paraxylene refineries)
Location: Jl. Letjen Haryono MT. 77 Lomanis, Cilacap Jawa Tengah,Indonesia
Start of operation: December 1990
This case study was published in the 2012 Vol.4 issue of the azbil Group's corporate magazine, azbil.
Factories and Plant Cases
Oil Refining and Petrochemical Cases
Countermeasures for Aging Cases
Industrial Automation Control and Monitoring Systems and Software Cases