Control Valve Maintenance Support System
More productive maintenance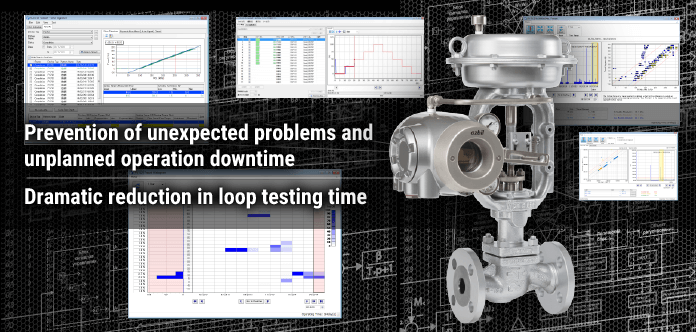 Control Valve Maintenance Support System PLUG-IN Valstaff
Online monitoring of smart valve positioners' diagnostic parameters during plant operation.
Strong support for early detection of control valve's being in poor condition, appropriate maintenance planning, and efficient maintenance operation.
PLUG-In Valstaff communicates with smart valve positioners that support FOUNDATION fieldbus and HART communication, and monitors control valve diagnostic parameters 24/7.
In addition, its automatic adjustment/setup of positioners and step response testing achieves quick and accurate startup. Additionally, control valve status indexes generated from this data help users to create maintenance plans that are appropriate for the level of deterioration, minimizing overhauls.
Prevention of unexpected problems and unplanned operation downtime

By collecting diagnostic parameter data from smart valve positioners during plant operation and monitoring data trends, operators can catch control valve deterioration that would have escaped notice previously, preventing unexpected problems and unplanned operation downtime.

A petrochemical customer has avoided unexpected valve failure by detecting non smooth valve motion caused by polymer stuck on Gland packing.

Dramatic reduction in time required for loop testing in regular maintenance

In a step response test, whether valves operate correctly and smoothly in response to opening commands is checked. The results of testing, which are displayed in graphs, allow easy discovery of deterioration and control valve problems and evaluation of their performance. Multiple control valves can be checked simultaneously, which drastically reduces the time required for regular maintenance and inspection.
Product data
Whole-plant optimization with Azbil's innovative automation technology
Control valves with over 80 years of proven reliability. Azbil's smart valve positioners, equipped with the latest control valve diagnostic algorithms, were developed to further streamline maintenance and reduce plant operation costs.
With Azbil's control valves and systems, various control valve tests can be automated, significantly minimizing inspection work load and achieving an innovative process automation environment.

Contact us