Azbil Publishes 2019 Annual Report

- Covers Progress on Medium-term Plan for Sustainable Growth and Introduces SDG and ESG Initiatives -
TOKYO, Sept. 24, 2019: Azbil Corporation (Tokyo Stock Exchange Code: 6845) announced that it published the English version of its 2019 annual report, "azbil report 2019," which contains business overviews and annual results based on the Company's medium-term plan, as well as details on corporate governance, initiatives for environmental preservation and solving social issues, and other information in order to enhance understanding of the azbil Group's efforts to achieve sustainable growth.
Since 2014, Azbil has published an integrated annual report for shareholders, investors, customers, and other stakeholders to introduce in an easy-to-understand way the azbil Group's medium- and long-term strategies, value creation process, and unique strengths gained through the pursuit of the Group philosophy of "human-centered automation." Based on the "International Integrated Reporting Framework" of December 2013 established by the International Integrated Reporting Council, information has been disclosed as completely as possible in regards to financial reporting and ESG (environmental, social, and governance) issues.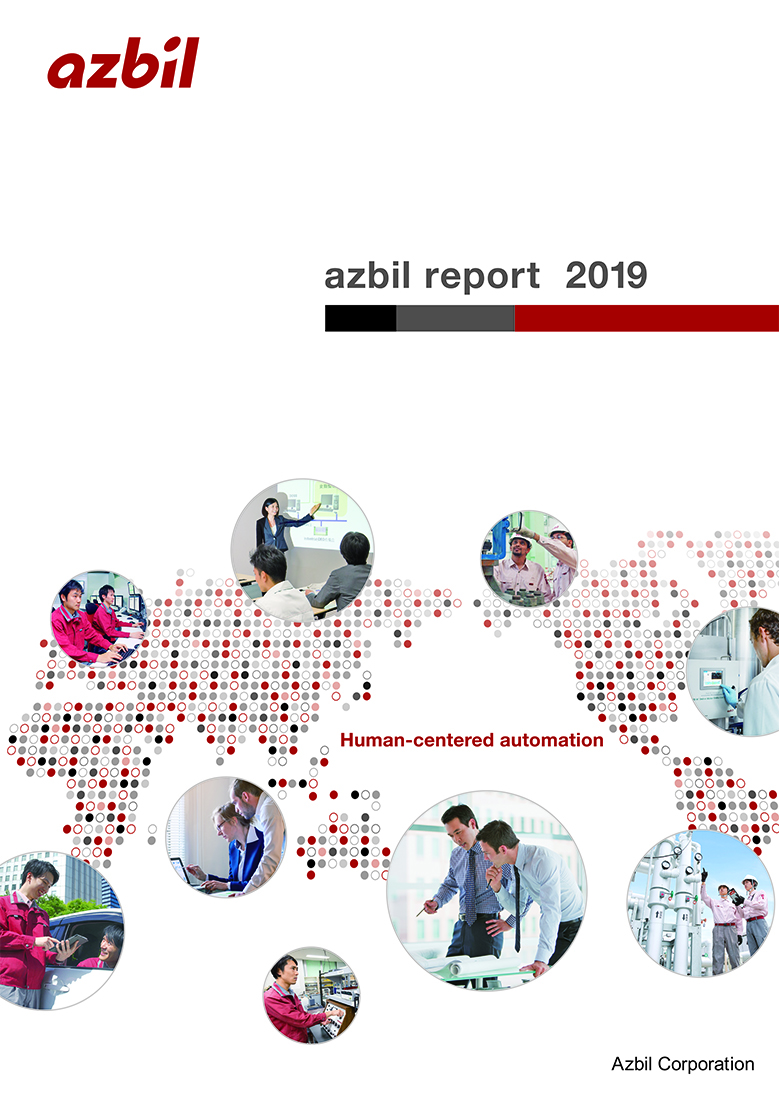 The cover represents Azbil creating
value globally with customers through
"human-centered automation."
The following are some of the topics in this year's annual report.

Interview with Hirozumi Sone, President and Group CEO
Mr. Sone explains the azbil Group's long-term vision, initiatives and progress regarding the current medium-term plan, efforts surrounding strengthening the business foundation for sustainable growth, and other initiatives, as well as the Group's capital policy.



Initiatives for furthering SDGs through the azbil Group's automation business
The annual report delves into initiatives that leverage the azbil Group's unique automation technology to contribute to solutions, such as the SDGs (Sustainable Development Goals), that solve social issues, and to achieve the Science Based Targets, greenhouse gas emission reduction targets based on climate science and defined by various third parties including the United Nations.



Promotion of "Health and Well-being Management"
Because the azbil Group believes that a key business foundation for sustainable growth is making workplaces and employees healthy, happy, and lively, it announced the "Health and Well-Being Declaration," which includes a wide range of efforts such as increasing employee diversity and implementing work-style reforms, including reducing overtime hours. The annual report describes those efforts.



Corporate communication for enhancing dialogue
The annual report introduces the azbil Group's two-way communication activities that utilize dialogue with various stakeholders to enhance their understanding of the direction of the Group's corporate value creation and also the corporate activities as the source of creating such values. At the same time, the Group aims to realize sustainable growth by using stakeholders' feedback to gain an impartial understanding of the Group's own issues.
The annual report can be downloaded from the following website.
https://www.azbil.com/ir/library/annual/index.html
Guided by the philosophy of "human-centered automation", the azbil Group will continue to realize safety, comfort, and fulfilment in people's lives and contribute to the global environment.
* Posted information is accurate as of the date of announcement.
Contact
For media inquiries
Robert Jones / Masayoshi Kogai
Public Relations Section, Azbil Corporation
Phone: +81-3-6810-1006 Email: publicity@azbil.com