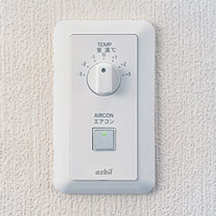 User Terminal Neoplate
Neoplate is a user terminal for use with specific Azbil Corporation controllers.
Neoplate enables operations of local controllers IFC (Intelligent FCU Controller) and IVC
(Intelligent VAV Controller).
Neoplate has controls for such operations as air conditioning ON/OFF, setting of
temperature and control of fan speed.
Feel free to contact us for consultation or inquiries regarding these products.
Online Inquiries
Inquiry Form