Initiatives for Environmentally Friendly Products
Unique Azbil Corprarion Product that Contributes to the Environment: the ACTIVAL™ PLUS Motorized Control Valve with Flow Measurement and Control Functions
The azbil Group released ACTIVAL PLUS in 2009. Because this valve contains an integrated flow measurement function, it is able to conserve energy by controlling the flow rate to prevent excess flow, without the need to add other equipment such as flowmeters or heat sensors. It further improves the quality of energy management by enabling precise knowledge of the energy consumption by individual air conditioning units.
We have installed 100 ACTIVAL PLUS valves at Azbil Corpration's Fujisawa Technology Center, and as a result we have seen a 7% reduction in the power required for fluid conveyance.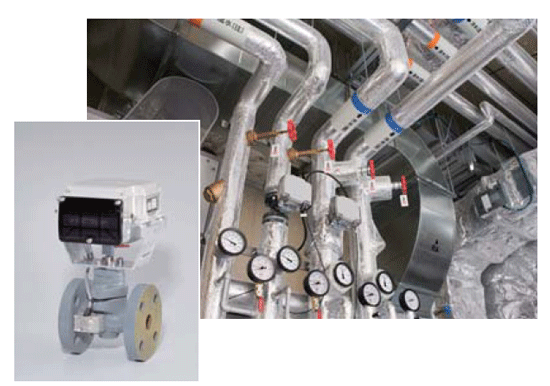 ACTIVAL PLUS(left) ACTIVAL PLUS installed(right)
Commitment to Development
Flow is measured using differential pressure flowmeters based on pressure differences caused by valves, and on the valves' inherent flow coefficient (Cv). Many factors figure in development because the flow environment of our valves differs substantially from a typically measured flow environment.
For example, if valves are installed at the end of curved pipes, the pressure at the inlet is irregular. By making ports to regulate this pressure, we have succeeded in reducing the margin of error in calculating pressure from 6.5% to 1% or less.
In addition, substantial changes at the outlet occur within valves as they open and shut, which impacts pressure measurement. By careful design of the valve body configuration, reliable pressure measurement can be achieved by creating new areas that are unaffected by flow.
Regarding the Cv, we have recently gathered an enormous amount of data from over a year of experiments. Based on this data we can confirm the accuracy of flow measurement through various methods, such as creating two-dimensional Cv tables for any degree of valve opening and for any differential pressure.
After environmental assessment, ACTIVAL PLUS was certified as an environmentally friendly product, and was permitted to display the azbil Group Type II Environmental Label.
The idea of measuring flow with valves is not new in and of itself, but previously there were almost no commercial products. In the course of development for this product, we incorporated numerous new technologies, ideas, and production methods, and applied for numerous patents. In this way we have succeeded in developing a product with added value that competitors cannot replicate.
This product is part of a series. As we successively build a lineup of products with flow measurement functions to meet HVAC needs, we will contribute to realizing a low-carbon society through environmentally friendly design.
Overall of Environmental Initiatives

Contributing to the environment through our core businesses

Reducing the environmental impact of our own business activities