Our Approach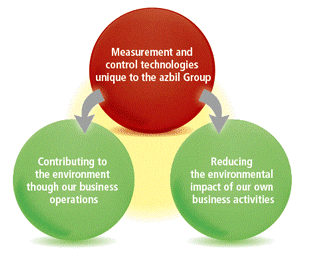 In setting our environmental agenda, we take into consideration related global trends, including the U.N.'s adoption of Sustainable Development Goals and the entry into force of the Paris Agreement. Under the leadership of the azbil Group Environmental Committee, which meets three times a year, Group companies develop environmental management systems and conduct planning, deliberations, and reviews.
In addition to reducing the environmental impact of our own business activities and drawing upon the technologies and know-how obtained by doing so, the azbil Group makes use of its measurement and control technologies to help find solutions to the environment-related problems faced by our customers. In doing so, we promote "contributing to the environment through our core businesses" and contribute to achieving a sustainable society. The company's Fujisawa Technology Center serves as an experimental site for energy management solutions and as a model business site for energy conservation. In addition to conducting technological research, our engineers at the site operate the products we develop to verify their effectiveness.
Our determination to preserve the environment. as mentioned in the Group philosophy, is spelled out in two objectives in the azbil Group Basic Environmental Policy. On the basis of the Basic Environmental Policy, The a bil Group has formulated specific priority measures for the environment related to four different aspects of the problem.
Two environmental objectives
To help to achieve a sustainable society:
● We will continuously reduce the environmental impact of our own business activities.
●We will proactively offer solutions for the environmental challenges faced by our customers and society based on our measurement and control technologies.
azbil Group Basic Environmental Policy / Rules for Environmental Preservation/ Environmental Policy
Measures in Environmental Initiatives
Bringing the furuits of our own energy-saving efforts to our customers and society
To better provide its cutting-edge technologies and know-how, the azbil Group uses its office buildings and production facilities around the world as proof-of-concept sites. By reducing the CO2 emissions from its own business operations. and making its technologies more sophisticated through various initiatives and studies. the azbil Group is making every effort to solve the environmental problems confronting work sites and society.
Helping to reduce the environmental impact of customers and society
CO
2
emission reduction
at customers' sites
(FY2017)
*Please refer for details on the estimations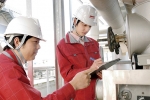 Bringing the furuits of our own energy-saving efforts to our customers and society
CO
2
emissions
at the Group's businesses
(FY2017)
*Azbil Corp., consolidated subsidiaries in Japan, and main manufacturing bases overseas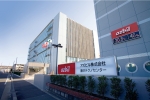 Overall of Environmental Initiatives

Contributing to the environment through our core businesses

Reducing the environmental impact of our own business activities