Initiatives in FY 2010
Initiatives at the Fujisawa Technology Center
A variety of energy conservation efforts are underway at the azbil Group's "model workplace for energy conservation," which is also its largest employment site, with about 2,000 people.
Q. What kind of operating principles do you follow at the Fujisawa Technology Center?
We began full-fledged energy conservation efforts in 1999 with the installation of an energy monitoring system.
In addition to promoting energy conservation, we stress the concepts of measurement, examination, and control.
Our current analysis starts with measurement of the amount of energy such as electricity and gas. This allows us to understand the actual consumption situation in a building so that we can then examine factors such as machinery performance, operating efficiency, and operating times. We then create improvement plans. This leads to accurate and effective energy conservation measures, and to control of energy consumption.
Since the second half of 2008, we have further strengthened our execution framework by assigning, on every floor of every building, someone in charge of energy conservation, as well as an energy conservation promoter, which has contributed to the continuation of our initiatives.
Q. What kind of measures are taken to electricity power conservation especially for summer?
To conserve electricity, the Fujisawa Technology Center has expanded the scope of its existing energy conservation initiatives and promoted various interdepartmental cooperative measures. Efforts include relocating testing equipment and managing waste heat from constant-temperature ovens. Our electricity conservation measures are adapted to individual building specifications.
One building in particular, which has been promoting energy visualization, incorporated its own unique approach to high-priority measures such as shifting usage to off-peak hours, controlling power demand, and employee-led electricity conservation.
In order to shift power usage to off-peak hours, the entire building was pre-cooled prior to working hours, when power usage was not restricted. Then, during the period subject to usage reductions, cooling was accomplished using only ice generated with nighttime electricity and kept in thermal energy storage. Our proprietary forecasting technology, which incorporates weather forecast information, was also used to minimize the pre-cooling required.
Additionally, an incentive-type control system was introduced that allowed a lower indoor temperature setting if lights were turned off. A system introduced on a trial basis allowed employees to take the lead in setting the indoor temperature for each workday.
These initiatives helped cut peak electricity consumption on every workday subject to power usage restrictions by more than 40% at the building and by some 30% for the entire Fujisawa Technology Center, greatly exceeding the target.
Q. Please tell us about energy conservation measures you have put in place so far.
We have taken a wide range of energy conservation measures in keeping with the characteristics of each building, based on sources ranging from employee suggestions to advanced technologies.
In buildings that existed before we began our initiatives, we installed highly efficient reflectors and inverter voltage stabilizers in the lighting. We also installed pull switches to ensure that individual lights could be turned off when not needed. We increased the efficiency of our air-conditioning by switching to double-pane windows, by installing reed screens around external air-conditioning equipment, and by using ceiling fans.
Buildings completed in 2006 employ highly insulative glass on all surfaces, have vertical louvers on sides that face the setting sun, and employ air-conditioning systems that use less power for heat conveyance. We have also improved the operation of new buildings since their completion through means including shortening the operating times of heat sources used in air-conditioning of central monitoring equipment and energy management systems.
Introducing Electric Vehicles (EVs)
Since its establishment, the Narita Sales Office has contributed to preservation of the environment with energy-saving proposals for customers at the "gateway to Japan." At the same time, we in Narita are working to reduce our own environmental impact. With the consent of the owner of our building, we set up a recharging station and introduced EVs in January 2011. We look forward to using the experience of the Narita Sales Office to enhance the business activity of the azbil Group and to contribute to the creation of smart cities and smart communities in Japan.
The design on the cars, which incorporates the words "electric vehicle" in our corporate color, is getting attention in the vicinity around the office and at the sites the vehicles visit. I hear from employees that this has raised their consciousness of the environment, giving me a sense of the effect on environmental awareness.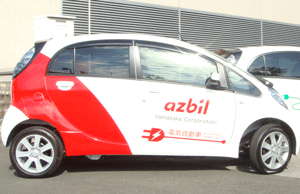 Electric Vehicle introduced to the Narita Sales Office
Developments for Group Factories
One of Japan's largest flow calibration rigs, completed in December 2008
We aim to reduce CO2 emissions at each of our Group factories by applying Yamatake's hands-on expertise in energy conservation and its on-site experience with its customers. Yamatake Mizuho began implementing CO2 reduction measures in fiscal year 2010.

Yamatake Mizuho is a core factory of the azbil Group that produces flow measurement equipment, including electromagnetic flowmeters and water meters. In particular, the flow calibration rig it completed in December 2008 has attracted substantial attention from various sectors as one of Japan's largest calibration devices. With the establishment in fiscal year 2010 of a framework to expand calibration services for electromagnetic flowmeters to non-azbil Group products, the company's energy usage is expected to increase in the future. Consequently, it has considered adopting a system for making the usage of air, gas, and water, in addition to electricity, more visible, and has investigated and identified energy conservation topics. In fiscal year 2011, Yamatake Mizuho will construct this visualization system while conducting energy-saving measures as needed.
Overall of Environmental Initiatives

Contributing to the environment through our core businesses

Reducing the environmental impact of our own business activities