Prevention of Global Warming
Efforts to Prevent Global Warming through Our Business Operations
Global warming is a worldwide challenge. Members of the azbil Group are working together proactively to take measures to save electricity and conserve energy in their business activities, while bearing in mind the importance of their role in helping customers and society to significantly reduce CO2 emissions.
Under the leadership of the azbil Group Environmental Load Innovation Officer, the management team and employees within the azbil Group work together to reduce CO2 emissions, with each major business site supervised by an executive officer.
Moreover, the environment supervisors committee, which is responsible for Group-wide energy management, meets six times each year. The committee, which is led by the executive officer in charge of environmental load innovation, is composed of officers responsible for energy management at individual business sites.
At its meetings, the committee sets CO2 reduction targets, formulates a plan for achieving the targets, checks the progress of the plan, and feeds the results back to business sites, thereby encouraging proactive action on behalf of the environment.
The implementation of effective electricity-saving and energy-conserving initiatives that optimize energy use at factories and offices is accomplished by visualization of electricity usage through an energy management solution service. The knowledge acquired through these initiatives can then be used to help customers and the general public.
Greenhouse Gas Emission Reduction Targets for 2030
The azbil Group established its "2050 Long-Term Vision for Reducing Greenhouse Gas Emissions" in which it aims for substantially zero GHG*1 emissions (scopes*2 1 + 2) by 2050 from business activities and to achieve carbon neutrality. To achieve our 2050 long-term vision for reducing GHG emissions, we have set 2030 GHG reduction targets for our business activities and entire supply chain, and we have begun work on specific measures.
Seeing the rapidly building momentum to create a decarbonized society, the azbil Group revised its target of reducing GHG emissions through business activities from the previous 30% (from a 2013 base year) to 55% (from a 2017 base year). The new target was again approved by the Science Based Targets initiative*3 as meeting the requirement for achieving the organization's goal of keeping global temperature increase below 1.5 degrees Celsius compared with pre-industrial levels. The azbil Group's targets for reducing GHG emissions by 2030 was recognized as meeting the requirements of the international community and align with the Paris Agreement, thus allowing the Group to further accelerate efforts to achieve carbon neutrality. To accomplish its goal, the azbil Group will strengthen efforts in testing and applying energy-saving technology cultivated at the various business segments as well as proactively use renewable energy.
[2030 targets for reducing GHG emissions ]
Reduce GHG emissions from business activity (scopes 1+2) by 55% compared to 2017 [Recertified in August 2021]
Reduce GHG emissions from the entire supply chain (scope 3)*2 by 20% compared to 2017 [Certified in May 2019]
*1. A general term for gases in the atmosphere that cause a "greenhouse effect" by absorbing part of the infrared radiation emitted from the earth's surface
*2. Greenhouse gas scopes are as follows.
Scope 1: direct GHG emissions from a business (from burning fuel and industrial processes)
Scope 2: indirect GHG emissions from the use of electricity, heat, or steam provided by another business
Scope 3: indirect GHG emissions related to business activities (emissions not included in Scopes 1 and 2)
*3. The SBTi is a collaboration between the CDP, World Resources Institute, World Wide Fund for Nature, and United Nations Global Compact, and helps corporations achieve science-based targets (SBT) for reducing GHG emissions that keep global temperature increase below 1.5 degrees Celsius compared with pre-industrial levels (their previous aim was to keep the increase well below 2 degrees Celsius). As of August 2021, about 120 corporations in Japan have been approved by the SBTi, with that number increasing at an accelerating rate compared with the rest of the world.
Participation in External Organizations
Azbil participates Japan Climate Initiative(JCI)*1, and supports for the declaration:Joining the front line of global trend for decarbonization from Japan.
Our various climate change initiatives were given an B evaluation in the CDP Climate Change*2 2020 report.
*1. Japan Climate Initiative (JCI) is a network committed to strengthening communication and exchange of strategies and solutions among all actors that are implementing climate actions in Japan.
(Japan Climate Initiative(JCI):https://japanclimate.org/english/)
*2. A program to disclose corporate climate change risk, created by the international nonprofit organization CDP. It investigates the status of climate change initiatives carried out by participating corporations every year and officially publishes the aggregated results. It also gives each corporation an individual rating for the status of its initiatives in an eight-step evaluation with A as the highest rating.
Results for the Fiscal Year 2020
CO
2

Emissions from the Group's Business Activities (Scopes 1+2)

In FY2020, CO2 emissions from the azbil Group's bases as a result of our own business activity (scopes 1+2) were 16,754 metric tons, down 51% from FY2006. As part of our continuous efforts to leverage the knowledge we have cultivated over many years, we have installed energy visualization systems across the azbil Group. We are also pursuing efforts to improve both our operations and our facilities while making use of renewable energy sources.
CO
2

Emissions Throughout the Supply Chain (Scope 3)

The CO2 emissions from our entire supply chain (scope 3) amounted to 705.9 thousands of metric tons. Since CO2 emissions from the use of products sold and from purchased products and services comprise over 90% of that total, we are concentrating our efforts on energy-saving design, resource-saving design, and other environmentally conscious design.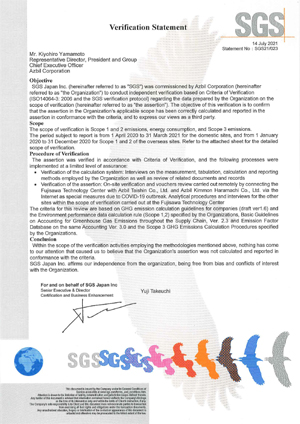 Greenhouse Gas Emissions Verification Statement
(Click here for more detail)
CO2 Emissions (Scope 1+2) produced by azbil Group bases
(Metric tons of CO2)
| | FY2018 | FY2019 | FY2020 |
| --- | --- | --- | --- |
| Scope 1 | 4,205 | 3,878 | 3,592 |
| Scope 2 | 14,920 | 14,252 | 13,161 |
| Scope 1+2 | 19,125 | 18,130 | 16,753 |
Past initiatives
Reducing Society's Impact on the Environment
We strive not only to reduce the CO2 emissions from our own business activities, but also to provide products and solutions that help our customers to reduce their burden on the environment.
For details, see "Realizing Our Desire to Reduce Environmental Impact Through Our Core Businesses"
Overall of Environmental Initiatives

Contributing to the environment through our core businesses

Reducing the environmental impact of our own business activities