Initiatives in FY 2018
Results for the Fiscal Year 2018
CO
2

Emissions from the Group's Business Activities (Scopes 1+2)

CO2 emissions (Scopes 1+2) from business activities of azbil Group bases in fiscal year 2018 totaled 19,000 tons, down 44% from the FY 2006 level.

Using knowledge gained over many years, we are making continuous efforts to reduce CO2 emissions, a key theme of our medium-term plan. Our efforts include the Group-wide introduction of an energy visualization system aimed at making improvements in both operations and equipment.

[Operational Improvements] introduction of a visualization system to increase the efficiency of the PDCA cycle in such areas as discovering inefficiencies and considering and implementing improvements.
[Equipment Improvement] promotion of the use of hybrid and other eco-friendly vehicles; introduction of high-efficiency LED lighting, high-efficiency equipment, and the like.

In addition to our ongoing efforts to save energy and achieve our GHG emission reduction targets for 2030, we are enhancing production and development process efficiency, reforming our way of working in order to increase business efficiency and save energy, introducing renewable energy generation equipment, procuring electricity with a high renewable energy ratio, and considering the use of Green Power Certificates.
CO
2

Emissions Throughout the Supply Chain (Scope 3)

Addressing CO2 emissions across the supply chain (Scope 3) has a major impact on our efforts to reduce the emissions of our Group-wide activities over the long term. In fiscal 2018, the CO2 emissions (Scope 3) of the Group's entire supply chain totaled 967,000 tons.

Because more than 90% of these emissions derive from the use of products sold and from products and services we purchased, we focus strongly on Design for the Environment (DfE), including designs that enhance energy efficiency and conserve resources. In these ways, we are working to reduce CO2 emissions throughout the supply chain.

We plan to continue and to strengthen our DfE activity (design that enhances energy efficiency and conserves resources, etc.) in order to achieve our 2030 GHG emissions reduction targets.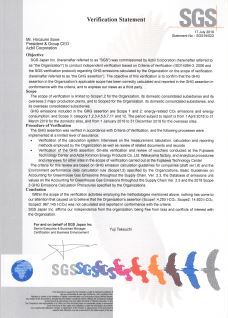 Greenhouse Gas Emissions Verification Statement
(Click here for more detail)
■CO2 Emissions (Scope 1+2) produced by azbil Group bases
(Metric tons of CO2)
| | FY2016 | FY2017 | FY2018 |
| --- | --- | --- | --- |
| Scope 1 | 5,268 | 4,735 | 4,205 |
| Scope 2 | 14,974 | 14,875 | 14,920 |
| Scope 1+2 | 20,242 | 19,610 | 19,125 |
Past initiatives
Reducing Society's Impact on the Environment
We strive not only to reduce the CO2 emissions from our own business activities, but also to provide products and solutions that help our customers to reduce their burden on the environment.
For details, see "Realizing Our Desire to Reduce Environmental Impact Through Our Core Businesses"
Overall of Environmental Initiatives

Contributing to the environment through our core businesses

Reducing the environmental impact of our own business activities